Brooks Brothers Bankrupt
The venerable apparel company is having a hard go of it.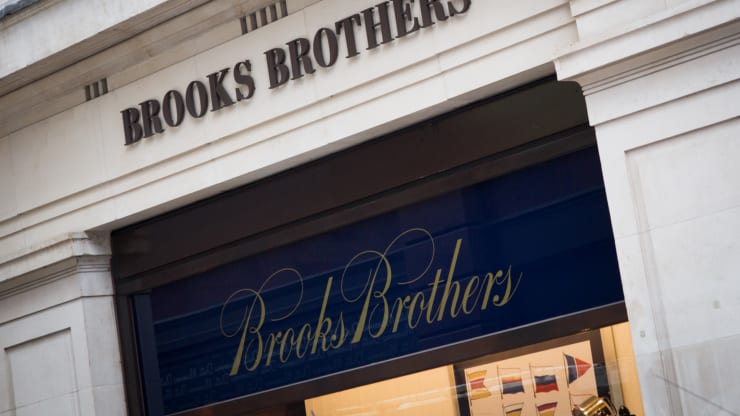 CNBC ("Storied apparel brand Brooks Brothers files for bankruptcy as it seeks a buyer and closes dozens of stores"):
The coronavirus pandemic has now claimed one of the country's oldest and most prestigious retailers.

Brooks Brothers — pioneer of the polo and uniform of the polished prepster — filed for Chapter 11 bankruptcy court protection from creditors on Wednesday, as it continues to search for a buyer.

The retailer, founded in 1818, boasts of having dressed 40 U.S. presidents and countless investment bankers. Early to the office-casual look, it became known for its crisp oxfords and jaunty sports jackets. But rent had become a burden, and the pandemic torpedoed a sale process that began in 2019.

"Over the past year, Brooks Brothers' board, leadership team, and financial and legal advisors have been evaluating various strategic options to position the company for future success, including a potential sale of the business," a spokesperson for the retailer said.

"During this strategic review, Covid-19 became immensely disruptive and took a toll on our business."

The brand has attracted significant interest from potential acquirers, including brand-licensor Authentic Brands, but many have preferred to buy the brand with fewer stores, CNBC has reported.

[…]

Brooks Brothers generated more than $991 million in sales last year, roughly 20% of which were online. It has wholesale agreements with retailers like Macy's and Nordstrom and contracts to manufacture uniforms for NetJets, United Airlines and others. 
NYT ("Brooks Brothers, Founded in 1818, Files for Bankruptcy") adds:
The company, founded and based in New York, filed for Chapter 11 restructuring proceedings in the United States Bankruptcy Court for the District of Delaware. Claudio del Vecchio, the Italian industrialist who bought the brand in 2001 and still owns the company, told The New York Times in May that he would not rule out Chapter 11 as a possibility.

Brooks Brothers said in an emailed statement on Wednesday that the filing would allow it to obtain additional financing as it facilitates a sale.

The bankruptcy represents the latest high-profile retail fall during the pandemic, which has caused widespread store closures and sales declines, reshaping the shopping streets of cities across the country. Since May, major names like J.C. Penney, Neiman Marcus and J.Crew have all been pushed into Chapter 11 proceedings. The chains, including Brooks Brothers, plan to keep operating, though likely in a pared-back fashion.

[…]

Brooks Brothers, known for its suits and preppy clothes, has been hit especially hard by the virus crisis. It is an era of remote work and job interviews through Zoom, and the postponement of celebrations like weddings, bar mitzvahs, and graduations
It's an iconic brand and will almost certainly find a buyer. Yet, I'm honestly surprised the company has survived as long as it has. It sells rather nondescript, off-the-rack clothing at a remarkably high price point for the market. And most of the merchandise has long since been manufactured overseas.