Building a Better Budget PC
Can OTB build a better $500 computer than PC World? Let's find out...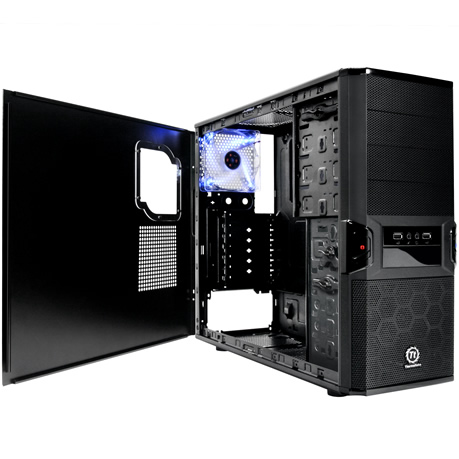 I was thumbing through the most recent issue of PC World and noticed that they had an article about the benefits of building your own PC. I approve of this — I built my own PC and building a desktop will, if you're savvy, save you hundreds of dollars against pre-assembled systems (and there's just no contest vs laptops). But while I approved of their encouragement towards a DIY system, I was a little less enthused at one of their example builds, which was a Budget PC designed to be built for less than $500. Don't get me wrong–PC World build wasn't bad, but it didn't really outperform a computer you can get pre-assembled for $500 (which the magazine admits), and it also doesn't leave a lot of potential for future upgrades.
The latter is important is because part of your philosophy towards building a budget PC shouldn't just be looking at prices–you need to build on a solid foundation that allows for upgrades without replacing several parts at once. This is one place I think that PC World failed. The other is simply not shopping around enough. By just scanning their parts list, I was pretty sure I could build a more powerful computer that provided a better foundation for upgrades, and still turn it in for under $500. And after some online window shopping, I turned out to be right.
The PC World Build
For Comparison's sake, here's the parts list for the PC World build:
CPU – AMD Athlon II x3 445 (3.1 GHz) – $90
Motherboard – Biostar TA890GXB – $95
RAM – Crucial DDR3 – 1333MHz 2 1GB modules – $57
Case – Rosewill R102-P-BK – $30
Power Supply – Cooler Master Elite 460W – $30
Hard Drive – Seagate Barracuda 7200.12 500GB – $49
OS – Windows 7 Home Premium 64bit (OEM) – $99
Keyboard – Microsoft Comfort Curve Keyboard 2000 – $15
Mouse – Microsoft Comfort Optical Mouse 1000 – $10
Optical Drive – Asus – DVD-E818A6T – $17
TOTAL: $493
The Outside the Beltway Build
The CPU: – Athlon II x 4 640 – $100
Adding $10 to PC World's price gets us another core–a no brainer. The frequency is slightly less (3.1 GHz vs. 3.0 GHz), but that's nothing that a little overclocking can't cure, but even at stock you should get better performance out of the Athlon IIx4.
Motherboard: – MSI 785G-E53 – $10
This is the only real step down from the PC World build, but it's pretty tiny, and the other aspects of the board make up for it. The difference between the 785G and 890 chipsets aren't going to make nearly as much of a difference in performance compared to some other modifications. This board has some other advantages over the one used by PC World–namely, it's a full ATX. It also has better integrated audio, and features an IDE port–important for a budget build because it means you can supplement this machine with some legacy parts, like an old IDE hard drive to use for extra storage or for a dual-Linux boot. Plus, Micro Center is running a promo with the processor to give us a processor + motherboard for $110. You can't beat that with a stick.
RAM – OCZ Signature 4GB DDR3 SDRAM DDR3 1600 – $72
Even on a budget PC, there's no need to settle for less than 4GB of RAM. These two 2-GB DDR3 sticks not only double the RAM of the PC World build with faster modules, but if you guy at Newegg.com before the end of the month, they'll throw in an 8GB Flash Drive. That ain't bad.
Case – Thermaltake V3 Black – $26
For four bucks less than the PC World build, we can pick up a case that provides much better support for future builds. The Thermaltake V3 Black is not only a better looking case, but it supports full ATX boards, provides more room for expansion, and provides significantly better cooling. It's true it won't support a 10.5″ graphics card, but at that point you'll probably want to upgrade cases anyway, so this is a much better deal all around.
Power Supply – OCZ ModXStream Pro 600W – $46
Let's be honest — 600W is more than this system needs right now. But that doesn't mean it's more than what it will need in the future. It wouldn't make sense to force yourself to upgrade power supplies at the same time you upgrade some other components. This 600W unit will keep you going through a few upgrades, and even better, it's semi-modular, meaning you only need to add cables as you need them–which keeps the inside of your case neater.
Graphics Card – Asus Radeon 5550 – $55
The Radeon 5550 won't give you screaming game performance, but it'll provide decent performance on most modern games, help support video editing, provide good HDMI output and multi-monitor functionality. And a seperate graphics component is invariably going to produce superior results compared to an integrated solution.
Hard Drive – Western Digital Caviar Blue Hard Drive – 500GB, 7200rpm
Same performance for $9 less. A great deal on a hard drive.
Keyboard/Mouse – Inland Pro Wireless Mouse/Keyboard – $22
I'll be honest — this keyboard isn't quite as nice as the PC World selection, but by doing the combo, three bucks less gets us two less cords to get tangled up by going wireless. I'm down with that.
Optical Drive – Samsung 22x DVD-RW Burner – $20
Why PC World chose to go with a simple DVD player rather than DVD burner is beyond me, especially when the prices are so good and they had a little wiggle room. Three bucks more here gets us burning capability.
OS – Microsoft Windows 7 Home Premium 64-bit OEM – $100
The Bottom Line
Putting all the pieces together gets us a quad-core system with double the RAM, more power, better graphics and a lot more potential for upgrading than the PC World build — all for $496. Now, I'll be honest, the Micro Center Processor/Motherboard combo helped a LOT in boosting the power of this system without decimating the wallet, but it still would have been pretty easy to preserve the quad-core processor and still keep the build under $500 even without that deal. All it takes is a little savvy shopping and a clear idea of how you want to build the machine from the ground up.
My only regret here is that I didn't have the the funds available to build this machine and test the benchmarks against the one's in the PC World article. But I'm pretty confident that it would have outperformed both their build and the average pre-assembled $500 system. If you feel like putting it together, let me know how it performs.