By Wide Margin, Americans Oppose The Nanny State
When it comes to thinks like Mike Bloomberg's large-sized soda ban, most Americans prefer to just say no.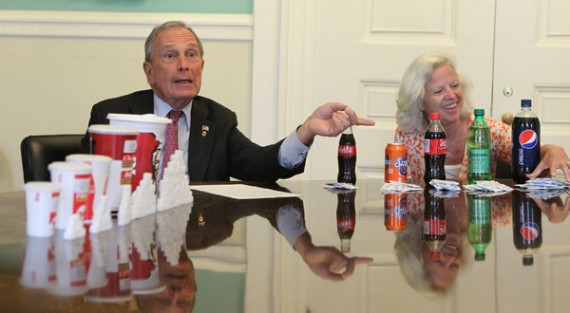 The past several years have seen many efforts by government authorities at a number of levels seek to use the power of the state to regulate the ability of citizens to engage in activities that, while perfectly legal, are supposedly bad for their health. The most famous example, of course, has been New York City Mayor Michael Bloomberg's effort to ban most businesses from selling sodas in containers larger than 16 ounces, although it exempted many types of sales including sales by 7-11 of its famous "Slurpees" that the law came to be named after. Other similar efforts across the country have included efforts to ban the sale of fois gras, a high-fat delicacy derived from goose liver, and efforts by several jurisdictions in California to regulate the contents of the famous McDonald's Happy Meal. Outside of the food arena, other recent regulatory moves have seen various jurisdictions begin moves toward banning or heavily regulating everything from online gambling, to energy drinks, to electronic cigarettes, to, most recently, the announcement by the FDA that it was beginning a process that could lead to a nationwide ban on the use of Trans Fats in the nations food supply. In each case, we are told by the people in charge that these bans are for the good of "public health," and, of course, it is implied that people are simply incapable of making the correct decisions for themselves.
A new poll, however, indicates that, by wide majorities, Americans oppose these efforts by government authorities to ban things deemed to be "bad" for them:
 The federal government recently proposed rules that would effectively ban trans fats, but 71 percent of Americans say they should be allowed to buy foods with trans fats if they so choose. Just under a quarter, 24 percent of Americans, say foods with trans fats should not be allowed.

The Food and Drug Administration recently ordered a genetic testing company to stop selling its DNA tests. Reason-Rupe finds 55 percent of Americans believe they should be allowed to buy genetic testing kits that provide information about a person's DNA, 37 percent say these should not be allowed.

Over three quarters of Americans, 76 percent, say they should be allowed to buy high-caffeine energy drinks. Twenty-one percent think energy drinks should be prohibited.

Several cities have moved to ban e-cigarettes in public places, but 62 percent of Americans say electronic cigarettes should be allowed in public spaces. Thirty-four percent favor prohibiting the use of e-cigarettes in public.

Congress is considering a bill that would legalize online poker and 65 percent of Americans tell Reason-Rupe that adults should be allowed to gamble in online poker games. Thirty-two percent oppose allowing people to play online poker.

Two-thirds of Americans, 66 percent, tell Reason-Rupe that people should be allowed to play violent video games, while 31 percent want them banned.

The one item Reason-Rupe asked about that the public wants to ban is printing 3D guns. Six in 10 Americans think printing working 3D guns should be prohibited, while 30 percent say it should be allowed.
This shouldn't be too much of a surprise. By their nature, the American people have generally resisted efforts by the state to regulate their personal behavior. There have been notable exceptions. Prohibition was wildly popular when it was first adopted, of course, otherwise the 18th Amendment never would have been adopted. Soon after that happened, of course, the American people began voting with their feet and the thirst and non-compliance with the Volsted Act was so widespread as to make the entire idea that alcohol was actually prohibited in the United States a widespread joke. More recent, and harder to defeat, exceptions include the War On (Some) Drugs and the efforts to ban tobacco smoking not only in enclosed private places like restaurants but also in open public places like public parks where the idea that people are involuntarily being exposed to second-hand smoke are essentially non-existent. Outside of these exceptions, though, this polls mostly stands to confirm the idea that, when it comes to what they eat or drink, the American people tend to default to a "leave me alone" position, which is one reason why public reason to things like Bloomberg's soda regulations, which were thankfully shot down by a New York state trial judge and by the state's intermediate appeals court are typically widely derided.
Now, if only our dear leaders would recognize all of this and stop trying to doing things that are "good for us" when we cleary just want them to leave us the heck alone.