California Town Fines Couple For Holding Bible Study In Their Home
Does the state have the right to regulate how many people you invite to your home?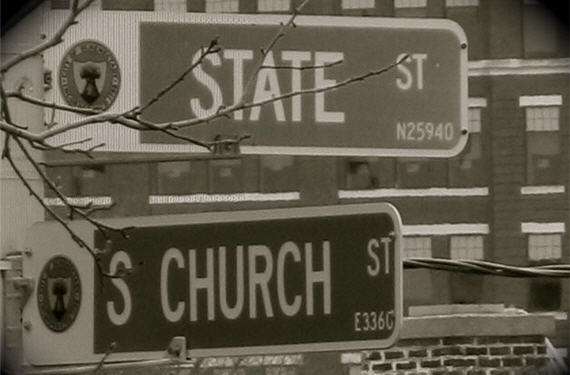 San Juan Capistrano, a California town usually known for the Cliff Swallows that have returned to the old mission town nearly every year like clockwork, is making news today as the latest battleground in the war between zoning laws, property rights, and religious liberty:
The city of San Juan Capistrano has fined Charles and Stephanie Fromm $300 for their regular Bible study groups, according to a statement from the Sacramento-based Pacific Justice Institute.

The couple appealed the fine and was told subsequent fines would be enhanced if they continued holding the study group without a conditional use permit — a specialized permit allowing the activity under prescribed conditions, according to the statement.

City spokeswoman Cathy Salcedo declined to be interviewed by The Times. But in a brief email, she was emphatic the city does not prohibit home Bible studies.
Instead, the Fromms' case, she wrote, is about when a residential area has been transformed into a place where people regularly assemble.

"The Fromm case further involves regular meetings on Sunday mornings and Thursday afternoons with up to 50 persons, with impacts on the residential neighborhood on street access and parking," she wrote.

The Fromms could not be reached Wednesday for comment.

But Brad Dacus, an attorney and PJI president, said the Bible study groups create no parking problems on the Fromms' semi-rural street, which has properties measuring more than an acre.

The city "needed some kind of rational basis to justify their rigid intolerance towards this family for having a Bible study in their home," said Dacus, who added that he is acting as the Fromms' spokesman.

Dacus said the city should refund the fine and apologize to the Fromms.

"This matter could be resolved very easily," he said.

Otherwise, he said, PJI is "committed to defending this family's home Bible study all the way to the U.S. Supreme Court, if necessary."
In an interview with a local television station, the Fromm's stated that they should be able to be hospitable in their own living room, but it's fairly clear that what is involved here is the town's attempt to apply a zoning ordinance involving gatherings of large groups of people to what they are doing here. It's also arguably the case that the town is trying to force the Fromme's to obtain a Conditional Use Permit in order to reap the revenue that would come from the same.At the same time, though, there are a lot of things that are unclear from the reports that have come out about this so far that could have a significant influence on the outcome of this case. For example, who are the people coming to these bi-weekly Bible Study groups that the Fromm's are hosting? Are these family members, friends, members of the Fromm's church? Are the Fromm's charging for attendance? Is the Bible Study group really an informal unaffiliated church? The answers to these and other questions could determine if this is an informal gathering of friends or a what is effectively a home based business. If it's the later, then I would argue that Zoning Laws designed to preserve the residential quality of neighborhood are not going to be invalidated merely because they are applied to religious organization so long as the law itself is neutral on its face. Based on the evidence available, though, this seems to be little more than an informal gathering of friends and acquaintances
As several bloggers have pointed out, such as Bruce McQuain and Bryan Preston,  this seems to be a pretty clear violation of the right of freedom of assembly protected in the First Amendment. Bryan points out:
It seems to me that regulating any regular gathering of "more than three people" has the potential to reach far too deeply into private lives. It could impact anything from a morning coffee klatch to a fantasy football league to a book club. For that matter, most families themselves have more than three people in them — will the city start fining families for meeting each night for dinner? There's no indication that the city has come down on anything other than this home church. The question is why?
My guess is that there's a neighbor out there with a particularly well-developed sense of busy-bodyness who has made it their life's work to complain with the authorities every time one of these Bible Study events takes place. This is just a reminder that, when it comes to authoritarianism, government at the local level can be as oppressive and abusive as national governments. Sometimes even more so because of their ability to regulate ever smaller aspects of a person's life. As the saying goes, there's a lot more privacy in a big city then there is in a small town.
Rather than looking at this as a freedom of assembly matter, though, it occurs to me that this really boils down to a property rights issue. Unless they're actually causing harm to someone else's property or creating a public nuisance, it strikes me that the Frommes should be free to do whatever they wish in their home. Requiring them to go through the hassle and expense of getting a Conditional Use Permit just to hold Bible Study meetings in their home is a step too far, not because they're studying the Bible, but because they are using their property as they see fir and not harming anyone else. There used to be a time when that meant something.