Caption Contest Winners
The Christmas Cheer Edition OTB Caption ContestTM is now over.
The Christmas Cheer Edition OTB Caption ContestTM is now over.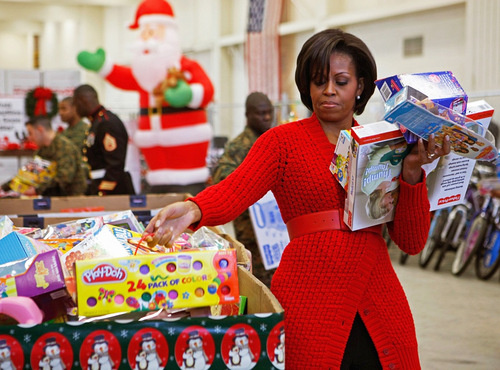 ✰ THE WINNERS ✰
First: anjin-san – "Once I have rounded up all the toys in the stores, I will seize the means of toy production."

Second: Alex Knapp – When asked to comment, Sarah Palin noted, "There goes those Obamas again, promoting their socialist agenda to give toys to poor kids. Why can't those kids get a job and pay for their own toys?"

Third: floyd – Another trillion dollars worth of "Play Dough" donated to buy "Toys" for the "Tots" in congress.
HONORABLE MENTION
charles austin – Thought bubble: Play Doh? Kids could eat this. I think more legislation is necessary.

JazzShaw – "How is it that I still don't have a flunkie to do this stuff?"

Doug Mataconis – First Lady Michelle Obama searches the local Toys For Tots bin for non fat-free toys

Maggie Mama – I'm not quite sure but does "tots" sound like a racist comment?

Robert W. Armijo – "Now with Rahm Emanuel gone, the first lady has only three kids left back at the White House to shop for this Xmas."

Linda – Hmmm…. Let's see… I'll take this… and this… and this… and this… Gee, this toy donation bin is a great place for me to do my Chri— er… Holiday taking of gifts for the family.
HOLIDAY SPIRIT AWARD
peterh – The Christmas workabees…Merry Christmas…
ℛODNEY'S BOTTOM OF THE BARREL
Michelle shows her "Feats of Great Strength."

"This outta keep Biden happy."

"Play Dough—- just like the U.S. economy."

"That's it, time for another vacation."
The Monday Contest would like a nice Hawaiian Punch.