Chaos Erupts In Cairo In Wake Of Mubarak Speech
The situation in Egypt is going from bad to worse.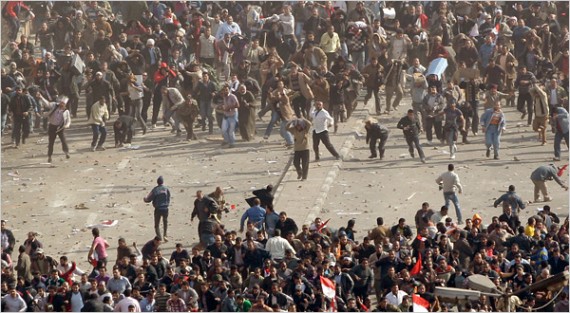 After a week of angry anti-government protests, chaos was unleashed today on the streets of Egypt:
CAIRO — Thousands of demonstrators for and against President Hosni Mubarak, some on horses and camels, fought running battles in and around Cairo's Tahrir Square on Wednesday, despite a call from Egypt's powerful military for the president's opponents to "restore normal life."

The pro-government supporters had arrived in their thousands, but were outnumbered by Mr. Mubarak's opponents.

Their confrontations, which were descending into rock-throwing clashes, injected a new and perilous element into the eight-day standoff between anti-government protesters and Mr. Mubarak, hours after he offered to step down in September and President Obama urged a faster transition. The fighting was the first since the antigovernment protesters laid claim to Tahrir Square days ago as they pursued their campaign for Mr. Mubarak's ouster.

On Wednesday, Mr. Mubarak's supporters arrived in larger numbers than had been seen before. Hours before, antigovernment protesters had been chanting: "We are not going to go; we are not going to go."

In counterpoint, demonstrators supporting Mr. Mubarak chorused on Wednesday: "He's not going to go; he's not going to go."

Volleys of rocks flew between the two groups and many protesters were led away with bleeding head wounds. The clashes erupted close to the Egyptian Museum housing a huge trove of priceless antiquities.

Plumes of smoke, apparently from tear gas, rose as the rival crowds surged back and forth.

"Where's the Egyptian army?" anti-government demonstrators chanted.

"They are trying to create chaos," said a pro-government demonstrator, Mohamed Ahmed, 30. "This is what Mubarak wants."

The army took no immediate action as the skirmishes intensified, leaving the competing demonstrators to press towards one another. But troops with bayonets fixed to their AK-47 assault rifles fanned out near the museum as antigovernment protesters sought to build makeshift barricades to keep their foes at bay. And eventually, several tanks maneuvered into position between two clashing crowds, and soldiers tried to calm both. Some anti-government protesters used the shelter of the tanks to launch rocks.

"With our blood, with our souls we sacrifice for you, oh Mubarak," the president's supporters chanted, waving Egyptian flags. Among the progovernment demonstrators, 18 men on horseback and two on camels charged against their adversaries.
It's been a surreal scene unfolding this morning, perhaps most of all being the images of "pro-Mubarak forces" storming into Tahir Square on horse and camel back, as depicted in this picture posted on al-Jazeera: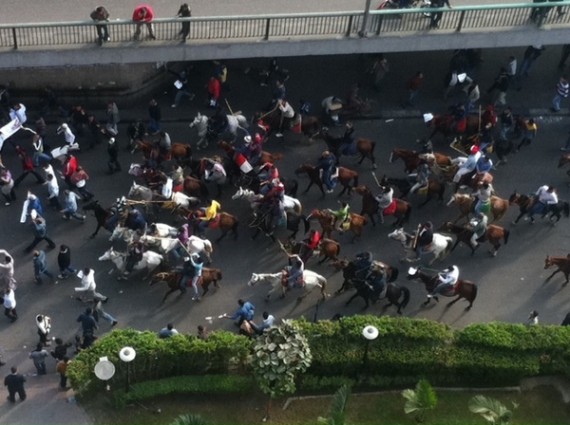 Additionally, al-Jazeera and other news sources have posted pictures of police ID's taken from the "pro-Mubarak" demonstrators, lending credibility to the theory that this is little more than a police operation designed to break the back of the protest and, of course, inflict bloodshed.
The pro-Mubarak crowd has also apparently turned its violence on journalists covering the protests:
Anderson Cooper and his crew have been attacked by supporters of Hosni Mubarak in Egypt, according to CNN.

CNN's Steve Brusk tweeted that "Anderson said he was punched 10 times in the head as pro-Mubarak mob surrounded him and his crew trying to cover demonstration."
This is only going to get worse. More to come, I'm sure.