Chelsea Clinton Wedding Outrage
Should anyone care that Chelsea Clinton's wedding was ridiculously lavish?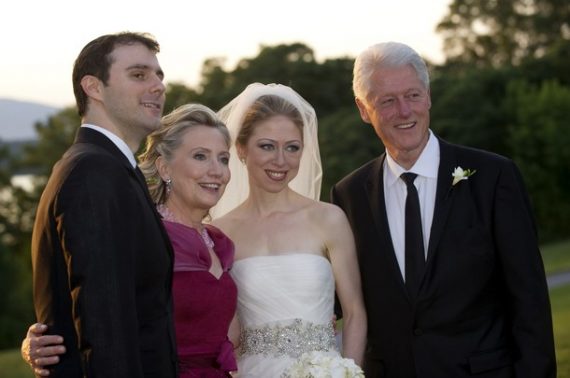 Doug Ross' wife is apparently "really P.O.'d" at the weekend's Chelsea Clinton wedding. It was, "between $2 million and $5 million," obscenely expensive. Mrs. Ross is outraged because:
They claim to be for the little people
Bill Clinton wanted everyone to donate for Haiti disaster relief, so why didn't he give all this money to that effort?
They decry trickle down economics but claim this is stimulating the economy
The American economy is suffering, so ostentatious displays of wealth are unseemly
Jenna Bush's wedding was much lower key
The media would be pointing all this out if it were Republicans
None of this makes sense to me. The Clintons are rich* and, so far as I know, paying for it themselves.
One can certainly advocate public policies that redistribute money to the poor and charitable giving to those harmed by natural disasters without committing to a life of monastic poverty.  Bill and Hillary  Clinton never advocated selling all one's worldly possessions for Haitian relief, merely skimming a little off the top.
I can see an argument for cutting back on lavish government-financed activities when the economy is in the dumps.   When we've got 10 percent unemployment, maybe presidents and governors should tone down the pomp and circumstance. But why should people who have money live as if they didn't because others are doing poorly?
Indeed, we want just the opposite. People who can afford to buy new cars, go out to dinner, and the like should be encouraged to do so. That's how you create jobs in a service economy.
But that's "trickle down"!  Well, not really.  "Trickle down" was a straw man caricature of supply side economics, which had to do with the stimulative effects of tax cuts to business. And really beside the point here.
So, for that matter, is the comparative styles of the Clintons and Bushes in staging weddings. I prefer the latter, to be sure, but don't begrudge the former.
____________
*The fact that the Clintons have gotten filthy, stinking rich off Bill's career in public service is, by a wide margin, more of an outrage than anything on the list. We've come a long way from the days when we needed to enact presidential pensions because Harry Truman was destitute in his retirement. But the Clintons hardly invented cashing in.