Chelsea Manning Released from Jail
The grand jury was disbanded, so there was no need to continue the coercion tactic.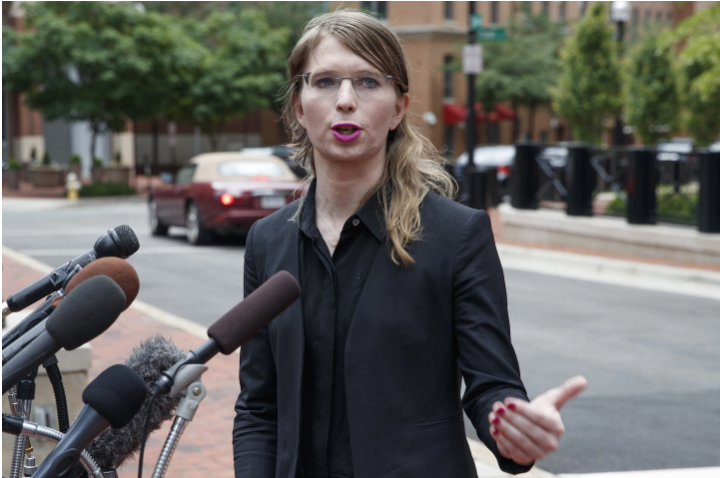 WaPo:
Chelsea Manning was released from jail Thursday after a federal judge announced that the grand jury investigating WikiLeaks founder Julian Assange had been disbanded.

"Ms. Manning's appearance before the grand jury is no longer needed," federal judge Anthony J. Trenga of the Eastern District of Virginia wrote. "Her detention no longer serves any coercive purpose."

Manning had been detained in the Alexandria Detention Center for 11 months in civil contempt for her refusal to testify. The judge's order comes a day after the former Army private attempted suicide in jail. Authorities said they stepped in before serious harm occurred.

[…]

Manning is still liable for $256,000 in fines levied by the judge for her refusal to testify.

[…]

Hacker Jeremy Hammond, who was also being held in civil contempt for refusing to testify before the WikiLeaks grand jury, was also ordered released by Trenga after five months of civil contempt. But he is still serving a 10-year prison sentence for cyberattacks on various government agencies and businesses.

Trenga's order rendered moot the arguments by Hammond and Manning that they could never be coerced into testifying. In Alexandria, grand jurors generally serve six to 18 months. The judge did not explain his reasons for ending this grand jury now beyond saying its "business" has "concluded."

[…]

Manning, likewise, has said that she has nothing to offer investigators and opposes grand juries on principle as lacking transparency and accountability.
While I tend to agree that grand juries are problematic, citizens have an obligation to comply with subpoenas and testify in court. Eleven months in jail for contempt is a steep price but it's the only tool we have to force members of a criminal conspiracy to testify.
We could go through this again with another grand jury, although probably not any time soon given coronavirus prevention measures. Indeed, one wonders whether the courts will be able to operate under social distancing.