Chevy Volt Production Suspended
GM's big gamble on the future, the Chevy Volt, isn't yet paying off.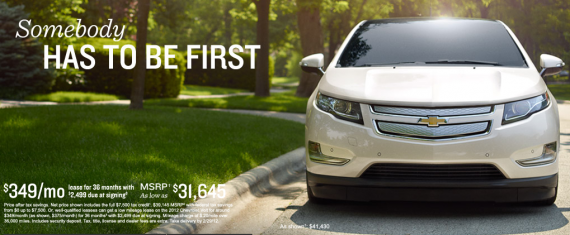 GM's big gamble on the future, the Chevy Volt, isn't yet paying off.
Detroit Free Press ("Volt production on hold for 5 weeks"):
General Motors has told 1,300 employees at its Detroit Hamtramck that they will be temporarily laid off for five weeks as the company halts production of the Chevrolet Volt and its European counterpart, the Opel Ampera.

"Even with sales up in February over January, we are still seeking to align our production with demand," said GM spokesman Chris Lee. Lee said employees were told Thursday that production would put on hold from March 19 to April 23.

The Chevrolet Volt, an extended-range electric car, is both a political lightning rod and a symbol of the company's technological capability.

Chevrolet sold 1,023 Volts in the U.S. in February and has sold 1,626 so far this year. In 2011, Chevrolet sold 7,671 Volts, but fell short of its initial goal of 10,000. GM had planned to expand production of its Volt plug-in hybrid to 60,000 this year, with 45,000 earmarked for the U.S.

Last fall, the GM and the National Highway Traffic Safety Administration spent several weeks trying to explain why two Volts whose batteries were punctured caught on fire after sitting around for at least a week. NHTSA determined that the range-extended electric Volt is as safe as any gasoline-powered vehicle on the road.
The politics of this are quite odd. One would think the concept of an American-made car that can run without gasoline imported from the Middle East or Venezuela would be universally cheered. But the sense that the car is being heavily pushed by the federal government (read: the Obama administration) and the impracticality of a too expensive car that's useful, because of its extremely limited range, only as a daily commuter has made it quite controversial.
This is a classic Catch-22 situation. Something like this will be successful only if the price comes way down (It's currently for an absurd $41,000 in the US) and that can only happen with huge economies of scale–which can only happen if people buy the car in droves. In that light, Chevy's marketing slogan, "Somebody has to be first," takes on an unintended meaning.