China's Coming Collapse?
A knowledgeable observer has a dim forecast.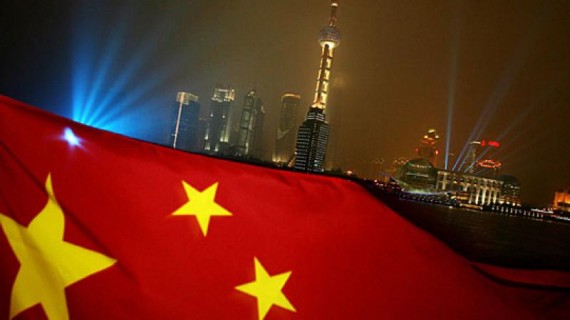 Bob Davis, who is wrapping up a four-year stint covering the Chinese economy for the Wall Street Journal, offers a dim forecast ("The End of China's Economic Miracle? Debt and corruption are hobbling the Asian giant.") on his way out.
When I arrived, China's GDP was growing at nearly 10% a year, as it had been for almost 30 years—a feat unmatched in modern economic history. But growth is now decelerating toward 7%. Western business people and international economists in China warn that the government's GDP statistics are accurate only as an indication of direction, and the direction of the Chinese economy is plainly downward. The big questions are how far and how fast.

My own reporting suggests that we are witnessing the end of the Chinese economic miracle. We are seeing just how much of China's success depended on a debt-powered housing bubble and corruption-laced spending. The construction crane isn't necessarily a symbol of economic vitality; it can also be a symbol of an economy run amok.

Most of the Chinese cities I visited are ringed by vast, empty apartment complexes whose outlines are visible at night only by the blinking lights on their top floors. I was particularly aware of this on trips to the so-called third- and fourth-tier cities—the 200 or so cities with populations ranging from 500,000 to several million, which Westerners rarely visit but which account for 70% of China's residential property sales.

[…]

For the past 20 years, real estate has been a major driver of Chinese economic growth. In the late 1990s, the party finally allowed urban Chinese to own their own homes, and the economy soared. People poured their life savings into real estate. Related industries like steel, glass and home electronics grew until real estate accounted for one-fourth of China's GDP, maybe more.

Debt paid for the boom, including borrowing by governments, developers and all manner of industries. This summer, the International Monetary Fund noted that over the past 50 years, only four countries have experienced as rapid a buildup of debt as China during the past five years. All four—Brazil, Ireland, Spain and Sweden—faced banking crises within three years of their supercharged credit growth.

China followed Japan and South Korea in using exports to pull itself out of poverty. But China's immense scale has now become a limitation. As the world's largest exporter, how much more growth can it count on from trade with the U.S. and especially Europe? Shift the economy toward innovation? That is the mantra of every advanced economy, but China's rivals have a big advantage: Their societies encourage free thought and idiosyncratic beliefs.

When I talked to Chinese college students, I would ask them about their plans. Why, I wondered, in an economy with seemingly limitless potential, did so few choose to become entrepreneurs? According to researchers in the U.S. and China, engineering students at Stanford were seven times as likely as those at the most elite Chinese universities to join startups.
Bad news for China is bad news for the region and bad news for the United States. But Davis is likely right.
What the Chinese economy has done since Mao died in 1976 and Deng Xiaoping finally consolidated power in 1978 is nothing short of remarkable. That they sustained such rapid growth for almost four decades is unprecedented. But it wasn't going to last forever. And they cost of progress has been crippling pollution and, because of the One Child policy, a demographic nightmare.
Davis is right that political repression puts China at a strategic disadvantage against even other Asian competitors. But the CCP has, rightly, worried that too much freedom could not only topple the current governmental structure but the cohesion of the society itself. That's what happened when Mikhail Gorbachev tried Glasnost, after all. They've therefore tried to open the system gradually, mostly in terms of economic freedom, and only do so where absolutely necessary. Right now, they're in something of a Catch-22: they need more freedom to keep innovation going and therefore save the society from the effects of economic regression. But that freedom could destroy the country, too.