Chris Christie Makes It Official, Again: He Isn't Running
After three weeks of speculation, we're back where we started.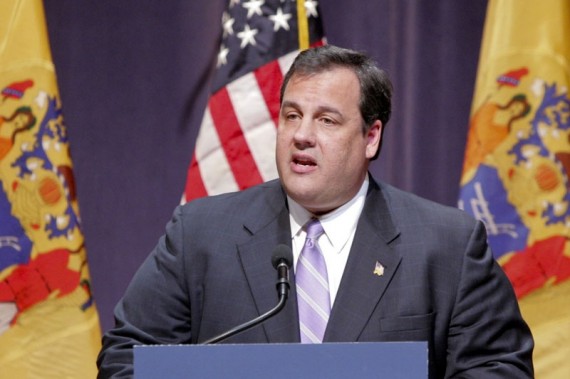 In the end, Chris Christie said that he hadn't heard anything over the last three weeks that caused him to change his mind about not running for President:
He's not running, and he says he means it this time.

At a jammed Statehouse news conference, Gov. Chris Christie announced today that he would not seek the Republican nomination for president in 2012.

"Now is not my time," Christie said. "I've been adamant about the fact I would not run for President," he said. "My job in New Jersey is my passion.

"New Jersey, whether you like it or not, you're stuck with me."

His statement came after a week of relentless speculation, set off by a high-profile speech at the Reagan Presidential Library and intensified by an acknowledgement from advisers that he was reconsidering a candidacy after a year of refusals.
None of this is surprising, of course. Christie has made himself clear numerous times, and none of his public statements suggested that he was wavering in his decision. To the extent there was wavering, it was media driven for the most part. Christie said that he took the opportunity to reconsider his decision after being approached by many people, including unnamed high-ranking Republicans, who asked him to do so but that he didn't find any reason to change his mind.
One thought is that Christie's emphasis on his responsibilities to New Jersey is something of a rebuke, possibly not even an intentional one, to Sarah Palin., who is the only remaining major candidate who hasn't made her intentions clear. Another thought is that we'll be hearing from Christie again in the future.
To the extent this has an impact on the GOP field, it's good news for Mitt Romney who likely would have been the candidate with the most to lose if Christie had entered the race. Now, with Christie off the field the donors and establishment Republicans who have been sitting on the sidelines trying to convince Christie to run will have to make a choice, and there really isn't anyone in the field other than Romney that they're likely to back. Herman Cain is too much of a gadfly to get real support from those types of Republicans, and the fact that he has no real campaign organization is going to be taken by them as a sign that he's not really serious. Paul, Gingrich, Santorum, and Bachmann are never going to appeal to the establishment types for what I think are obvious reasons.
That leaves Perry and Romney.
Especially when it comes to the donors, the  kind of people that were behind the Christie speculation were the same people who were behind Rudy Giuliani in 2008. They're fiscally conservative but more or less socially moderate. Between the two of them, it seems to me that Romney would be a more palatable candidate for them. More importantly, though, unless Perry can stop the bleeding in the poll numbers that was caused by his own mis-steps, it's going to be hard to convince the big money guys to get behind him. More and more, Mitt Romney is looking like the guy that the GOP is going to inevitably, albeit reluctantly, turn to in the end.