Chris Wallace Found Fox News' Relationship with Truth 'Unsustainable'
The network's longtime weekend anchor couldn't take it anymore.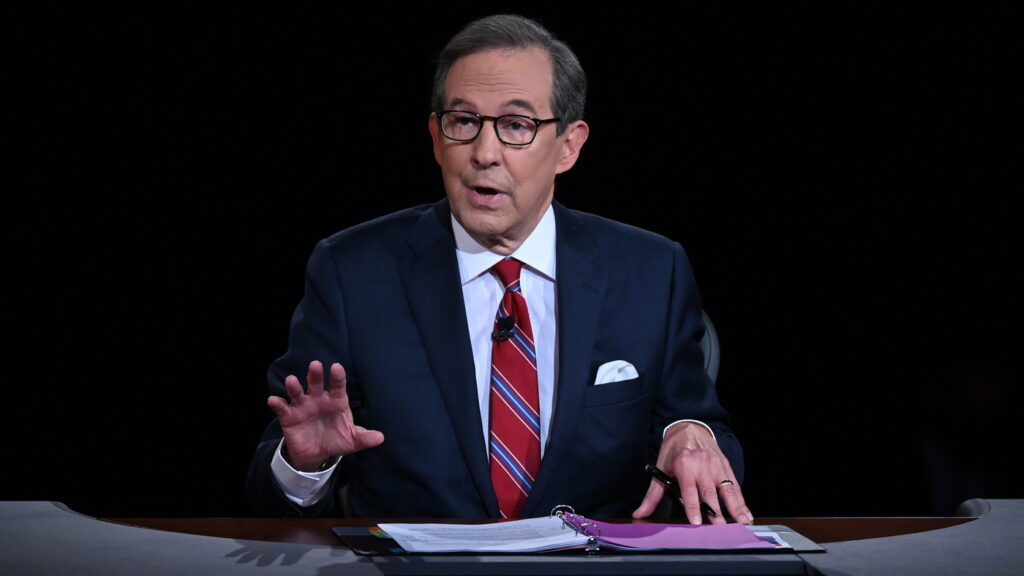 I either missed or forgot the announcement that Chris Wallace left his longtime home at Fox News for CNN+ back in December, even though Steven Taylor posted on it here. Now that the new gig has commenced, he spills the beans to the New York Times.
"I just no longer felt comfortable with the programming at Fox."

Chris Wallace uttered those words matter-of-factly, in between bites of a Sweetgreen salad at his new desk inside the Washington bureau of CNN, the network he joined in January after nearly two decades at Fox News.

For those on the left who admired him, and those on the right who doubted him, it's a statement that was a long time coming.

A down-the-middle outlier at Fox News who often confounded conservatives by contradicting the network's right-wing stars, Mr. Wallace was also one of the channel's fiercest defenders, disappointing liberals who hoped he might denounce colleagues like Sean Hannity and Tucker Carlson.

But in December, Mr. Wallace, 74, issued a final verdict: He was done. In a surprise move, he declined to renew his contract as host of "Fox News Sunday" and jumped to archrival CNN. His daily interview show — "Who's Talking to Chris Wallace?" — starts Tuesday on the new CNN+ streaming service.

So why did Mr. Wallace change the channel?

"I'm fine with opinion: conservative opinion, liberal opinion," Mr. Wallace said in his first extensive interview about his decision to leave. "But when people start to question the truth — Who won the 2020 election? Was Jan. 6 an insurrection? — I found that unsustainable."

[…]

But Mr. Wallace also acknowledged that he felt a shift at Fox News in the months after Donald J. Trump's defeat in 2020 — a period when the channel ended its 7 p.m. newscast, fired the political editor who helped project a Trump loss in Arizona on election night and promoted hosts like Mr. Carlson who downplayed the Jan. 6 riot.

He confirmed reports that he was so alarmed by Mr. Carlson's documentary "Patriot Purge" — which falsely suggested the Jan. 6 Capitol riot was a "false flag" operation intended to demonize conservatives — that he complained directly to Fox News management.

"Before, I found it was an environment in which I could do my job and feel good about my involvement at Fox," Mr. Wallace said of his time at the network. "And since November of 2020, that just became unsustainable, increasingly unsustainable as time went on."

Still, he acknowledged that some viewers may wonder why he did not leave earlier.

"Some people might have drawn the line earlier, or at a different point," he said, adding: "I think Fox has changed over the course of the last year and a half. But I can certainly understand where somebody would say, 'Gee, you were a slow learner, Chris.'"
I'm sure most OTB commenters will have the same reaction but I'm sympathetic.
As I've noted many times before, I was a fairly early adopter of Fox News, starting to watch its nightly news show, "Special Report with Brit Hume" and then the weekend "Fox News Sunday with Tony Snow" pretty much from their inception. (It may have been a bit into their run before my Troy, Alabama cable company started carrying it.) The prime time talking heads shows were always hit-or-miss—I was never a big fan of Bill O'Reilly's pomposity and thought Sean Hannity was a lightweight the first time I heard him as a substitute for Rush Limbaugh—but there was a firewall between news and commentary and even the commentaries had folks like Mara Liason and Juan Williams.
In my short-lived attempt at doing the talking head thing, I appeared a handful of times on their non-prime-time programming, including many times on the Internet-only "Power Play with Chris Stirewalt" show. I've had the opportunity to meet the likes of Brit Hume, Fred Barnes, and the late Tony Blankley and found them to be congenial folks.
I'm sure that Wallace, who presumably formed friendships with a lot of people at the network, was able to convince himself that the channel was doing more good than harm and that, really, nobody was taking Steve Doocy or Tucker Carlson seriously given that they are transparently buffoons. Motivated reasoning is a powerful impulse.