Christine O'Donnell Is Back; Why, Nobody Knows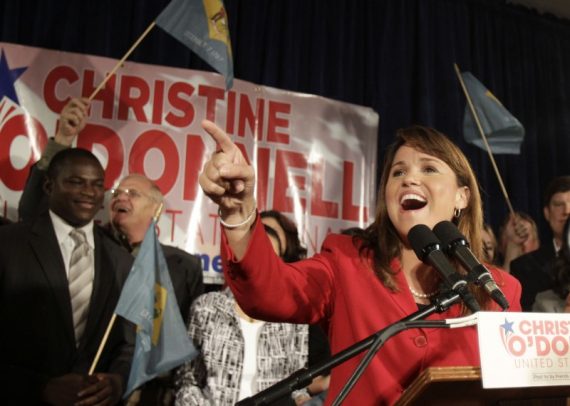 Failed Delaware Senate candidate Christine O'Donnell made her reappearance on the political scene yesterday with the launch of ChristinePAC:
Calling herself the White House's top opponent, former Delaware Senate candidate Christine O'Donnell on Tuesday asked supporters to give to ChristinePAC, a group that she says will "investigate and counter attack left wing groups," in part by funding her travel across the country to "bring the battle to them."

In an e-mail message sent midday, the tea party-backed Republican told her backers they "are the reason that President Obama came to Delaware in late 2010, diverting his attention from other states he could have campaigned in" and "the reason that a frantic White House dispatched Vice President Joe Biden, again and again, to campaign in Delaware to defeat me, who they regarded as their number one opponent."

O'Donnell first hinted in December that she would be launching a political action committee and Tuesday's note, sent in a midday e-mail, marks the official rollout of ChristinePAC.

"[W]hat you helped me do at the six week long Battle of Delaware 2010 sent shock waves throughout the nation," she wrote, referring to the time between her unexpected GOP primary victory and the November general election. By expanding her efforts to investigate, attack and speak out against critics beyond Delaware's borders — including Republicans she does not consider to be sufficiently conservative — she hopes to have a hand in influencing 2012 races across the country.
Her email, which I received for some inconceivable reason, also made reference to "the latest smear on me," even though nobody has given her a second thought since she was declared the loser of the Delaware Senate race on November 2nd, 2010.
Nonetheless, Christine is back. Stay tuned.