O'Donnell's Dubious Academic History
Senate candidate Christine O'Donnell has a history of embellishing her educational history.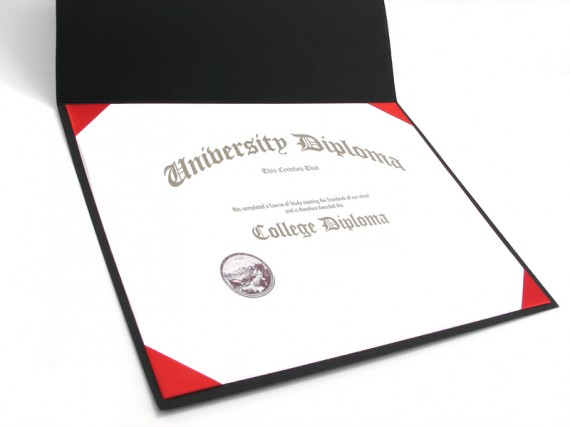 When Christine O'Donnell first became a prominent candidate in Delaware, one tidbit of information that emerged about her was that she had fudged her education record.  Specifically, she claimed to have graduated from Fairleigh Dickinson University in 1993.  However, it ended up she was one course short and actually finished her degree just this year (17 years later, O'Donnell earns degree).  There was also some question over whether she claimed to be pursuing a masters degree at Princeton, when in fact she had only audited an undergraduate course.*
Now, being one elective short of a degree is different than simply making up a bio line.  Still, before one can claim to be a college graduate one has to complete all the degree requirements. Therefore, to present oneself as having a degree that one did not actually earn is problematic—especially since it appears likely that she told employers that she was a college graduate.*
However, the game-playing with her education history is not limited to the above.  Earlier in the week, several reporters looked at O'Donnell's LinkedIn profile (which is now gone) and found the following (screen cap courtesy of Patterico):
Ends up that O'Donnell took a class from something called The Phoenix Institute which happened to rent space at Oxford (source).  It also ends up that she was once a fellow at the Claremont Institute, which is in Claremont, California, but that has no affiliation with the Claremont Graduate University or any of the other Claremont Colleges.   As such, the education entries that O'Donnell had on her LinkedIn profile were utterly fraudulent.
I would note, too, that when one scrolled down, the years for her FDU degree were listed at 1989-1993, when in fact (as noted above) she didn't complete said degree until 2010 (I meant to screencap all of this yesterday, and indeed to write this post, but didn't have time).
As has  been noted on this blog on several occasions, a college education and the institution from which said education was received, is a very important signaling device in our economy and society.  As such, presenting oneself as having degrees one does not have or pretending to have studied at places where one did not study (especially prominent places in the upper echelons of elite higher education) is highly problematic.  It amounts to brazen misrepresentation and calls one's character rather seriously into question.
On the one hand, because I work in higher education perhaps I am more sensitive to such fraud given that not only do I see students working hard on a daily basis (and year after year) to legitimately earn their degrees, but also exist in a culture where status is very much determined by one's degrees and the schools one attended.  On the other, the fact of the matter is that in all professional fields, degrees matter.  There is no doubt that in business the schools one attended, the degrees one received, and the length of time it took to accomplish those goals matter quite a bit.
Such moves also call into question the intelligence of the person making such claims:  it isn't as if in the electronic age such claims aren't easy to check—especially when one lies on a social media site, and not just in a stack of papers only a handful of people will see.  Further, there are plenty of examples of people getting burned for such behavior.  The mind immediately turns to several high profile coaches who found themselves out of jobs because of resume enhancement.  For example, George O'Leary lost his dream job at Notre Dame back in 2001 over such falsehoods: O'Leary out at Notre Dame after one week.
Ben Domench provides a rather anemic defense of O'Donnell at RedState:  Let's Attack Christine O'Donnell's LinkedIn Page! I find Domench's defense especially problematic, given his past problems with the accurate handling of information (to put it politely).***
Meanwhile, O'Donnell claims that she did not set up the LinkedIN profile:  Christine O'Donnell Says She 'Never' Posted LinkedIn Profile That Has Wrong Education Info.  However, it seems rather odd that someone went out of their way to put such a profile up (as O'Donnell claims not only not to have put it up herself, but also that she did not authorize anyone to put it up).  Still, it is possible.  Greg Sargent has more on this here:  LinkedIn responds to O'Donnell.  O'Donnell's credibility here is strained because of her prior record of embellishing her educational history.
*Apparently in her lawsuit against ISI she claimed that the company prevented her from pursuing a master's degree at Princeton.  See the Weekly Standard:  Citing "Mental Anguish," Christine O'Donnell Sought $6.9 Million in Gender Discrimination Lawsuit Against Conservative Group.  That claim, which clearly was a radical exaggeration, is made worse by the fact that at the time it was made, O'Donnell did not have a bachelor's degree—something masters programs like one to have.
**I base this surmise on the fact that she made public claims that she was a graduate of FDU, including during previous campaigns.  If she made such claims to the public, it seems reasonable to assume that she presented herself as having a degree to employers as well.  Further, one of the purposes of LinkIn is to serve as an online resume that potential employers can review.  Setting her FDU dates as 1989-1993 suggests rather strongly that she earned her degree in 1993.
***Would would like to think that losing a job over plagiarism would lead one to be a bit more conscious of the significance of being as accurate as possible with written information in particular.  However, it would appear that partisanship trumps that factor here.