Senators Graham and Lee Owe us an Explanation
Really, they owed (and still owe) us better behavior.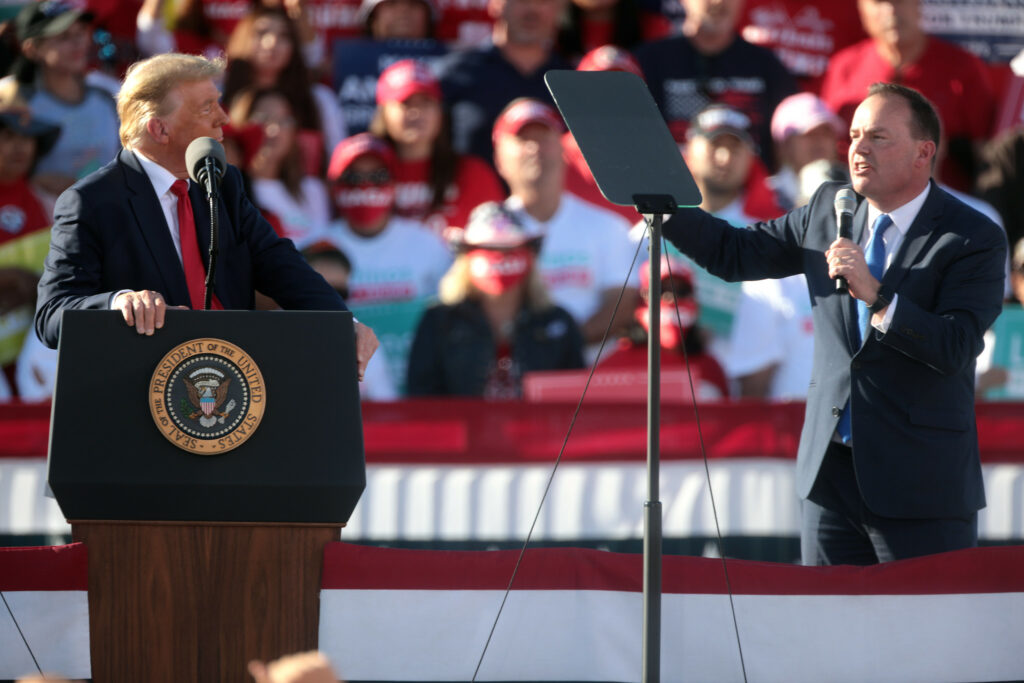 The dribs and drabs of news from the Woodward and Costa's Peril keep coming. In this case, it is reporting on a memo prepared by a Team Trump attorney, John Eastman, that outlined a theory of how Vice President Mike Pence could have blocked electoral votes in seven states and sending the final vote to the Republican-controlled House of Representatives for a vote. The text of the memo is here, so one does not have to rely solely on the reporting in the book (and, for that matter, contemporaneous reports place Eastman in the Oval Office discussing this topic).
The basic plan as detailed in the memo is not new, although it is still kind of shocking to see it articulated in a formal memo written to the sitting President of the United States. But what strikes me about the CNN piece reporting on it, is that the memo was sent to Senator Mike Lee (R-UT) and Lindsay Graham (R-SC).
The reports state that neither Graham nor Lee supported the contentions in the memo. Good for them, as the memo's contentions are nonsense. Nonetheless, while rejecting Eastman's theories was the correct thing to do, it was not enough. To have an ally of the sitting president float such theories is dangerous and a demonstration that said president is opposed to democracy. That is the kind of thing that ought to alarm US Senators enough that they would go beyond partisan affiliation and instead alert the public.
However, Lee and Graham did not do so. And they owe the American people an explanation as to why.
Note, I do not expect that they will do so.
I cannot find, by the way, any reactions from Lee of Graham to these reports.
Graham did briefly step back from Trump after the events in January, but that didn't last. Indeed, as the WaPo write-up on the story notes about Graham:
it wasn't until after a pro-Trump mob ransacked the Capitol that Graham, speaking on the Senate floor, said, "Count me out. Enough is enough. I've tried to be helpful."

He has since tacked back, visiting Trump at Mar-a-Lago, speaking to him regularly and saying the GOP "can't grow" without the former president. Still, he has continued to deliver criticism directly to Trump, according to the book. In a phone call this summer, he bemoaned Trump's volatility and focus on voter fraud, telling the former president, "You f—ed your presidency up." Trump abruptly hung up on him. A spokesman for Graham declined to comment.
It should be noted that Eastman spoke at the January 6th "Save America" rally that helped spark the insurrection. This lead to his resignation from his professorship at Chapman's law school (where he once served as dean). As per InsideHigherEd: Eastman Out
Chapman University and John Eastman, a professor and former dean of the law school, have agreed that Eastman will resign, effective immediately.

The announcement came one week after Chapman, the Henry Salvatori Professor of Law and Community Service, spoke at the Jan. 6 "Save America" rally in Washington, D.C. — and after students and colleagues accused him of helping incite the riot at the Capitol that followed.

At the rally, Eastman appeared onstage next to Rudy Giuliani, saying, "We know there was fraud" and "dead people voted" in the 2020 presidential election. Voting machines contained a "secret folder" of ballots, challenging the "very essence of our republican form of government," he said.

Eastman asked Vice President Mike Pence to delay that day's Electoral College certification vote. Giuliani called for "trial by combat," which he has since said was a reference to the "documentary" Game of Thrones.The rest, as they say, is now history.
Eastman had already run afoul of his colleagues by floating a birther-style theory about Kamala Harris:
Eastman's fellow professors at Chapman have previously spoken out against his debunked legal theory that Vice President-elect Kamala Harris may not be eligible to serve in that role as the daughter of immigrants. Chapman faculty members also objected to Eastman's ignored request that the U.S. Supreme Court nullify millions of votes in the recent election.

But in a letter to the Los Angeles Times, 169 professors and three members of Chapman's Board of Trustees said his involvement in the rally represented a new low requiring urgent action on the university's part.
Eastman was, at the time of the rally, also a visiting scholar at the University of Colorado at Boulder's Bruce D. Benson Center for the Study of Western Civilization. That gig, too, went sideways. See, The Bold: CU Boulder's rescinds visiting scholar John Eastman's speaking and outreach duties after claiming election fraud.
So, he then focused on his fellowship at the Claremont Institute, a right-wing think tank that has been a source of pro-Trump nonsense. See, for example, this piece from The Bulwark this summer (which also notes Eastman's 1/6 performance): What the Hell Happened to the Claremont Institute?
one place where he is still welcome is the Claremont Institute. Eastman is a senior fellow at the four-decade-old conservative think tank; a member of its board of directors; and the founding director of its Center for Constitutional Jurisprudence, a shingle under which he sporadically files lawsuits and amicus briefs. When Eastman resigned from Chapman, he defended himself in the American Mind, a Claremont web magazine. In Claremont's flagship publication, the Claremont Review of Books (CRB), one of the institute's foremost scholars, Charles C. Kesler, defended him in turn. Eastman may be persona non grata at institutions wary of anti-democratic conspiracy theorists, but at the Claremont Institute he fits right in.
The piece is long and worth a read (although it isn't perfect–for example it treats the Heritage electoral fraud database seriously in ways that I have warned against).
Side note: I wrote about Claremont luminary Michael Anton's views on the election here. Spoiler: I was unimpressed.
Back to Eastman, he is scheduled to be on two panels at the upcoming America Political Science Association meeting, which has sparked uproar amongst APSA members. For example, see this open letter from David Karpf, Associate Profess of Political Science at GWU). See also, Trump lawyer who planned election overthrow to speak at conference despite objections. The entire affair is drawing negative attention to the Claremont Institute's practice of selling sponsorships of their APSA panels. (Full disclosure, I am not currently a member of APSA< but have been in the past).
---
So, the good news is that Chapman and UC Boulder rejected Eastman. The bad news is that the Claremont Institute is still producing what it is producing. The worst news is that elected officials like Lee and Graham don't see the need to thoroughly and directly condemn things like the Eastman memo.