Judge: Trump Committed Crimes
His conversations with lawyers about stealing the election are not protected by privilege.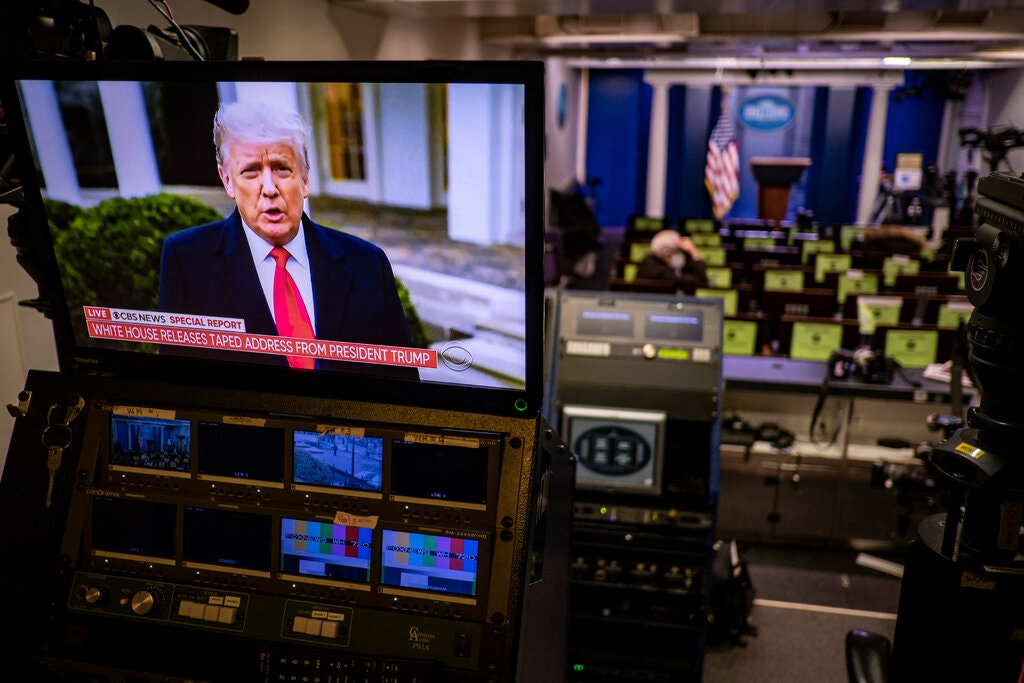 WaPo ("Judge: Trump 'more likely than not' committed crime in trying to block Biden win"):
A federal judge said Monday that then-President Donald Trump "more likely than not" committed federal crimes in trying to obstruct the congressional count of electoral college votes on Jan. 6, 2021 — an assertion that is likely to increase public pressure on the Justice Department to investigate the former commander in chief.

The determination from U.S. District Judge David O. Carter came in a ruling addressing scores of sensitive emails that Trump ally and conservative lawyer John Eastman had resisted turning over to the House select committee investigating the Jan. 6 riot and related efforts to overturn the 2020 presidential election result.

Eastman wrote key legal memos aimed at denying Democrat Joe Biden's victory. The judge was assessing whether Eastman's communications were protected by attorney-client privilege and was analyzing in part whether Eastman, Trump and others had consulted about the commission of a crime.

"Based on the evidence, the Court finds it more likely than not that President Trump corruptly attempted to obstruct the Joint Session of Congress on January 6, 2021," wrote Carter, who is based in California and has jurisdiction because that is where Eastman filed the case.

Trump spokesman Taylor Budowich called the ruling "absurd and baseless" and said it was an example of "how the left is weaponizing every branch of government against President Trump."

Eastman's legal team issued a statement saying that Eastman had a "duty" to raise attorney-client privilege claims to protect communications for those he represented, but that he "intends to comply with the court's order" to turn over documents.

Carter based his assertions on a review of Eastman's email communications — only one of which the judge determined might be evidence of the furthering of a crime — as well as publicly known facts about Trump's actions in the run-up to the Jan. 6 riot.

His ruling does not mean Trump will be charged with a crime, or even investigated. But the opinion will increase pressure on the Justice Department to intensify its probe of the Jan. 6 riot, and potentially examine the conduct of Trump himself. While Attorney General Merrick Garland has vowed to hold accountable those responsible for the violent breach of the Capitol "at any level," there have been scant signs that the Justice Department is directly investigating Trump's conduct.

The ruling is also a win for the Jan. 6 committee, which has been moving aggressively to subpoena documents and call witnesses. The committee voted Monday night to recommend holding two former Trump aides — former trade and manufacturing director Peter Navarro and former communications chief Daniel Scavino Jr. — in criminal contempt of Congress for refusing to comply with its subpoenas. The House will vote soon on whether to refer the men to the Justice Department for possible prosecution.
NYT ("Federal Judge Finds Trump Most Likely Committed Crimes Over 2020 Election") adds:
"The illegality of the plan was obvious," wrote Judge David O. Carter of the Central District of California. "Our nation was founded on the peaceful transition of power, epitomized by George Washington laying down his sword to make way for democratic elections. Ignoring this history, President Trump vigorously campaigned for the vice president to single-handedly determine the results of the 2020 election."

The actions taken by Mr. Trump and Mr. Eastman, Judge Carter found, amounted to "a coup in search of a legal theory."

[…]

Judge Carter's decision was perhaps the investigation's biggest development to date, suggesting its investigators have built a case strong enough to convince a federal judge of Mr. Trump's culpability and laying out a road map for a potential criminal referral.

[…]

In a statement hailing the judge's decision, the chairman of the House committee, Representative Bennie Thompson, Democrat of Mississippi, and its vice chair, Representative Liz Cheney, Republican of Wyoming, said the nation must not allow what happened on Jan. 6, 2021, "to be minimized and cannot accept as normal these threats to our democracy." Mr. Trump made no public statement about the ruling.
WaPo national correspondent Philip Bump explains "Here's how a federal judge believes Trump probably broke the law."
The judge was also asked by the House committee to evaluate if the material might need to be turned over because it was not protected by privilege due to the "crime-fraud" exception. In other words, if an attorney is discussing the commission of a crime with a client, that material may not be subject to being withheld under privilege. And earlier this month that's precisely what the committee alleged: Trump and Eastman were engaged in an effort to violate more than one federal law and, therefore, communication related to that effort should not be privileged.

Carter agreed. The standard in a civil case is that a "preponderance of the evidence" shows that a crime was probably committed, meaning the evidence needed to show that it was "more likely than not." And when considering the components of two crimes identified by the committee, Carter felt such a preponderance existed.

The first allegation was that Trump had tried to obstruct an official proceeding. For such a crime to be committed, Carter wrote, it needs to be shown that three things happened:

1. "the person obstructed, influenced or impeded, or attempted to obstruct, influence or impede"

2. "an official proceeding of the United States, and"

3. "did so corruptly."

The second allegation — that there was a conspiracy to defraud the United States — has similar requirements: that "at least two people entered into an agreement to obstruct a lawful function of the government … by deceitful or dishonest means, and … that a member of the conspiracy engaged in at least one overt act in furtherance of the agreement."

In each case, two of the three stipulations are easy to meet. Trump's effort to obstruct (No. 1) an official proceeding (No. 2) — the counting of electoral votes — is obvious, though Carter outlines the specific path by which that occurred. Similarly, the first and third components of the conspiracy allegation are fairly trivial to identify: Trump and Eastman worked to twist Pence's arm and called on the crowd outside the White House to march to the Capitol and pressure Congress, among other things. Again, the full filing makes each case explicitly.

[…]

"President Trump's repeated pleas for Georgia Secretary of State Raffensperger clearly demonstrate that his justification was not to investigate fraud, but to win the election," Carter wrote in his opinion. He quoted Trump: "So what are we going to do here, folks? I only need 11,000 votes. Fellas, I need 11,000 votes. Give me a break."

"Taken together, this evidence demonstrates that President Trump likely knew the electoral count plan had no factual justification," Carter continued.

In other words, Trump let the veil drop. He wasn't concerned that fraud might have occurred and that the will of the voters was lost. He was simply worried about getting those votes he needed — and wanted the Republican secretary of state to play ball. This is a corrupt intent. This is dishonest.

"The illegality of the plan was obvious," Carter wrote of the obstruction allegation. "… President Trump vigorously campaigned for the Vice President to single-handedly determine the results of the 2020 election. As Vice President Pence stated, 'no Vice President in American history has ever asserted such authority.' Every American — and certainly the President of the United States — knows that in a democracy, leaders are elected, not installed. With a plan this 'BOLD'" — quoting Eastman — "President Trump knowingly tried to subvert this fundamental principle."

There were legal implications from the ruling for the House committee and for Eastman. But, particularly when coupled with the finding last month that Trump probably entered into a civil conspiracy with extremist groups similarly aimed at blocking the 2020 election, Carter's assertion that a preponderance of evidence suggested that Trump violated the law is historic and enormously significant.
The more this case unfolds, the more I'm reminded of this classic exchange from "The Wire":
Russell 'Stringer' Bell : Motherfucker, what is that?

Sean 'Shamrock' McGinty : Robert Rules say we gotta have minutes for a meeting, right? These the minutes.

Russell 'Stringer' Bell : Nigger, is you taking notes on a criminal fucking conspiracy?
Presumably, rather than the niceties of Roberts Rules, the motivation here was documenting billable hours. But the effect is the same.
I continue to be highly skeptical that Trump will ever be indicted, but less convicted, of any crimes related to his time in office. But certainly, by hiring "only the best people" to advise him, he's made it slightly more likely by leaving behind a mountain of evidence.