Jan 6 Committee Alleges Trump Criminal Conspiracy
The former President should have known that his claims of election fraud were baseless.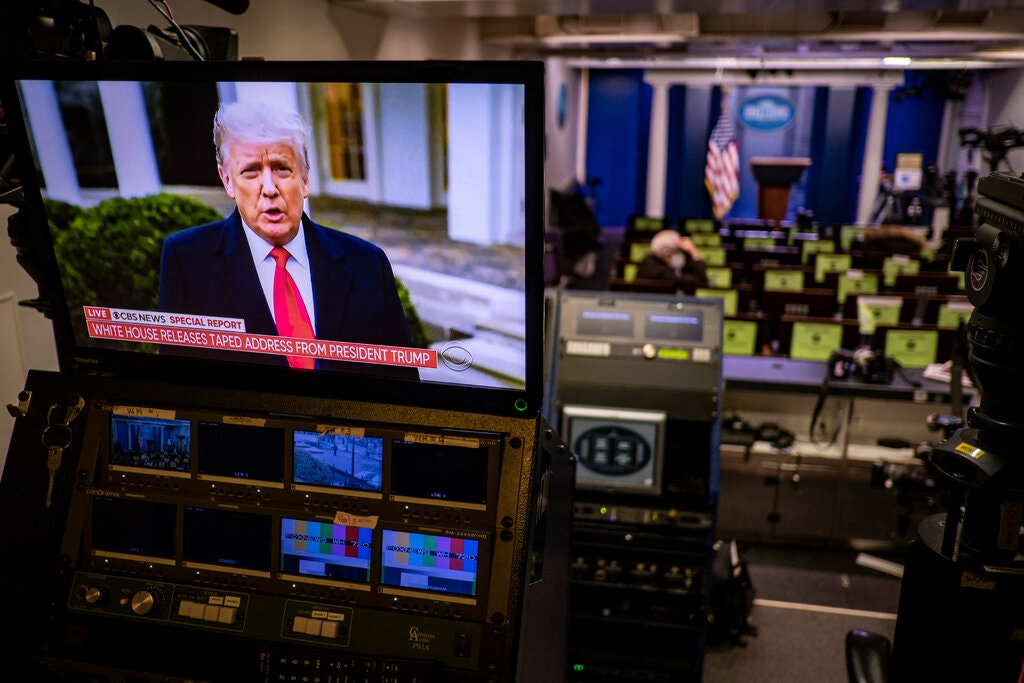 WaPo ("Jan. 6 committee alleges Trump, allies engaged in potential 'criminal conspiracy' by trying to block Congress from certifying election"):
Lawyers for the House panel investigating the Jan. 6, 2021 attack on the Capitol said in a court filing Wednesday that former president Donald Trump and key allies engaged in potential crimes during their effort to overturn the election: conspiring to defraud the United States and obstructing an official congressional proceeding — the counting of electoral votes.

The alleged criminal acts were raised by the committee in a California federal court filing challenging conservative lawyer John Eastman's refusal to turn over thousands of emails the panel has requested related to his role in trying to persuade Vice President Mike Pence to reject electors from states won by Joe Biden. Eastman has cited attorney-client privilege as a shield against turning over the documents because he has said he was representing Trump at the time.

The committee argued in its filing that Eastman's claim of privilege was potentially voided by the "crime/fraud exception" to the confidentiality usually accorded attorneys and their clients, which holds that communications need not be kept confidential if an attorney is found to be assisting their client in the commission of a crime. They asked the judge deciding whether to release Eastman's emails to privately review evidence the committee has so far gathered to see if he believes it establishes that Eastman was assisting Trump in criminal acts.

"The Select Committee also has a good-faith basis for concluding that the President and members of his Campaign engaged in a criminal conspiracy to defraud the United States," according to the filing.

The court filing is the strongest assertion yet from the committee that it believes Trump and some of his allies potentially committed crimes during the effort to overturn Biden's victory and by falsely stating repeatedly that the election was stolen.

"The facts we've gathered strongly suggest that Dr. Eastman's emails may show that he helped Donald Trump advance a corrupt scheme to obstruct the counting of electoral college ballots and a conspiracy to impede the transfer of power," the committee's chairman, Rep. Bennie G. Thompson (D-Miss.), and vice chair, Rep. Liz Cheney (R-Wyo.), said in a statement.

The committee has no authority to initiate criminal proceedings, and the fact that potential criminal law violations were mentioned in a court filing by the panel does not provide any indication that the Justice Department will consider any prosecutions. Nor does it mean that the lawyer-client protection asserted by Eastman will not be upheld.

But it underscores the committee's aggressive approach and effort to hold Trump and his allies accountable for both their actions before Jan. 6, 2021, and on that day, which the panel's members have charged were an assault on American democracy.

Lawyers for the committee argued that the evidence it has gathered so far led to a "good-faith belief that Mr. Trump and others may have engaged in criminal and/or fraudulent acts" and that Eastman was "used in furtherance of those activities."

Former federal prosecutor Randall Eliason called the filing "a major development" but noted that "this is only a civil proceeding concerning attorney-client privilege. To prove the actual crimes beyond a reasonable doubt, prosecutors would have to meet a much higher burden."

Still, Eliason said the significance of the filing "is that the evidence being uncovered points clearly in the direction of possible criminal conduct by Trump himself in connection with the efforts to overturn the election. We can be sure that the Department of Justice is in contact with the committee and is watching closely."
NYT ("Jan. 6 Committee Lays Out Potential Criminal Charges Against Trump") adds:
The filing also said the men might have broken a common law statute against fraud through Mr. Trump's repeated lies that the election had been stolen.

The filing disclosed only limited new evidence, and the committee asked the judge in the civil case to review the relevant material behind closed doors. In asserting the potential for criminality, the committee largely relied on the extensive and detailed accounts already made public of the actions Mr. Trump and his allies took to keep him in office after his defeat.

The committee added information from its more than 550 interviews with state officials, Justice Department officials and top aides to Mr. Trump, among others. It said, for example, that Jason Miller, Mr. Trump's senior campaign adviser, had said in a deposition to the committee that Mr. Trump had been told soon after Election Day by a campaign data expert "in pretty blunt terms" that he was going to lose, suggesting that Mr. Trump was well aware that his months of assertions about a stolen election were false.
WSJ (which, incidentally, does not feature the report on the front page of its website or even highlight its report "Jan. 6 Committee Says Trump and Allies Might Have Committed Crimes" on its Politics page) adds:
The panel suggested it had evidence that Mr. Trump potentially engaged in conspiracy to defraud the United States, obstructed an official proceeding and committed fraud—serious federal charges that could eventually be referred to the Justice Department for consideration. Such a move would immediately thrust the Justice Department into a political firestorm.

[…]

As part of the filing, the panel attached several hundred pages of transcripts and emails. One hints at the vigorous debate that played out between Mr. Eastman and his allies within the Trump administration and Mr. Pence and his staff over whether the vice president could halt the certification, as Mr. Eastman claimed.

"I have run down every legal trail placed before me to its conclusion and I respectfully concluded that as a legal framework, it is a results oriented position that you would never support if attempted by the opposition, and essentially entirely made up," wrote Mr. Pence's top lawyer Gregory Jacob on Jan 6. "And thanks to your bulls—, we are now under siege."
This is certainly a bold statement on the part of the committee. That everyone around Trump was telling him that there was no basis for believing the election was stolen is interesting in a number of ways but I honestly don't know that it's enough to prove fraud. I continue to be highly skeptical that the DOJ will see this as sufficient to indict a former President.