Civility Strained by Coronavirus
We're a long, long way from normal.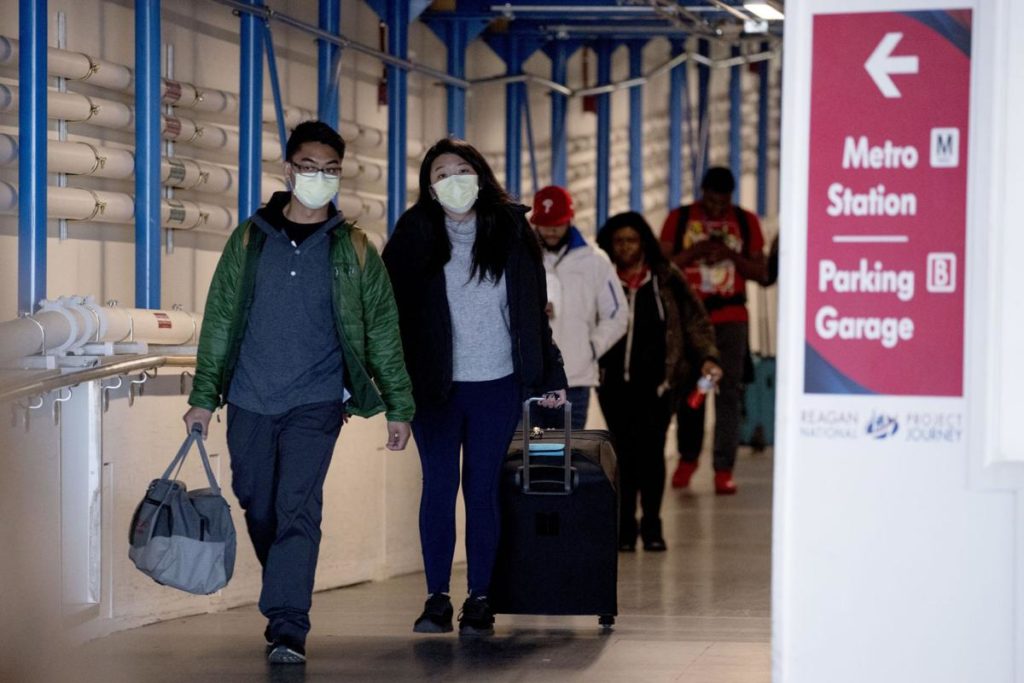 The Atlantic's McCay Coppins took his first flight since the COVID-19 lockdowns began. He was prepared for it to be bad. It was much worse than he feared.
The cabin was restless. It was a weekday afternoon in late April, and I was among dozens of people boarding an airplane that most of us had assumed would be empty. Flight attendants were scrambling to accommodate seat-change requests. Travelers—stuffed shoulder to shoulder into two-seat rows—grumbled at one another from behind masks. An ominous announcement came over the in-flight PA system: "We apologize for the alarming amount of passengers on this flight." Each of us was a potential vector of deadly disease.

I arrived at my assigned row, and found a stocky, gray-haired man in the seat next to mine. When I moved to sit down, he stopped me. "Sit there," he said gruffly, pointing to the aisle behind us. "Social distance."

Not eager for a confrontation, I decided to comply. Within seconds, though, a flight attendant materialized and ordered me back to my assigned seat. My recalcitrant would-be seatmate, vigorously objecting to this development, responded by blocking my entrance to the row with his leg.

A standoff ensued, with the irate passenger protesting that there were plenty of empty rows where I could sit (there weren't) and the long-suffering flight attendant all but threatening to kick him off the plane (she didn't). Finally, he relented and I squeezed awkwardly into my seat as the man muttered profanities under his breath.

[…]

But flying during a pandemic turned out to be more stressful—and surreal—than I'd planned for. The scenes played out like a postapocalyptic movie: Paranoid travelers roamed the empty terminals in masks, eyeing one another warily as they misted themselves with disinfectant. Dystopian public-service announcements echoed through the airport—"This is a message from the Centers for Disease Control and Prevention…" Even the smallest, most routine tasks—such as dealing with the touch-screen ticketing kiosk—felt infused with danger.

My trip took place in two legs, and the first was weird mostly in the ways that I'd expected. All but a few of the shops and restaurants at Washington National Airport were closed. Beverage service in the main cabin was suspended (though apparently serving ginger ale to first-class passengers was ruled epidemiologically acceptable). My first flight was so empty that the pilot warned we would experience "a very rapid acceleration for takeoff." The plane leapt into the sky and my stomach dropped. I spent much of the flight using my baggie of Lysol wipes to scrub and re-scrub every surface within reach.

The layover at O'Hare was where my fellow travelers' fraying nerves came more fully into view.In the restroom, men hovered over sinks like warriors returning from battle, fervently washing their hands and shooting menacing looks at anyone who got too close. At the food court, a shouting match broke out among several stressed-out strangers, and police had to intervene.
I'm frankly shocked that airlines aren't being required to spread non-household-member passengers out, leaving vast numbers of seats open. That would, of course, require insanely high ticket prices but nobody should be flying right now without urgent need, anyway.
It's unlikely I'll need to fly anytime soon but things are definitely different out there. Virginia is under stay-at-home orders for another month, although there are reports that some restrictions may ease soon.
I've mostly been at home since March 18, my last day at the office for the foreseeable future. In the early weeks, I was going to the grocery store or Walmart maybe once weekly but have largely stopped going since the CDC recommended masks. While I'm feeling cooped up, our 20- and 19-year-olds are feeling it worse than me and going on most of the small errands for us. And my wife has endured the last two Costco runs, which I would normally have made on the way home from work.
Yesterday morning was my first extended set of errands wearing a mask and I found it surreal. I got to the hardware store very early and it wasn't particularly crowded. But I felt claustrophobic in the mask, with my breathing noticeably harder. And my glasses fogging up didn't help, either.
Unlike neighboring Maryland, masks are merely suggested here, not required. Most people I observed at the hardware and grocery stores were compliant but I felt angry at those few who weren't. Who did they think they were?
Costco is insisting that customers and employees alike wear masks. The last two times my wife has gone have involved very long waits to get in and then finding shelves poorly stocked and limits on purchases of some items. Mostly notably, customers are limited to three fresh meat packages. In a household of seven, that's three dinners and, frankly, not worth waiting in line for an hour—let alone in a mask.
The hardware store I went to yesterday morning happens to be next to the Costco and I stopped to fill up my tank since there was no line. I noticed that, despite it not yet being 8 am, there was already a line at the store itself, which usually opens at 10. I went over to check it out, figuring that maybe they were opening early for senior citizens. But, no, people were getting in line early so they could be the first in the store when it opened over an hour later.
I left. Considering that the whole point of Costco is buying in bulk, I'll likely cancel our membership if this continues.
Thankfully, there's not yet shortages at the local grocery stores, minus the paper products that have been in notoriously short supply for months. Most people were in masks and social distancing but some were not.
Aside from the mask issue, I didn't see any indication of people being more rude than normal. Those waiting in line at the Costco were more patient than I would have been. But my wife has gone during the middle of the day and found people crankier than normal. Which, really, isn't surprising. They're frightened and frustrated.
Coppins observes,
The things we miss most about our pre-pandemic lives—dine-in restaurants and recreational travel, karaoke nights and baseball games—require more than government permission to be enjoyed. These activities are predicated not only on close human contact but mutual affection and good-natured patience, on our ability to put up with one another.
Governors can lift restrictions and companies can implement public-health protocols. But until we stop reflexively seeing people as viral threats, those old small pleasures we crave are likely to remain elusive.
I can't imagine going to a restaurant or ballgame right now. Doing so in a mask would be decidedly unenjoyable and do so without one would be simply irresponsible.
But Coppins is right. We're not going to get our old life back until we find a cure, or at least a treatment, for this disease. And it'll take a while to regain the trust that's required for a normal economy to function.