Clarence Thomas's Wife Seeks Apology From Anita Hill
Nineteen years after they ended, the Clarence Thomas-Anita Hill hearings are back in the news thanks to a voicemail that Thomas's wife left for Professor Hill.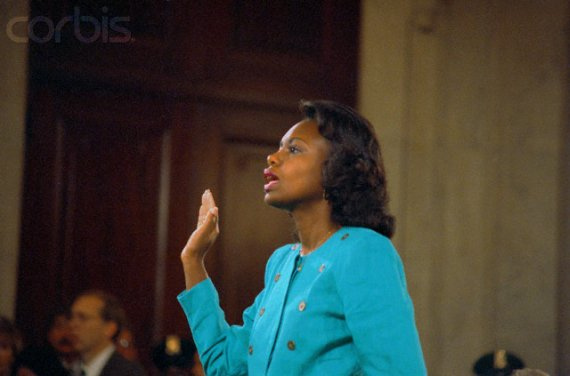 Making headlines this evening is the news that Virginia Thomas, the wife of Supreme Court Justice Clarence Thomas, contacted Anita Hill recently and asked her to apologize for the 19 year old accusations that nearly ruined Thomas's Supreme Court bid:
WASHINGTON – Virginia Thomas, the wife of Supreme Court Associate Justice Clarence Thomas, left a message last weekend on the voicemail of Anita Hill, who accused her husband of sexual harassment during his confirmation hearings, a spokeswoman for Ms. Thomas confirmed on Tuesday.

In a message left at the office of Ms. Hill, who is now a professor at Brandeis University, Ms. Thomas apparently brought up Ms. Hill's accusations against her husband during the 1991 hearings.

In response to questions about the call relayed through a publicist, Ms. Thomas confirmed that she had left a message on Ms. Hill's voicemail.

"I did place a call to Ms. Hill at her office extending an olive branch to her after all these years, in hopes that we could ultimately get passed what happened so long ago," Ms. Thomas said in a statement provided to The New York Times.

"That offer still stands," her statement went on. "I would be very happy to meet and talk with her if she would be willing to do the same. Certainly no offense was ever intended."

Ms. Thomas did not explain why she had reached out to Ms. Hill at this time

ABC News quoted from the voicemail.

"Good morning, Anita Hill, it's Ginny Thomas," she said, according to ABC News. "I just wanted to reach across the airwaves and the years and ask you to consider something. I would love you to consider an apology sometime and some full explanation of why you did what you did with my husband. So give it some thought and certainly pray about this and come to understand why you did what you did. Okay have a good day."
It is a rather odd development. It's been nineteen years since those hearings took place, and given what Thomas himself had to say at the time his autobiography came out, I would've thought that the idea of any further contact with Antia Hill would have been considered absurd in the Thomas household:
"When you thing about Anita Hill…was she a pawn, was she a liar?"

Justice Thomas: "I really don't care enough—let me be honest with you. I went through that during the hearing. I thought about it. I really don't care. What I care about is that the responsible people didn't put an end to this nonsense.
Virginia Thomas's response at the time was markedly different, and may explain what happened last week:
"I think there's a lot of theories, but I hope she once day calls up and apologizes and I look forward to forgiving her." …I'm sure she got swept up into something bigger than she may have understood at the beginning of whatever she was doing, but I think she owes us an apology and I look forward to receiving that phone call or that visit one day. "
So perhaps Virginia Thomas thought that calling up Anita Hill would prompt some kind of regret on her part. It was a naive thought, obviously, especially considering the fact that leaving a voicemail meant that it was inevitable that this would reach the media, and lead to silliness like this:
While Ms. Thomas described the call as an attempt to reach out, the university appeared to be taking the matter more seriously.

Andrew Gully, senior vice president of the Brandeis University Communications office, confirmed that Ms. Hill had received the message, that she had turned it over to the campus Department of Public Safety yesterday. They, in turn, passed it on to the FBI.

"I though it was certainly inappropriate," Ms. Hill said in an interview. "It came in at 7:30 a.m. on my office phone from somebody I didn't know, and she is asking for an apology. It was not invited. There was no background for it."
Getting the FBI involved is just the height of silliness. Though it may have been a dumb thing to do, there's nothing in that voicemail that objectively constitutes a threat. However, by doing so, Hill and her colleagues at Brandeis have found another way to embarrass Clarence Thomas, and that's something that Anita Hill has a history of doing.
Update: John Cole takes me to task for that last paragraph:
So a couple decades ago, you believe you were sexually harassed. You testify honestly and truthfully, and are smeared and attacked for coming forward. You let things go, and twenty years later there is a voice message on your office phone. The message claims to be from Ginny Thomas, and if that wasn't odd enough, she's asking YOU for an apology? After her husband sexually harassed YOU! After they tried to destroy YOU for simply telling the truth. Thinking no one is that stupid, you decide it must be a prank, and pass it off to Campus Security.
Of course, not everyone believed Anita Hill then, and not everyone believes her now. I suppose for even bringing that up I'll be called a right-wing nut job or something (which is fine because I think yesterday was the day I was scheduled to be called an Obama-loving socialist)  but it's the truth. And if you don't believe Anita Hill, or at least don't believe that her motives for testifying in 1991 were pure and honest, then it's perfectly logical to think that her motives now are shaded as well. Like I said, she could've just deleted the voicemail and left it at that.
In any case, though, I'd like to thank Virginia Thomas for making the bizarre decision to place this phone call at 7:30 on a Saturday morning, thus allowing us all to relive October 1991 all over again. And by "thank" I mean ask her what the hell she was thinking.