Former Girlfriend Claims To Corroborate Decades Old Charges Against Clarence Thomas
Thanks mostly to Virginia Thomas's decision to place an early Saturday morning phone call to Anita Hill, a woman who had remained silent since 1986 appears in the press to claim she can corroborate the charges that Anita Hill made nineteen years ago.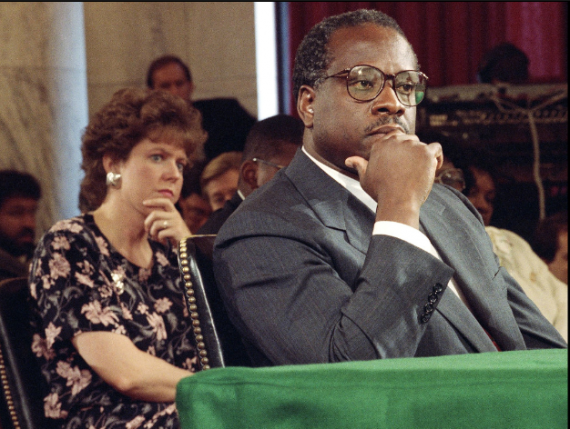 On the same week that we learned that Supreme Court Justice Clarence Thomas's wife had, bizarrely and without any seemingly rational explanation, called Anita Hill demanding that she consider apologizing for the charges she leveled twenty years ago, The Washington Post is out with a report about a woman who dated Thomas in the  90s and claims that the charges Hill makes are consistent with the man she knew:
For nearly two decades, Lillian McEwen has been silent — a part of history, yet absent from it.

When Anita Hill accused Clarence Thomas of sexual harassment during his explosive 1991 Supreme Court confirmation hearing, Thomas vehemently denied the allegations and his handlers cited his steady relationship with another woman in an effort to deflect Hill's allegations.

Lillian McEwen was that woman.

At the time, she was on good terms with Thomas. The former assistant U.S. attorney and Senate Judiciary Committee counsel had dated him for years, even attending a March 1985 White House state dinner as his guest. She had worked on the Hill and was wary of entering the political cauldron of the hearings. She was never asked to testify, as then-Sen. Joe Biden (D-Del.), who headed the committee, limited witnesses to women who had a "professional relationship" with Thomas.

Now, she says that Thomas often said inappropriate things about women he met at work — and that she could have added her voice to the others, but didn't.

(…)

She has written a memoir, which she is now shopping to publishers. News broke that the justice's wife, Virginia Thomas, left a voice mail on Hill's office phone at Brandeis University, seeking an apology — a request that Hill declined in a statement. After that, McEwen changed her mind and decided to talk about her relationship with Thomas.
In other words, as with last week's phone call, this story is in the news again primarily, if not solely, because of the stupid, some would say obsessive, decision by Virginia Thomas to re-open a decades old wound. But for that decision, her husband would not be going through this embarrassment again, and we would not reading things like this:
McEwen scoffs softly when asked about Thomas's indignation, which has barely cooled in the 19 years since the hearings. In his vivid 2007 memoir, the justice calls Hill a tool of liberal activists outraged because he did not fit their idea of what an African American should believe.

McEwen's memoir describes her own "dysfunctional" family in the District and, ultimately, a long legal career. She charts how she developed an "inner self" to escape the chaos of her childhood. Her story also includes explicit details of her relationship with Thomas, which she said included a freewheeling sex life.

Given that history, she said Hill's long-ago description of Thomas's behavior resonated with her.

"He was obsessed with porn," she said of Thomas, who is now 63. "He would talk about what he had seen in magazines and films, if there was something worth noting."

McEwen added that she had no problem with Thomas's interests, although she found pornography to be "boring."

According to McEwen, Thomas would also tell her about women he encountered at work. He was partial to women with large breasts, she said. In an instance at work, Thomas was so impressed that he asked one woman her bra size, McEwen recalled him telling her.

Presented with some of McEwen's assertions, Supreme Court spokeswoman Kathy Arberg said Thomas was unavailable for comment.

However bizarre they may seem, McEwen's recollections resemble accounts shared by other women that swirled around the Thomas confirmation.

Angela Wright, who in 1984 worked as public affairs director at the Equal Employment Opportunity Commission — which polices sexual harassment claims — during Thomas's long tenure as chairman, shared similar accounts with Senate investigators.

Once, when walking into an EEOC seminar with Thomas, he asked her, "What size are your breasts?" according to the transcript of her Senate interview.

Her story was corroborated by a former EEOC speechwriter, who told investigators that Wright had become increasingly uneasy around Thomas because of his comments about her appearance.

But Wright also had problems that made committee Democrats nervous. She had been fired by Thomas, and previously by a member of Congress. She also had quit a third job in government, accusing her boss of incompetence and racism.

Concerned about Wright's credibility, Biden lifted a subpoena for her to testify at the hearing. Instead, transcripts of the interviews with Wright and her corroborator were simply entered into the record, drawing only modest press attention.

Another woman, Sukari Hardnett, who worked as a special assistant to Thomas in 1985 and 1986, wrote in a letter to the Judiciary Committee that "If you were young, black, female and reasonably attractive, you knew full well you were being inspected and auditioned as a female" by Thomas.
So, there you have it. Thanks to Virginia Thomas, a woman who had remained silent for twenty years has gone public and provided a story that, for those so inclined, appears to corroborate the picture of Clarence Thomas that Anita Hill painted before the committee. It doesn't matter for any substantive reason, other than, I imagine, the accuracy of history, but it's yet another opportunity to talk about a story that most of us had forgotten about long ago.
If nothing else, this earns Virginia Thomas the dubious honor of having placed the dumbest phone call in history.