Former House Speaker Jim Wright Dead At 92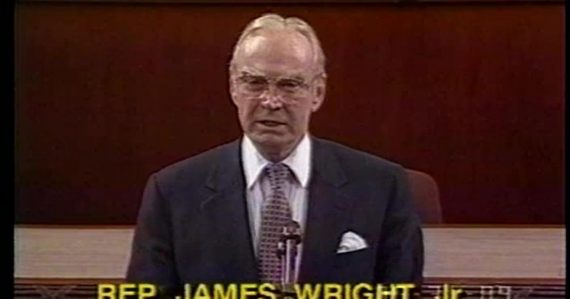 Jim Wright, a Texas Democrat who served for thirty-six years in the House of Representatives and ultimately rose to become Speaker Of The House after Tip O'Neill retired only to be forced to resign amid an ethics scandal, has died at the age of 92:
Jim Wright, a hard-driving 18-term Texas Democrat who, as speaker of the U.S. House of Representatives, expanded the influence of the speakership into foreign affairs before resigning from elective office in 1989 amid an ethics investigation into his business dealings, died May 6 at a nursing home in Fort Worth. He was 92.

The death was confirmed by Thompson's Harveson & Cole funeral home in Fort Worth. The cause was not immediately available.

Mr. Wright was a dominant and seemingly indomitable figure in the House, where he had risen from obscure Fort Worth congressman in the 1950s to majority leader under Speaker Thomas P. "Tip" O'Neill of Massachusetts in the 1970s.

In a House career spanning 34 years, Mr. Wright thrust himself most forcefully into the limelight when he succeeded O'Neill as speaker in 1987. Fiery and intense, Mr. Wright could not have been more different from the affable, backslapping O'Neill.

Mr. Wright envisioned a muscular speakership that influenced and generated foreign policy, historically the sphere of the White House and the Senate.

He antagonized the Reagan administration most boldly over its Central America policy, particularly aid to Nicaragua, which was suffering from a protracted civil war. Mr. Wright was crucial in brokering a deal that led to peace and democratic elections in Nicaragua.

Poised to become one of the most influential speakers in decades, Mr. Wright endured a year-long investigation by the House Ethics Committee that eroded his power and led to charges that focused on financial gain in violation of Congressional rules.

He was the fourth speaker to resign the office, but the first to step down amid allegations of ethical impropriety. His downfall was a pivotal moment in the rise of Rep. Newt Gingrich (R-Ga.), who led the fight for the ethics investigation, and in the House's transformation from a proudly collegial insitution to one mired in partisan rancor.

Although Wright denied the allegations and was never charged with a crime, he resigned in 1989, saying he acted to protect the House from the "mindless cannibalism" and the vitriolic partisanship fostered by the investigation.

Mr. Wright was not someone likely to generate widespread sympathy during an ethics probe. He had a reputation as a hot-tempered micromanager, and he once nearly came to fisticuffs with a California congressman over a procedural matter.

But he endeared himself to fellow Democrats by stumping for them in their districts and raising money for their campaigns. He also held one of the most popular functions on the Hill, an annual barbecue for which dressed as a cowboy and played the harmonica.
Wright came to power as Speaker in the wake of one of the House of Representative's legendary figures, Thomas P. "Tip" O'Neill of Massachusetts, and like O'Neill he was a strong opponent of the Reagan Administration, but he lacked O'Neill's ability to put politics aside to curry an amiable personal relationship with the Republican President, but he did play an interesting role in the war in Nicaragua:
In July 1987, a White House aide approached Mr. Wright about joining Reagan to broker a peace deal in Central America. Mr. Wright agreed, though many Democrats sensed it was a trap.

According to Barry's book, the White House enlisted Mr. Wright's support for a proposal it expected Nicaragua to reject, thinking it could then point to the failure of diplomacy to bolster the case for funding the contras.

After the Central Americans agreed on an accord, Mr. Wright began holding peace talks in Washington with Nicaraguan President Daniel Ortega and Cardinal Miguel Obando y Bravo, the archbishop of Managua, who was seen as a possible mediary in the civil war.

The White House had refused to meet with Ortega during that visit, insisting that he negotiate with the contras before any U.S. intervention. Mr. Wright scolded the Reagan administration for being "literally terrorized that peace might break out" in Central America and added that many leaders in that part of the world preferred negotiating through him because they have "the unfortunate impression that the administration treats them as inferiors."

After the Central American leaders drafted their own peace agreement, Mr. Wright offered his unequivocal support. The accord helped end Nicaragua's long civil war and led to democratic elections in 1990.

"He was absolutely critical," said William LeoGrande, an expert on Latin American politics at American University. "The Central American leaders looked to Wright for mediation, for advice and for support. . . . They felt he was committed to make it work."
In the end, though, it was the scandal that brought him down that he is most remembered for:
The allegation was that Mr. Wright circumvented House rules on outside income by accumulating about $54,000 in royalties from bulk sales of his 1984 book "Reflections of a Public Man."

The accusation was that in lieu of campaign contributions or speaking fees, which were tightly regulated, groups with business before the House made bulk purchases of the book. House rules exempt copyright royalties.

Based on the information from Common Cause, Gingrich filed a complaint with the ethics panel with the backing of dozens of other House Republicans. Mr. Wright and Gingrich had traded insults in the past, and the Georgia congressman was initially perceived as conducing a one-man crusade against the speaker.

Then in April 1989, the ethics committee reported that it found "reason to believe" that Mr. Wright had violated the rules of congressional conduct 69 times. In addition to the charges over the book royalties, Mr. Wright was accused of taking $145,000 in gifts from a Fort Worth developer.

Mr. Wright resigned on June 1, 1989, and his chief deputy, Tom Foley of Washington state, assumed the Speakership.
Foley's time in office would be short, though. In addition to losing the Speakership to Gingrich in the 1994 elections, Foley himself was also defeated for re-election in his Congressional District in Washington State. Thus, one can draw a direct line from Wright's downfall, which largely began when a Republican backbencher named Newt Gingrich made a name for himself by bringing the ethics complaint against Wright to the public's attention, to much of what happened in American politics in the 1990s after Republicans took control of Congress.