Time To End The Clarence Thomas/Anita Hill Debate
Washington Post columnist Richard Cohen argues that it's time to put the debate over the Clarence Thomas/Anita Hill mess to rest. He's right.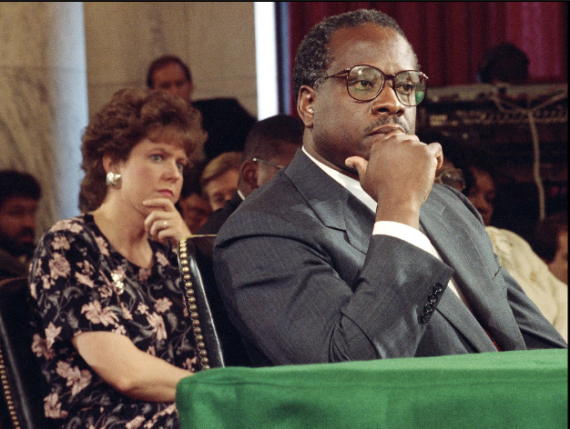 Reacting mostly to last week's Washington Post interview with a former girlfriend purporting to corroborate the claims that Anita Hill made about Clarence Thomas some two decades about, Richard Cohen argues that it's time for both sides to leave the he said-she said debate behind:
[Thomas's] latest accuser is an old flame of his, Lillian McEwen — lawyer, prosecutor, administrative judge and, some desperate publisher willing, author of a manuscript detailing time kept with Thomas way back in the 1980s, a bit before the modern era. The revelations — so banal as to comprise a virtual exoneration — are that Thomas was obsessed with women, likes them big-breasted, and indulged in a critical viewing of pornography. For this, The Post gave McEwen some 1,500 words, which, in this day and age, is a veritable king's ransom of words — about two of my standard op-ed columns. I am, understandably enough, mortified.

McEwen's remembrances are at least two decades old and have no bearing whatsoever on the present-day Clarence Thomas and how he conducts himself on the High Court.

In fact, they have nothing to do with anything — unless it is to prove that nothing about Thomas and his initial accuser, Anita Hill, makes any sense. Her charges fell somewhat short of blatant, coercive, sexual harassment — or, if they didn't, then why did she follow her abuser, Thomas, from one job to the next? A black, female Yale Law School graduate was not lacking in employment opportunities.

I long ago despaired of getting to the bottom of this case, and I long ago gave up wanting to. I concluded that Thomas as the product of a very small town — the aptly- named Pin Point, Ga. — who was the lone African American in a school full of whites, a racially-isolated kid who lacked the normal interactions and did not learn the requisite social graces. As for Hill, she, too, lacked a certain sophistication or judgment. If she was perplexed by him, he was perplexed by her.
I think Cohen, who is a liberal and no fan of Thomas's, has it right.
As the comment thread that erupted in the wake of my post about Ginny Thomas's still inexplicable phone call to Anita Hill two weeks ago shows, the passions over this issue seem to be as red hot as they were nineteen years ago. I'll admit to being one of those people who had strong opinions about the issue back during the hearings. Even with McEwen's statements, it's still not possible to say that one side or the other is definitively right or definitively wrong, and this still  boils down to a he-said/she-said debate that has more to do with how one feels about Clarence Thomas politically than anything else.
So, let's close the book on this, well, affair. At some point, history will make it's own judgment about what happened, but it's still pretty clear that the issue is still far too partisan to be resolved with any degree of objectivity.