Clinton Campaign Pays for Obama Trip (But Not Really)
As President Obama starts campaigning for Hillary Clinton, a perennial question arises.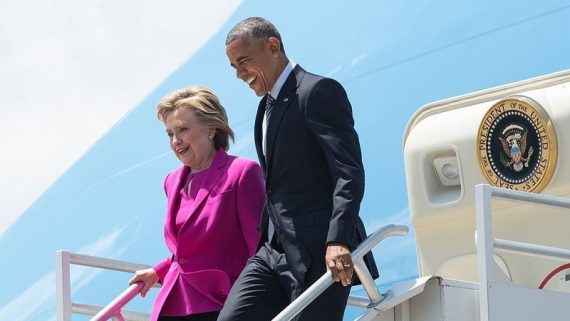 As President Obama officially starts campaigning for Hillary Clinton to succeed him in office, a perennial question has naturally arisen.  ABC's Jordyn Phelps:
Presumptive GOP nominee Donald Trump took to Twitter Tuesday to express outrage over the cost to taxpayers for President Obama's campaign trip to Charlotte, North Carolina with Hillary Clinton.

Taxpayers are paying a fortune for the use of Air Force One on the campaign trail by President Obama and Crooked Hillary. A total disgrace!

— Donald J. Trump (@realDonaldTrump) July 5, 2016

But what is the actual cost to taxpayers?

In the case of political travel by the president, there are rules that the federal government be reimbursed by the appropriate political organization for the costs of the travel.

White House Press Secretary Josh Earnest told reporters aboard Air Force One that today's trip, for the president's first joint campaign appearance with Hillary Clinton as the presumptive Democratic nominee, was no exception to that rule.

"The White House of course follows all rules and regulations that apply to the president's political travel," Earnest said, explaining that the DNC discloses payments made to the federal government for such purposes on a monthly basis to the FEC in compliance with the regulation.

In the most recently available figures, the cost of operating Air Force One averaged approximately $200,000 an hour, according to the Air Force. This figure includes fuel, food, repairs, and basic maintenance.

"As is the standard practice, the campaign will cover its portion of the costs," a Clinton aide told ABC News.

But while relevant political organizations may be on the hook for paying part of the costs associated with the plane's operation, there are additional security costs associated with presidential travel that do fall to the taxpayers.

Richard Painter, a former chief White House ethics lawyer under President George W. Bush, said there's a well-established process for sorting which costs can be charged to political organizations.

"There's a process that is used to allocate the costs between the DNC or the relevant campaign and the government," Painter told ABC News. "The cost of the Secret Service is paid for the taxpayer. If the president goes on vacation, we run into the same thing."

[…]In the case of political figures flying aboard Air Force One, as was the case today with Hillary Clinton and several of her campaign aides who also traveled with her, Painter said they did not get a free ride.

There's a formula by which they are charged for their flight comparable to the cost of a commercial first class ticket, he said.
Obama is following the same practice as his predecessors here. It's laughable to say that paying $1000 or so to cover the cost of a million dollar flight—and I'm being conservative in that estimate, considering the plane alone costs $200,000 an hour—constitutes the campaign reimbursing the taxpayer.  We are in fact paying a hefty price for the president to fly around the country campaigning for Hillary.
But I don't see how we get around that. Obama is president regardless of whether he's doing the taxpayer's business, playing golf, sleeping, or playing politician. He naturally has to be provided Secret Service protection; it would be just as tragic were he assassinated campaigning as it would en route to any other appearance. Similarly, he can't simply fly commercial and eschew the security and secure communications capabilities of Air Force One.
I suppose we could insist that campaigns take on the fully burdened costs of all that, but it would be rather silly. Granting that Clinton and the DNC are likely to spend a billion dollars or more this cycle, it's a pretty significant chunk of change. Further, it's more than a little tricky deciding what portion of a trip is "official business" vice "party business." If he gives a speech to the Kiwanis Club and also attends a fundraising dinner, is it a 50-50 split? Do we do it based on how much time he spent at each event? Or do we say that he was in town, anyway, so there's little additional cost to the taxpayer? For that matter, even his "official business" speeches and appearances are inherently political at this point in a cycle. For months, he's been going after Donald Trump, at least obliquely.  When do we start charging for that?
The answer, I think, is that we don't. We have rules in place pretending to delineate these issues and recoup money to the Treasury. But it's more symbolism than substance.