Political Pressure Grows For An Ebola Travel Ban, But The Argument For One Remains Weak
A travel ban sounds like a simple solution to a complex problem. Like most simple solutions, though, it becomes far less appealing when you think about the details.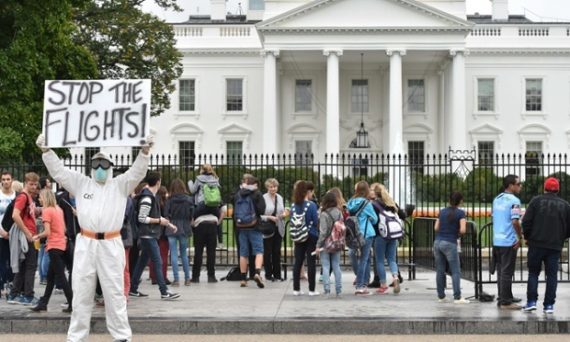 Yesterday, Congress held its first round of public hearings regarding Ebola's appearance in the United States and the response of the C.D.C, the Department of Homeland Security, and state and local authorities in Texas to the case of Thomas Eric Duncan, which obviously has been less than ideal given what has occurred with the two health care workers who were infected while treating him has revealed. Not surprisingly, politicians on both sides of the aisle were highly critical of the agencies involved, and Texas Presbyterian Hospital in several respects and witness were raked over the coals for several hours. The one theme that emerged though, both in the hearing and on the campaign trail and elsewhere, are increasing calls for a ban on travel between the United States and the western African nations in the Ebola "Hot Zone":
WASHINGTON — Growing numbers of lawmakers on Thursday called for a ban on travel from the West African nations at the center of the Ebola epidemic, spurning the advice of the nation's top health officials who testified that such an action would be counterproductive.

Cries to cut off travel from the affected nations escalated dramatically with the arrival in Texas of Thomas Eric Duncan, who contracted the disease in Liberia and became sick after he arrived in the United States, and whose infection has spread to two nurses who cared for him.

At least 40 members of Congress have gone on record seeking a travel ban, and several pressed the case for one in a hearing on Capitol Hill.

"It needs to be solved in Africa, but until then, we should not be letting these people in, period," said Rep. Fred Upton (R-Mich.), the chairman of the Energy and Commerce Committee, which held the hearing.

"I restate my ongoing concern that administration officials still refuse to consider any travel restrictions for the more than 1,000 travelers entering the United States each week from Ebola hot zones," said Rep. Tim Murphy (R-Pa.), who heads the subcommittee on oversight and investigations and led the hearing.

"A month ago the president told us someone reaching our shores with Ebola was unlikely, and that we've taken the necessary precautions to increase screening at airports so that someone with the virus does not get on a plane to the United States," Murphy said. "Screening and self-reporting have been a demonstrated failure."

Thomas Frieden, the head of the Centers for Disease Control and Prevention, had testified to Congress earlier in the outbreak that it was possible someone could arrive in the United States and become sick with Ebola. He said then, however, that the disease could be controlled.

While Frieden did not rule out a travel ban, he and Anthony Fauci, the director of National Institute of Allergy and Infectious Diseases at the National Institutes of Health, explained why it wasn't a good idea.

"It is understandable how someone might come to the conclusion that the best approach would be to just seal off the border from those countries," Fauci said. "But we are dealing with something now that we know what we are dealing with," he said, answering Rep. Henry Waxman (D-Calif.), who had just held up a map showing numerous flight paths a person could take from West Africa that stopped in multiple other parts of the world first.

"If you have the possibility of doing all of those lines that [Waxman] showed, that is a big web of things where we do not know what we are dealing with," Fauci said.

Under the current system, authorities flag anyone who has been in any of the affected countries in the previous 21 days, which covers the incubation period for Ebola.

John Wagner, a Customs and Border Protection official, said that since screening had started in U.S. airports, some 155 people had been flagged for extra screening, with a number of them getting second and third looks. None have had Ebola.

The idea, Frieden and the others explained, is that in order to effectively stop Ebola from spreading, medical authorities have to be able to trace back a person's movements and contacts. That becomes difficult if people are hiding their movements to circumvent the ban, making it much more likely that other people can become infected unknowingly.

Wagner said it still would be possible to track people who did not tell the truth, but that having a travel ban raises the odds of infected people slipping through.

The doctors have also warned that cutting off travel to the region could make it harder to move medical workers and relief supplies to and from the area, exacerbating the outbreak and creating an even larger pool of infected people capable of spreading the virus internationally.

Still, members of Congress did not believe the experts, and suggested maybe Congress should take matters into its own hands.
The calls for a travel ban have even become bipartisan, with former White House Press Secretary Jay Carney, now a CNN talking head, who seemed to say that the only real reason to justify a travel ban would be a "send a message," which strikes me as more of a political consideration than one based on policy considerations. In any case, the White House had previously said that a travel ban was not on the table, President Obama repeated that position yesterday, although he did leave the door open to some extent:
[Obama added] that experts have told him "a flat-out travel ban is not the way to go" because current screening measures at airports are working.

He said he had no philosophical objection to a travel ban but that some travelers might attempt to enter the United States by avoiding screening measures, which could lead to more Ebola cases, not fewer.

U.S. Federal Aviation Administration chief Michael Huerta told reporters separately that the government was assessing whether to issue a travel ban "on a day-to-day basis."
The issue of a travel ban has been tossed around endlessly ever since we learned that Thomas Eric Duncan had traveled to the United States from Liberia after having had contact with someone who later died from the Ebola virus, that he apparently wasn't entirely truthful with Liberian authorities at the airport, and that he developed symptoms of the disease after arriving in the United States. At first glance, it's an idea that would seem to make sense. After all, neither Nina Pham nor Amber Joy Vinson would be in treatment for Ebola today if Duncan had been barred from entering the United States based on the fact that he was attempting to come here, based solely on the fact that he was coming from one of the nations suffering through the Ebola outbreak. That ban would have applied regardless of whether or not he had actually been exposed to Ebola before trying to come here, whether or not he hid that fact from the screeners at the airport in Monrovia, and regardless of whether or not he actually had the Ebola virus in the system. In theory at least, it would seem to be the perfect response for a nation such as ours where Ebola has not taken hold in the native population, and its easy to understand why it resonates with the general public and why, sensing that, politicians are starting to join the calls for a travel ban that had largely begun among cable pundits, talk radio hosts, and columnists.
As with most seemingly simply solutions to complicated problems, though, implementing a travel ban would be far more difficult, and its results far less clear, than would seem at first glance. I noted some of the difficulties involved in imposing a travel ban, and the problems that would arise if it was put in place, in a post two weeks ago, and the issue has been much discussed since then. In Politico, for example, Heather Caygle and Kathryn Wolfe lay out several arguments against the idea of a blanket ban on travel from the Ebola-stricken countries, For example, C.D.C. head Dr. Thomas Friedan and others have said that a complete ban on air travel would be devastating to the international effort to fight the disease at its source, which in turn would make it more likely that Ebola will continue to fester and spread there, eventually crossing international borders regardless of any ban on air travel, and begin infecting other parts of Africa from where it could easily spread to other parts of the world. One response to that argument has been that aid groups and governments could be permitted to charter flights in and out of the region as needed, but that's not as easy as it sounds:
"If you literally sequester the markets, which is to say remove all scheduled service, you really eliminate the possibility of practical access to those markets by public health officials and public health [groups] who are trying to help," [Aviation expert Robert] Mann said. "You would force them into the charter market, which is very expensive and in some cases also not very practical."

Mann said the economics of chartering a plane to operate in West Africa are particularly challenging — and, by extension, especially expensive, likely rising quickly out of reach for most non-government organizations or aid workers

He said a 16-seater plane capable of flying from North America to Western Africa nonstop, chartered from a reputable firm, would cost around $12,000 per hour for a 16-hour round-trip flight, not including ground handling costs, plus fuel costs for the return trip. He said some charter companies might be reluctant to even offer services to an Ebola hotspot, for the same reason an airline wouldn't care to fly there.

"It's really not practical for 16 people to pay what may be $200,000 to charter a jet — and compare that to the fares on scheduled airlines," which might be about $1,200 per person.

Adam Kushner, a surgeon at the Johns Hopkins Bloomberg School of Health, agreed that a ban would create a chilling affect on aid workers, as well as non-government groups like Doctors Without Borders.

"It is already very dangerous to go over, but what if going in you know that you might not be able to come back," said Kushner, who has worked as a surgeon in several developing countries, and who published a study in 2010 that found that U.S. hospitals during the Civil War were better equipped than present-day hospitals in Sierra Leone. He said the region already suffers a shortage of aid workers.
National Journal, meanwhile, goes through some of the practical aspects of such a ban that point out just how difficult it would actually be:
A ban would be straightforward if the only objective were preventing an Ebola patient from boarding a flight in Monrovia that's bound for JFK. But in fact, there are few U.S. carriers currently operating direct flights to and from West Africa: Most likely, passengers would arrive stateside after a stopover someplace else. Thomas Duncan, the first patient to be diagnosed with—and die from—Ebola in the U.S., flew from Liberia by way of Brussels.

This is where things get complicated. If the ban is to target all passengers who traveled through West Africa, "that would require a substantial amount of coordination with our friends and partners overseas," says Vladeck. Countries already share information about air passengers with others—the question is whether the U.S. can convince other countries' travel ministries to share enough to be able to piece together travelers' previous stops.

And there remains the question of legality. If the ban is limited to noncitizens, its legality is fairly clear: It's up to the U.S. to determine its own immigration policy, and it can keep foreign nationals out as it wishes, says Vladeck.

But once we're talking about a travel ban on American citizens who may be in those areas, "the calculus changes rather dramatically, because courts have generally recognized a right on the part of U.S. citizens to travel," he says. The question then becomes one of due process: the government would have to make sure the ban allows citizens to demonstrate that they're not a risk to public health, for example.
The legal side of this argument is one that hasn't really been discussed so far, but it's one worth considering as we debate both the idea of a travel ban and the other options such as quarantines of people who are not exhibiting symptoms of any disease. In this particular case, an absolute travel ban would mean that American citizens, as well as Resident Aliens with a "green card," would essentially be trapped in western Africa with no way to get home. Given the right to travel that Courts have recognized for such people, it's unclear that an absoulte ban like this, without any sort of particularized basis for denying travel, likely would not withstand legal scrutiny.
Finally, notwithstanding what sounds like the fact that a travel ban does seem to have some kind of common sense appeal, there's little actual evidence that it would do anything other than delay the inevitable:
For starters, the most reliable study modeling the effect of the ban concluded that even if the world managed to scale back air traffic flows by 80 percent, it would delay the international spread of the disease by only a few weeks. But the 80 percent goal is itself completely unrealistic. Why? Because it would require a far wider ban than one against Liberia, Guinea, and Sierra Leone, the three countries at the epicenter of the outbreak. It would require, for example, America to ban flights from countries that themselves have not banned travel to the affected countries. Otherwise, potentially infected people could simply fly to some country where they could get a connecting flight to their final destination, just like Duncan did, flying from Monrovia to Brussels before boarding a flight to the U.S.

But even if it were possible to impose a blanket travel ban, it wouldn't be advisable, because it would undermine the world's ability to fight the spread of the disease in the source countries, ultimately leaving everyone far more vulnerable.
One possible alternative to an outright ban would be a policy that requires everyone arriving in the United States from one of the countries in the hot zone to be placed in some kind of medical quarantine for some period of time in order to observe and test them to see if they develop signs of the illness. If they don't show any signs of the illness after a reasonable period of time, then they can be released. If they don't, then they can be denied entry to the United States and taken for treatment. This policy would obviously raise some of the same legal issues that a travel ban would, and there's the obvious question of where and how these people would be detained and if necessary treated, especially given the fact that the number of true biocontainment units in this country is quite small. However, it's a policy that would address many of the concerns of the people calling for a ban while avoiding the problems that would be created by an outright ban on air travel.
Ebola is a scary disease, and its understandable why people would jump at the idea of something like a travel ban because it sounds like a simple solution to a complex problem. In reality, though, it's far less simple when you look at the details of how such a ban would be implemented, the potentially disastrous consequences of cutting western Africa off from the rest of the world, and the fact that such a ban really wouldn't stop the potential spread of the disease internationally unless it is deal with at source. At the same time, though, because it sounds so simple it is one that politicians and pundits are likely to continue jumping on if the Ebola "crisis" continues in the United States. Given that, I would not be surprised to see a travel ban imposed at some point, especially if there's another case like Duncan of someone arriving from an Ebola-stricken country and ending up in an American hospital suffering from the disease. If that happens, the pressure on President Obama to take such an action could very well become overwhelming. If he does it, though, we shouldn't fool ourselves into believing that it is anything other than a purely political move designed to pander to public anxiety, because it's not going to do anything to address the real problem that the world faces.