Say, Whatever Happened To The Ebola Crisis?
Much like the disease itself, Ebola panic seems to have disappeared as the midterm elections become ever more distant in the rear view mirror.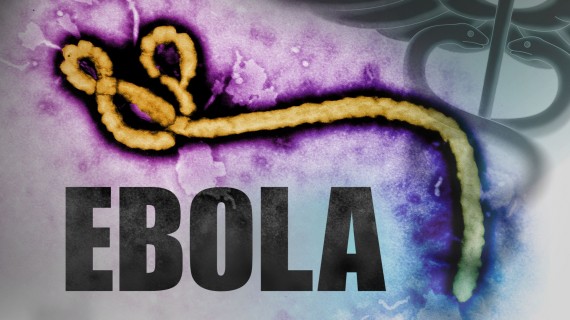 Almost as suddenly as it appeared in the wake of the news that the first case of Ebola had arrived on American shores, Ebola panic has largely disappeared from the American media, and from the minds and the rhetoric of American politicians:
A few short weeks ago, Ebola was public enemy No. 1.

About 1,000 people were being monitored by health officials. Several schools in Texas and Ohio shut down because of a single patient who boarded a plane. A cruise ship was refused permission to dock in Cozumel, off Mexico's Yucatan Peninsula. President Obama appointed an Ebola "czar." Polls showed a majority of Americans were concerned that Ebola would spread out of control in the U.S.

On Tuesday, a fully recovered Dr. Craig Spencer was released from Bellevue Hospital Center in Manhattan. The U.S. was now Ebola-free for the first time since Sept. 5 — a milestone that barely seemed to register with a once-frenzied public.

How did we get here from there?

Angst and anxiety gave way to calm as the days ticked by and no new patients were diagnosed. Meanwhile, the Centers for Disease Control and Prevention and other health authorities upped their game after Thomas Eric Duncan's arrival at a Dallas emergency room revealed major gaps in the public health system.

"It's hard to say definitively why the public thinks anything, but this is a welcome return to normalcy," said Andrew Noymer, a professor of public health at UC Irvine.

Spencer was the ninth person in the United States to be treated for Ebola and the eighth to survive. The only fatality was Duncan, who contracted the virus in his native Liberia.

(…)

When Duncan first sought care at Texas Health Presbyterian Hospital on Sept. 25, the emergency room staff failed to make the correct diagnosis, delaying necessary care by three days. After two of his nurses became infected, medical workers openly questioned the CDC's advice on protective gear and other protocols. In cases where quarantines were imposed, it became clear that few had considered the logistics of providing food or disposing of trash for those affected.

Panic began to spread.

"October was a rough month for stigma and fear," said Doug Henry, a medical anthropologist at the University of North Texas in Denton. "The cruise ship that was denied entry into a port, kids who weren't welcome at school, parents who kept their own kids home — things got really bad here in Dallas."

To further complicate matters, the crisis occurred in the home stretch of the midterm election campaign. Some Democrats accused Republicans of stoking Ebola fears for political advantage.
Quite honestly, I think that last factor played a large role in how the Ebola story played out over the course of the six weeks or so that began with Duncan's diagnosis and Dr. Spencer's release from Bellevue Hospital. Yes, there were plenty of examples of mis-steps that were made by health authorities in responding to the first ever case of Ebola "in the wild" in the United States. In all honesty, Duncan probably should have been admitted to the hospital when he first showed up at Texas Presbyterian Hospital with a fever, which seems to be the first sign that someone may be infected with the virus, given the fact that he had just arrived from one of the nations in the Ebola hot zone. For whatever reason, though, this information had not been properly communicated from the intake nurses at the hospital to the physician(s) who ultimately evaluated Duncan that day. Quite possibly, had he been admitted and tested that day Duncan's treatment would have gone far differently and he could be alive today, Instead, he was sent home only to return a few days later with more severe symptoms and it was, likely far too late in the progression of the disease to do much of anything for him. There also appear to have been mistakes made in connection with Duncan's treatment, either in the initial protocols from the Centers For Disease Control or in how they were carried out under the pressure of actually treating an Ebola case, that led to two nurses being infected with Ebola, In both of those cases, Nina Pham and Amber Ray Vinson, the symptoms were caught early thankfully but not before Vinson had traveled and created the concern that she had potentially exposed countless others to the disease. As I noted at the time, all of this did raise some obvious concerns about how the disease was being handled, but the answer was not to panic, but to figure out what went wrong and fix it so that it doesn't happen again.
Fortunately, for both Pham and Vinson, they reported their symptoms early enough that they could be admitted and aggressive treatment applied, Meanwhile, though, the fact that they had been infected helped to spread a sense of panic among the media that caused public health authorities to react in often ridiculous ways. On more than one occasion, for example, people who had had no actual contact with these women were asked to stay home from work or school because, well, there was no rational reason for the request other than "concern" from people who were obviously getting their information from a media that seemed to be interested in spreading misinformation more than it was in actually spreading facts. The CDC and other groups, meanwhile, responded as they should have, by modifying their protocols, establishing rules to better screen people arriving in the United States from the Ebola hot zone, and modifying how the health care system as a whole would react in the event a positive Ebola case was found again. In the end, though, after Duncan, Pham, and Vincent, the only other positive Ebola case to date has been that of Dr. Spencer, While Spencer's case raised a lot of concerns because it was happening in the middle of America's largest city, it ended up being handled exactly as planned, with Spencer's treatment successfully concluded and the people who may have had contact with him set to be out of their incubation periods soon, with the only exception to that being the last group of people who treated him at Bellevue Hospital. Once they are out of incubation, though, there will be nobody in the United States under observation for possible Ebola infection, or under treatment for the virus itself.
If the media engaged in no small degree of panic mongering over Ebola, though, there was one group that went even further, and that would be the political class. It wasn't surprising, I suppose that conservative pundits on cable news and online would use the Ebola story as a cudgel to attack the Obama Administration, but the fact that in many cases they were doing so while simultaneously ignoring science or seemingly making things (such as the idea that Ebola had become airborne like the common cold or the flu) up out of whole cloth, We saw such pandering in the form of calls for travel bans that every recognized medical and public health expert said would do more harm than good in fighting the disease at its source, in the form of efforts to equate the C.D.C. response to Ebola with the  problems that developed with the launch of the Affordable Care Act last October, and in the form of politicians with actual backgrounds in medicine who were saying things they shouldn't known better than to say. The political response hit its peak, though, in mid-October when Governor's Cuomo and Christie, one running for re-election and the other thinking of running for President, announced that anyone returning to the U.S. via an airport in their jurisdiction would be quarantined until it was clear they were not infected. Ultimately, the policy was modified to some degree, but not before it swept up a Doctors Without Borders nurse named Kaci Hickcox up and landed her in quarantine in a tent at a Newark hospital. Hickcox was rather outspoken about her confinement and continued her fight after being allowed to return to her home in Maine where another Governor up for re-election, Paul LePage initially attempted to place her under quarantine only to be rebuffed by a state trial court Judge, Hickcox has now passed her incubation period and did not develop any signs of the disease.
The fact that all of this happened in the context of a closely fought election campaign surely contributed to the extent to which political partisans used it as a political cudgel, and the extent to which politicians such as LePage, Christie, and Cuomo, along with Governors in states such as Illinois, Minnesota, Florida, and California, rallied behind the idea of quarantining people who showed absolutely no signs of being a threat to public health and of imposing simplistic solutions like a travel ban even though it was clear that such an idea would do more harm than good. As I noted at the time, that was a policy that raised significant civil liberties concerns. That's how politics works, after all. I suppose the only good thing we can say is that the outbreak wasn't worse than it actually turned out to be because then the pandering would have been out in full force and there's no telling what powers politicians may have tried to assume for themselves,  If nothing else, I suppose we should be happy that the reaction to the Ebola crisis wasn't worse than it actually turned out to be.
None of this is to say that we should let our guard down, of course. Someone could walk into an Emergency Room this afternoon with a fever and a history of having been in western Africa recently, and we could end up with another positive Ebola case. What we've learned over the past six weeks, though, is that we have the resources to deal with those cases if we act promptly and properly and, most of all calmly. What didn't help the process along at all, though, was the hyperpartisanship fueled politicization of the crisis, or the pandering from politicians looking at polls and election returns. Under different circumstances, the kinds of policies that those emotion-laden motives tend to lead to could have done a lot more harm than good.
H/T: Kevin Drum