Ebola In The Age Of 24/7 News And A Broken Political Culture
Combining politics, an incessantly sensationalist news cycle, and a virus that scares a lot of people can't end well.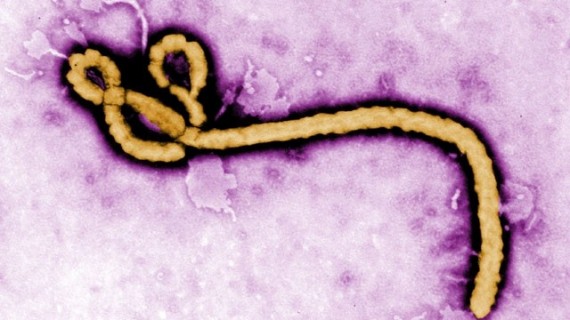 Last week's announcement of the discovery of the first case of Ebola in the United States has, perhaps inevitably, become an election issue:
Washington (CNN) — The recent Ebola outbreak is becoming an issue in the competitive midterm elections.

Top Democratic and Republican campaign officials in Washington are uncertain about the political ramifications of Ebola's arrival in the U.S. and are grappling with how to respond.

But Republicans are seizing on the issue as an opportunity to again make the case that President Barack Obama isn't leading effectively. They're highlighting Obama's recent assurance that Ebola was "unlikely" to get to the U.S. and calling for the U.S. to impose new travel restrictions for those countries in Africa where the outbreak began.

It's all part of an effort to force their Democratic opponents to defend Obama's response to Ebola.

GOP officials have reason to believe their line of attack will resonate with voters. CNN has learned from sources at the NRSC, the national campaign organization for Senate Republicans, that the group's internal polling finds 60 percent of voters believe that if a single case of Ebola arises in the U.S., it should be treated as a major crisis by the federal government.

"Washington is broken," claimed an NRSC email. "The top-down approach championed by Democrats for decades (and controlled by them at the federal level in Washington) has shown itself to be completely unprepared and ill-equipped for 21st Century challenges."

Democrats have been supportive of the administration's efforts, but are pushing for a coordinated effort with other countries to prevent further spread of Ebola. Still, GOP candidates have picked up on the message.

Michigan Republican Senate candidate Terri Lynn Land Friday called for a travel ban or other restrictions to ensure more infected people do not enter the country.

"I'm a mom. I have kids. People are concerned. Again, this is a safety and security issue," Land told Michigan Public Radio. She called on the president and her opponent, Democratic Rep. Gary Peters, who she is trailing in most polls, to outline a federal response.

"The President needs to lead," Land said. "Congressman Peters needs to lead — to come up with a plan to make sure we can deal with this."

(…)

In North Carolina, Thom Tillis, who is trying to unseat Democrat Kay Hagan in one of the most closely watched Senate races this year, also called for a travel ban from West African countries.

"It's time for Washington to take action to protect the American people," said Tillis, who many recent polls show is narrowly trailing Hagan.

A Hagan spokeswoman responded that Tillis's approach would not do enough.

"Kay believes the U.S. should work together with the international community to take a wide range of steps to fight this epidemic and prevent it from spreading," Sadie Weiner said in an email. "Travel restrictions may be one tool we can use, but they should be part of a broader strategy because simply sealing the borders to these countries won't make the crisis go away."

As far back as August, Arkansas Democratic Sen. Mark Pryor tried to use the issue of Ebola against his opponent, GOP Rep. Tom Cotton. In a campaign ad, Pryor accused Cotton of voting against a 2013 bill that included money to respond to pandemics. But Cotton did support the final version that became law, according to an analysis by Politifact.

On Friday, Cotton signed a letter to Obama with fellow House Republicans from Arkansas urging him to consider a ban on flights to affected countries.

"The quality of our hospitals, we well as our talented doctors, is undoubtedly a draw for people with the means and will to come to the U.S. — sometimes because exposure to Ebola in their own country and in spite of the risk to the health of Americans," the GOP congressmen wrote.

White House Press Secretary Josh Earnest told reporters Friday that at this point, the Administration is not considering imposing any travel ban.

In an interview on CNN Friday, the number two official with the Senate GOP campaign arm, Sen. Rob Portman of Ohio, said the U.S. needs to be "more aggressive" in screening people coming to the country and pointed to recent report that said the Department of Homeland Security is not equipped right now to deal with a pandemic.

"I don't think we're prepared as we should be," Portman said. "I think this is another example where the administration was not as engaged early on as they should have been and now we're playing catch-up."
Potential Republican candidates for President in 2016 are also chiming in:
The likely 2016 Republican presidential candidates — except for Perry — are practically lining up to warn that the Obama administration isn't doing enough to keep Ebola out of the United States, now that Dallas is dealing with the nation's first confirmed case.

Sen. Rand Paul of Kentucky declared on "The Laura Ingraham Show" that "this could get beyond our control" and worried, "Can you imagine if a whole ship full of our soldiers catch Ebola?"

Sen. Ted Cruz — Perry's Texas colleague — raised the prospect of restricting or banning flights to the West African countries that are hardest hit by the disease, noting in a letter to the Federal Aviation Administration that some African nations and certain airlines have already imposed their own flight bans.

Rep. Paul Ryan of Wisconsin floated the idea of quarantining airline passengers in the affected African countries before they could fly out. "We're learning a lot about how it's spread but the question is 'How can a person just jump on a plane and get here without a quarantine period of 21 days,' which I believe is recommended," he said on a radio talk showWednesday. A spokesman for Ryan says the congressman misspoke and was referencing a recommendation to be monitored for 21 days.

And Louisiana Gov. Bobby Jindal says the United States should cut off flights from those countries. "President Obama said it was 'unlikely' that Ebola would reach the U.S. Well, it has, and we need to protect our people," he said in a statement Friday.

In fact, of the 2016 Republican hopefuls who have commented on the Ebola crisis, Perry is the only one who has been a reassuring voice.
As the article goes on to note, the one exception among the potential candidates for President who have spoken up in the wake of the news has been Texas Governor Rick Perry who, instead of engaging in criticism of the Federal Government, speculation, throwing out ideas like shutting down international air travel from West Africa,  and in some cases walking the border of outright conspiracy mongering, actually has to govern during a serious public health situation. In his position, Ebola isn't just another political issue, it's a real public health issue and he's got a population of 26 million people to worry about, and that was reflected in his Wednesday press conference in which he sought to calm fears about how the disease is spread and expressed confidence in the Federal and state public health system. Unlike his fellow potential candidates, he can't afford to be a fear monger, or to undermine public confidence in the public health system, because that would lead to the kind of problems that Governors and local authorities most assuredly don't want to deal with. I wouldn't expect to see Rick Perry being buddies with President Obama the way Chris Christie was in the wake of Hurricane Sandy, of course, but I also wouldn't expect him to be joining the Ted Cruz's and Bobby Jindal's of the world in turning this into a political issue, at least not as long as the current "crisis" (or whatever you want to call it) continues.
As the articles above note, though, the same cannot be said about the rest of the American political world, of course, or for that matter of the media that is covering the story in its typical round-the-clock non-stop fashion. In just the past four days, for example, there have been several reports of being who were being hospitalized for observation for possible signs of the Ebola virus, two cases in the Washington, D.C. area and one yesterday in an incident at Newark Liberty Airport. In each of these cases, it has turned out that the person being held for observation was later confirmed not to have Ebola, but that news didn't come until well after the breathless coverage of the story itself, especially yesterday's incident at the airport which included long interviews with passengers who were on the plane with the person in question. Of course, people have gotten sick on airplanes before, and it typically doesn't turn out to be anything more serious than the flu, which is far easier to transmit than Ebola, or a stomach virus. In the age of Ebola, though, each of these stories has now become the potential to be the next carrier of a disease that, while being difficult to transmit from person to person, is scary because of what it does to the body of a person who is infected and the fact that the disease has a high fatality rate. Given the fact that the early stages of Ebola mimic the flu to some extent, and that we are now entering flu season, we can expect reports like this to become more, rather than less common.
None of this is to say that there should not be questions asked about the way that government, hospitals, physicians, and law enforcement authorities are handling the Duncan case in Dallas, or whether they are prepared for other people like Mr. Duncan who may show up in an ER or doctor's office in the future. Based on the reports that we have available, it does seem that there were some mistakes at the hospital the first time that Duncan showed up in the ER that resulted in him being sent home rather than admitted. Allegedly, these mistakes involved problems with the hospitals electronic medical records system that prevented physicians from seeing the information that Duncan had just come from Liberia. It's also worth questioning how quickly public health authorities responded to the diagnosis and whether they have done everything necessary to track down people that Duncan may have had contact with. Additionally, even though it seems clear that an extreme step like banning all international travel from western Africa would be an extreme and perhaps even counterproductive step, the experience with Mr. Duncan may mean that authorities on the ground there, and worldwide aviation authorities, need to be more stringent in their screening procedures and perhaps even consider delaying travel for certain people. Having an open mind about these procedures, though, is not the same as panic mongering and using what could be a real public health emergency as a way to score political points.
Unfortunately, this seems to be the way that we respond to crises in this country anymore. To no small degree, what we're seeing is due to the constantly active nature of our news cycle and the influence that an Internet and social media culture that has taken on the characteristics of a partisan echo chamber, of course. However, Ron Fournier captures another part of it in a new piece at National Journal in which he points out the fact that Americans have lost faith in public institutions across the board, and that this is going to shape how they react to news about something new and scary like Ebola:
Trust. There's that word again. How much faith can the public summon toward an administration that used incompetence as a defense in scandals involving the IRS, Benghazi, and Obamacare; that lied about its surveillance of Americans; and that just recently acknowledged dangerous misjudgments regarding the Secret Service and ISIS?

And yet, it wasn't Obama who misled the public about Saddam Hussein or the Vietnam War or Watergate. The trust deficit runs deeper than one president – or even the presidency. While vast economic, social and technological changes buffet the lives of most Americans, those institutions that are supposed to shield people are failing to adapt.

Most of these public- and private-sector entities were created the 19thcentury; they were expanded and contorted in the 20th century; and they're maddeningly ill-equipped for the 21st century. This indictment includes the media, an institution democratized by technology and thus desperate – prone to exploit any crisis in search of conflict, clicks and cash. Thanks again to new technology, Americans today are both better informed and subjected to more hype.
You don't need to look very far for confirmation that Americans have lost faith in government at every level, it's in the polling, the voter participation rates at election time, and the fact that news programming of any kind doesn't draw nearly as many viewers as mindless reality shows. It's not totally unjustified either, because if you do pay attention to the news you see more than enough reason to distrust the people we elect to be our leaders. Meanwhile, an increasingly ideological media, with Fox News Channel leading the way, uses the news to push an agenda and, in this case, that agenda is pointing out the alleged incompetence of the Obama Administration. It's not surprising, but in the midst of what could become a serious public health issue, it is potentially dangerous. Hopefully, the Duncan case will be the end of the road and we won't see another Ebola case in the U.S. during this outbreak, but as long as that outbreak is going on it remains possible that it will. Of course, if it turns out that public health authorities do find another case in the United States, either in Dallas due to Mr. Duncan or elsewhere, then I would expect we will see the panic level, and the political rhetoric. That may end up being more dangerous than the virus itself.