Cold Civil War or Civil Cold War?
The Kavanaugh fight is just another indicator of our national divide.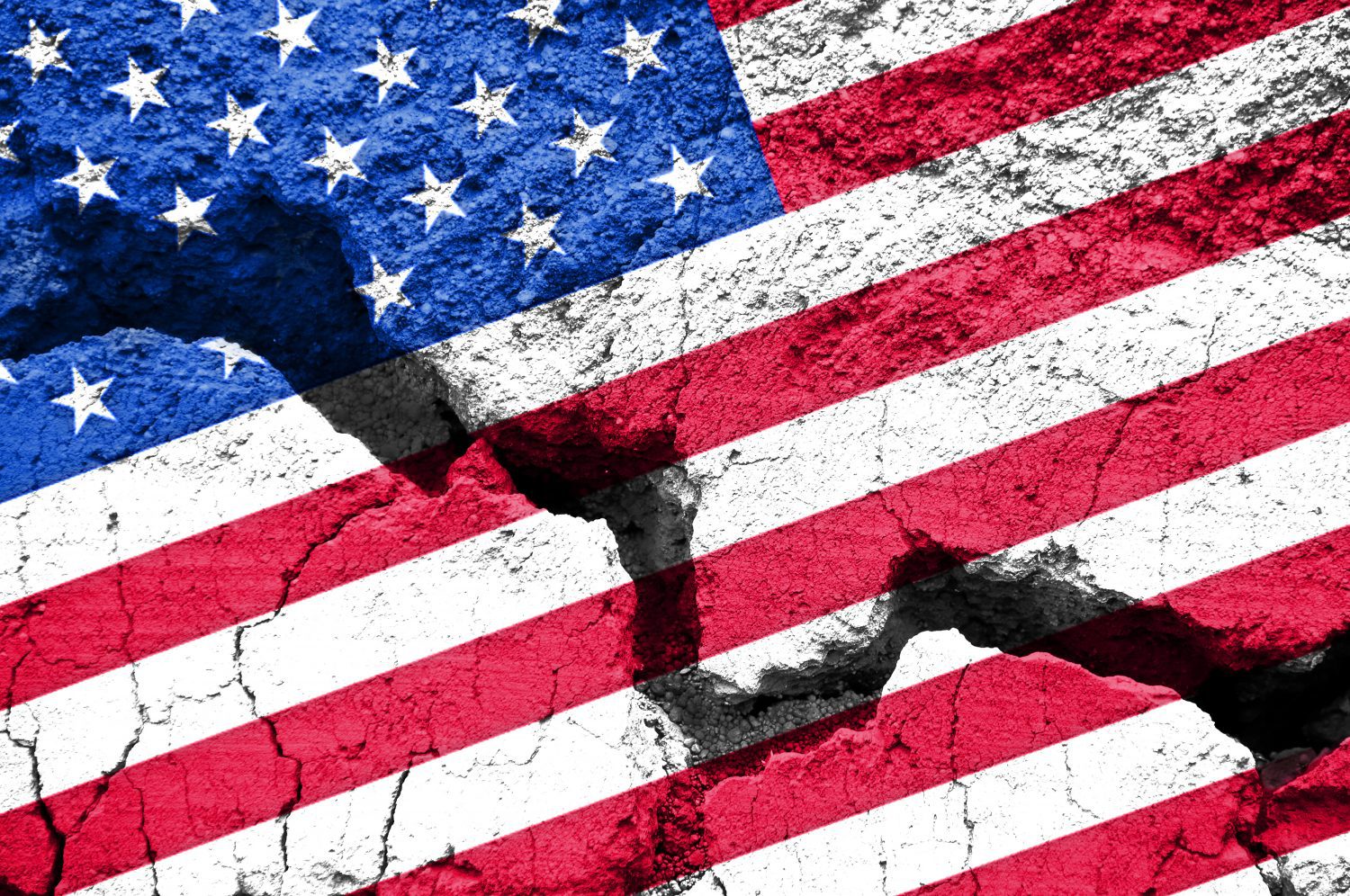 In a NYT piece headlined "Bitter Tenor of Senate Reflects a Nation at Odds With Itself," Alexander Burns observes,
To the right and left alike, Judge Kavanaugh's nomination appears less like a final spasm of division — a sobering trauma, followed by calm resolution — than an event that deepens the national mood of turbulence. The country is gripped by a climate of division and distrust rivaled by few other moments in the recent past.

This time, historic grievances around race and gender are coming to a boil under the eye of a president who is dismissive of the concept of national unity. His political base passionately celebrates the combative way in which he has upended Washington, seeing it as a deserved rebuke of elite sensibilities. President Trump campaigned as a rough-speaking warrior against the political establishment and its consensus economic policies, and his supporters have mainly applauded him for governing the same way.

Beyond government, the country's collective institutions — including the news media, the clergy and even professional sports and the entertainment industry — are in turmoil, with no obvious balm within reach. The Supreme Court, long a contested body, may now be viewed emphatically by one side as an institution under shadow.

Rather than calls for comity from political leaders like Mr. Grassley, a feeling of apprehension has pervaded the highest levels of American politics. Joseph R. Biden Jr., the former vice president, warned in Rhode Island last weekend that something greater than even the legitimacy of the judicial branch was at stake, faulting Republicans for their "blind rage" in the Supreme Court battle.

"It threatens not only the Senate and the Supreme Court," Mr. Biden said. "It threatens the basic faith the American people have in our institutions."

Joanne B. Freeman, a professor of American history at Yale University, said that since the nation's founding there had only been "a handful of other times that have been this ugly," including the run-up to the Civil War.

"There are moments in American history where we get such extreme polarization that the government no longer functions the way it's supposed to function," Professor Freeman said, offering a grim diagnosis of the present: "It's a virtually systemic abandonment of norms, to a degree that I find alarming."

The great trend in American politics has been not toward muting political disagreements but rather toward confronting them — sometimes detonating them at deafening volume over social media. Mr. Trump, in turn, became president in large part by mastering the existing divisions at the heart of the country's culture, exploiting fissures around identity, ethnicity, sex, religion and class to forge a ferociously loyal coalition that represents a minority of the country but votes with disproportionate power.

But those divisions have only grown since 2016, and Mr. Trump has continued to embrace and aggravate them, from his equivocal response to a white-supremacist gathering in Charlottesville, Va., to his mockery this week of the #MeToo movement and Christine Blasey Ford, the woman who says Judge Kavanaugh attempted to rape her as a teenager. At a rally in Mississippi on Tuesday, the president flouted the pretense that support for the judge could coexist with authentic concern for victims of sexual assault.

Mr. Trump went far beyond questioning Dr. Blasey's account or defending Judge Kavanaugh, instead ridiculing her and stoking the resentments between genders. He warned voters in Mississippi that lying women could come forward to falsely accuse their loved ones of sexual misconduct: "Think of your son," he urged them. "Think of your husband."'
An accompanying polling graphic is rather stark: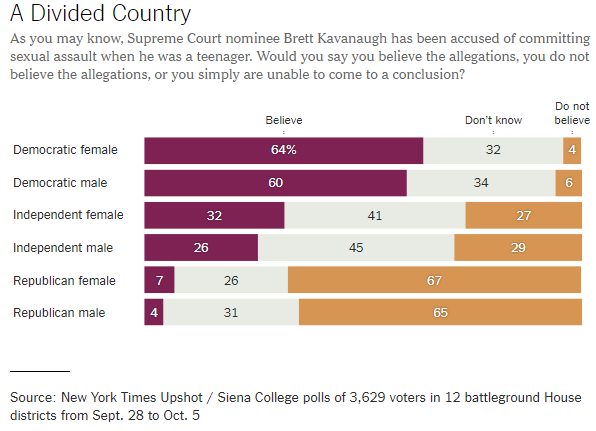 What's particularly interesting to me about this is that, despite the belief of my left-leaning social media circle, this is not mostly a gender divide. Indeed, the numbers for men and women in both parties and independents are extremely close. Democrats, Republicans, and Independents simply see the same set of facts quite distinctly. Presumably, this is partly because they're consuming completely different media.
My Democratic-leaning Twitter feed (mostly national security and media elites) is overwhelmingly apoplectic about the way Senate Republicans treated the sexual assault allegations against Kavanaugh. My Republican-leaning Facebook feed (mostly acquaintances from my high school and Army days, but also a lot of people I met in the early days of OTB, when it was much more Republican) are angry at the way Democrats handled the information and completely outraged that a good man's reputation has been dragged through the mud to suit a partisan agenda.
I've tried to have conversations to bridge these gaps with no success. Logical arguments can't penetrate the emotions at play here.
Social psychologist Jonathan Haidt points to an even more depressing poll from the forthcoming book Prius Or Pickup? How the Answers to Four Simple Questions Explain America's Great Divide: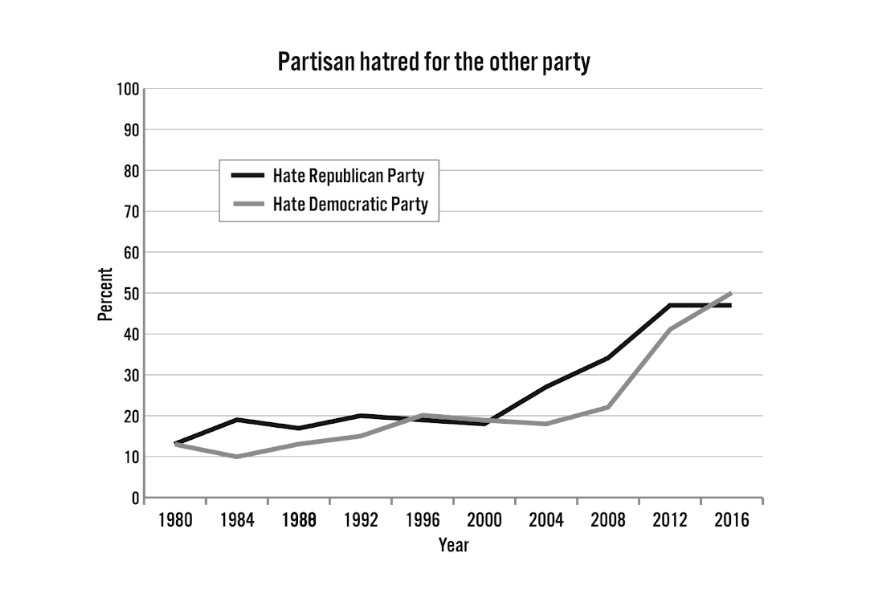 I find several things interesting there. First, as intense as the abortion debate, Bork and Thomas hearings, and the Clinton years were, there was a relatively steady state during that whole period. Democrats hated Republicans more than vice versa but the numbers mostly stayed at or below 20 percent. The 2000 election controversy seems to be the main turning point, with Democratic hatred for Republicans skyrocketing. Despite the Fox Newsification of their electorate, Republicans actually remained well below the Democrats in partisan animosity until the 2008 election cycle. The Tea Party movement took this into a fever pitch but Democrats kept pace until the onset of the 2016 cycle.
The current climate has been described by many observers as a "civil cold war" or a "cold civil war." But, of course, the two sides frame it differently.
An April 2017 essay by Angelo M. Codevilla for the Claremont Institute sees it thusly:
America is in the throes of revolution. The 2016 election and its aftermath reflect the distinction, difference, even enmity that has grown exponentially over the past quarter century between America's ruling class and the rest of the country. During the Civil War, President Lincoln observed that all sides "pray[ed] to the same God." They revered, though in clashing ways, the same founders and principles. None doubted that those on the other side were responsible human beings. Today, none of that holds. Our ruling class and their clients broadly view Biblical religion as the foundation of all that is wrong with the world. According to the U.S. Civil Rights Commission, "The phrases 'religious liberty' and 'religious freedom' will stand for nothing except hypocrisy so long as they remain code words for discrimination, intolerance, racism, sexism, homophobia, Islamophobia, Christian supremacy, or any form of intolerance."

The government apparatus identifies with the ruling class's interests, proclivities, and tastes, and almost unanimously with the Democratic Party. As it uses government power to press those interests, proclivities, and tastes upon the ruled, it acts as a partisan state. This party state's political objective is to delegitimize not so much the politicians who champion the ruled from time to time, but the ruled themselves. Ever since Woodrow Wilson nearly a century and a half ago at Princeton, colleges have taught that ordinary Americans are rightly ruled by experts because they are incapable of governing themselves. Millions of graduates have identified themselves as the personifiers of expertise and believe themselves entitled to rule. Their practical definition of discrimination, intolerance, racism, sexism, etc., is neither more nor less than anyone's reluctance to bow to them. It's personal.

On the other side, some two thirds of regular Americans chafe at insults from on high and believe that "the system" is rigged against them and, hence, illegitimate—that elected and appointed officials, plus the courts, business leaders, and educators are leading the country in the wrong direction. The non-elites blame the elites for corruptly ruling us against our will, for impoverishing us, for getting us into wars and losing them. Many demand payback—with interest.

So many on all sides have withdrawn consent from one another, as well as from republicanism as defined by the Constitution and as it was practiced until the mid-20th century, that it is difficult to imagine how the trust and sympathy necessary for good government might ever return. Instead, we have a cold civil war. Statesmanship's first task is to prevent it from turning hot. In today's circumstances, fostering mutual forbearance may require loosening the Union in unfamiliar and unwelcome ways to accommodate differences that may otherwise become far worse.
A January 2017 essay by Elie Mystal for Above the Law sees it quite differently:
It might seem like Trump and his executive branch are conducting a war against immigrants, or against Islam. But that's just the spin the Trump administration wants you to believe. They're confident they'll win a war against immigrants. They know that their bigoted base — people who are too cowardly to seek truth or nuance about our real threats — will support that war.

No, Trump's real war is against us. His real battle is with American cosmopolitans. His targets are our sense of inclusiveness, our separation of powers, and our belief in the rule of law. Trump is fighting a civil war, and like the first one, the battle lines are regional. Once again, it's urban versus rural. Once again, it's people who think that discrimination against others is integral to "their way of life" versus elites who think America is better than that.

Trump has managed to flip the state's rights v. federal authority issue on its head. But that was always an overblown casus belli for the original conflict: The South never believed in the rights of new states to choose slavery or freedom for themselves, the North never believed the feds could allow Southerners to bring their free laborers to the North. The question of whether the federal government can force you to treat people equally, or unequally, appears to be timeless.

Like America in the 1850s, right now many of us are still hoping that the lawyers will sort it out. It will remain a "cold" civil war, so long as we can continue to use courts instead of battlefields. If you are a lawyer and you are listening to this, you ARE the resistance. Lawyers are not allowed to have "no opinion" on Trump's executive actions. Either you think they're horrible and are doing what you can to fight, or you think legalized discrimination is or can be made constitutional. Even if your legal opinion matters only to your parents, IT MATTERS TO YOUR PARENTS. So either you are a part of the fight or a part of the problem, no matter how many splinters you've gotten in your ass from riding the fence.

Just because we're fighting it out in the courts now, doesn't mean anybody will accept their decisions. In 1857, the Supreme Court ruled, definitively, that black people were not citizens anywhere in the country, and that Congress had no right to restrict the growth of slavery. The Dred Scott decision was the Court's attempt to stop the coming of war.

They wanted it to be one way, but it was the other way. The Dred Scott decision caused the war as much as one legal finding can do such a thing.

Abolitionists and other anti-slavery advocates simply refused to accept the Supreme Court's rewrite of American values. It's not hard to imagine the same thing happening again. It's not hard to imagine the Supreme Court upholding the Muslim ban or some other atrocious Trump policy. It's not hard to imagine the deciding vote coming from Trump's hand-picked appointment to a seat that was brazenly stolen from the Obama administration by Senate Republicans. And it's not hard to imagine progressiveness regarding such a decision as illegitimate on its face. Hell, I basically already have my post calling for the total disregard for stolen, pro-Trump SCOTUS decisions, written and just filed away like it's a Gerald Ford obituary.
I'm a stranger in a strange land in this mess. An erstwhile Republican who is about to vote straight Democratic in a third straight election but yet not by any means a Democrat. A John McCain and Mitt Romney voter who supported the confirmation of Merrick Garland to the Supreme Court because he was a qualified, decent man and because Barack Obama was the duly elected President of the United States. A reluctant Hillary Clinton voter and #NeverTrumper who nonetheless supported the confirmation of Neil Gorsuch to the seat held open by shenanigans I opposed because, well, Trump won the election and Gorsuch was decent and qualified. And an early supporter of Brett Kavanaugh's confirmation and defender of him from unsupported allegations who came to believe confirming him would be bad for the country given the intensity of belief of so many American women that it would be tantamount to a declaration that the country doesn't care about sexual assault. And then a fierce opponent of confirmation once he showed himself a partisan hack and a serial liar in his confirmation hearings who'll nonetheless view his votes on future cases as legitimate because he was duly confirmed.
My position on Kavanaugh and the nature of the hearings are much closer to that of my Twitter feed but I'm not completely unsympathetic to those on my Facebook feed. While I get frustrated with those posting ridiculous memes they found on right-wing sites, I wasn't a fan of the 11th-hour leak of Ford's allegation and don't think making bedfellows with Michael Avenatti helped the anti-Kavanaugh cause. Further, while I think the notion that honorable men are now going to be the subject of a wave of unfounded allegations of rape and sexual assault is absurd, I do worry that #BelieveWomen seems to have reversed the presumption of innocence.
More importantly, though, I don't think the people in my high school and Army circles are evil. They're simply in a different cultural circle than me and haven't processed the evolution of our national culture as quickly or in the same way that I have.
We seem to be at a point, though, where we can't have a civil discourse about any of this. The longstanding presumption that those who disagree with us politically are fundamentally decent human beings who also love their country has gone by the wayside. If the other side is simply evil, they can't be reasoned with; they must be destroyed. And we may be getting to the point where we take that literally.