College Enrollments Down
Another effect of the pandemic.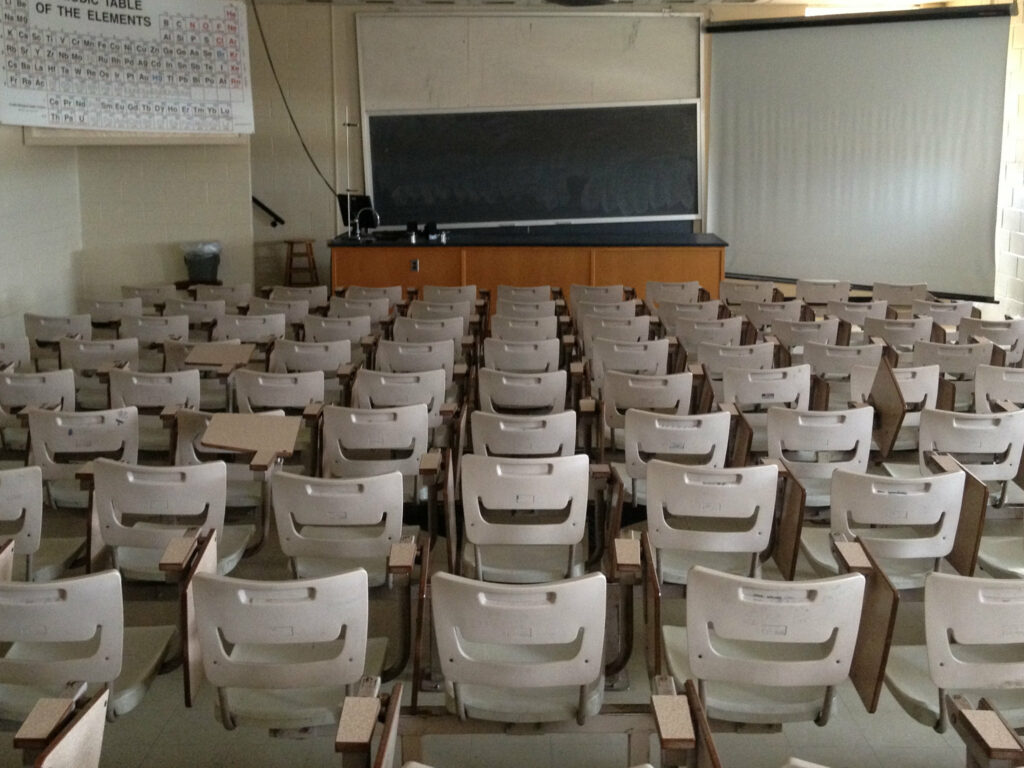 Due to the Covid-19 pandemic, we have had ~760,000 deaths, and almost 47 million sick in the United States alone (as of the writing of this post). These numbers go to 5 million and 224 million, respectively, if we expand to a global scale. This death and sickness has clearly affected any number of people in a host of ways. I suspect, too, it has caused some significant number to simply reevaluate their lives and we are currently seeing the consequences and in ways we do not understand. An example would be the current employment picture.
Another appears to be college enrollments.
Via NPR: College enrollment plummeted during the pandemic. This fall, it's even worse
Enrollment at U.S. colleges and universities is on track to fall by another nearly 500,000 undergraduate students this fall, continuing the historic drops that began with the start of the coronavirus pandemic, according to new data out Tuesday.

The decline of 3.2% in undergraduate enrollment this fall follows a similar drop of 3.4% the previous year, the first fall of the pandemic, according to the research from the National Student Clearinghouse Research Center.

[…]

If these preliminary numbers hold up, Shapiro says the last two years of undergrad decline, totaling more than 6%, would be the largest two-year decrease in at least half a century.
This comports with what I have observed in my day job–we are seeing enrollment behavior that does not fully comport with past patterns. Whether this is the result of some general uncertainty about the world at the moment that will eventually snap back into place, or if it is some permanent re-evaluation of choices is impossible to say (again, I think this is linked to behavior we are seeing in the employment market).
For example,
In previous recessions, college enrollments have followed a wavelike pattern: When the economy is doing poorly, enrollment, especially at community colleges, typically goes up. Students go to college when they can't find work. But as the job market improves, they leave college and join the workforce.

"This time, that entire crest of that wave just didn't happen — it got swallowed up by the pandemic," explains Shapiro. "What we've seen instead is literally two troughs, one after the other. So there was no upside from the recession. We just got the downside from the recovery, as the labor market recovers and jobs are going back up."
Of course, part of that might be because the pandemic-related recession was different that, for lack of a better way of putting it, more "natural" recessions.
The hit is biggest for community colleges:
The preliminary fall data show the decline this fall to be 5.6%. That's not quite as steep as last year: In the fall of 2020, community college enrollment fell by roughly 10% nationally — a loss of over 544,200 students when compared with the fall of 2019. 
Regardless, this is not just about higher ed,
Overall, enrollment in undergraduate and graduate programs has been trending downward since around 2012, but the pandemic turbocharged the declines at the undergrad level. When fewer students go to college, fewer students graduate, get job training and move on to higher-paying jobs, meaning all this could have huge ramifications for the U.S. economy.
Here are the numbers comparing 2019 to 2021 (via the Chronicle of Higher Education):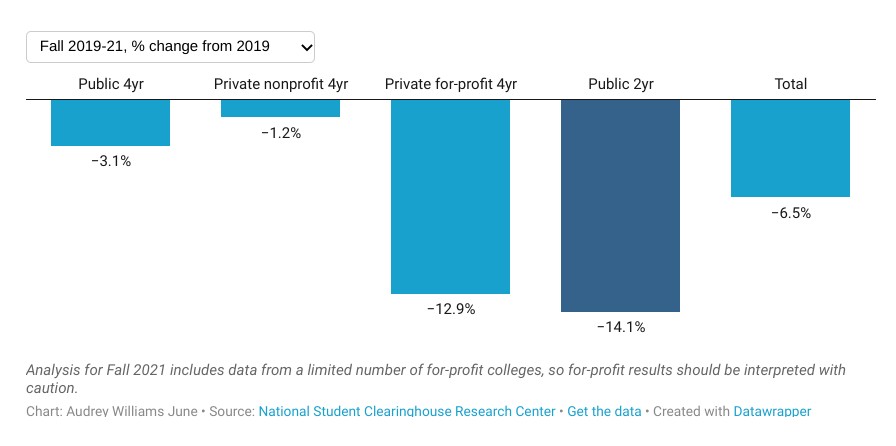 And here is the breakdown by type of student: