College Wage Premium
The earnings gap between those with and without a college education continues to grow. But this masks other realities.
Matt Yglesias points to this chart from the College Board's "Education Pays" report [PDF]: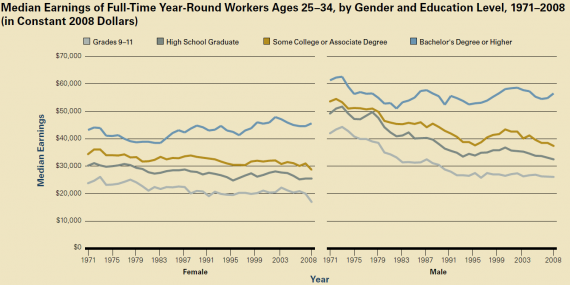 He correctly observes,
Of course left unresolved by this sort of data is the perennial question of how much is college about skill-acquisition and how much is it about signaling and sorting. I think there's pretty strong historical evidence to indicate that real learning is happening, but colleges expend a ton of effort on making it as hard as possible to try to assess this directly.
But, as Dave Schuler frequently reminds us, "bachelor's degree or higher" masks the fact that some professions which require a college degree, notably medicine and law, make fantastically higher salaries.  This chart, from page 13 of the report, helps shed some light on that: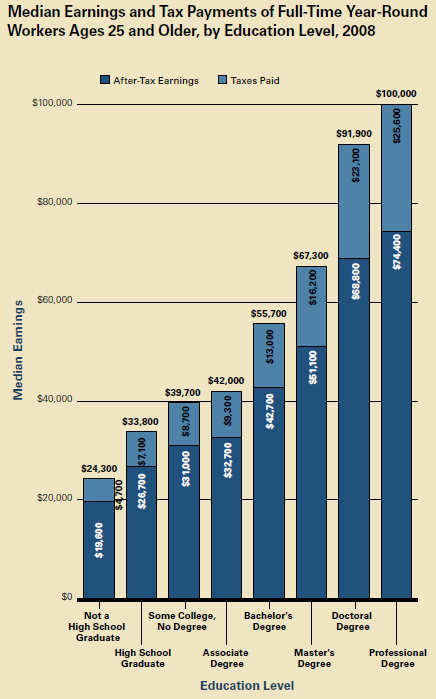 The median earnings of someone with only a bachelor's degree is still twice that of someone with only a high school degree.   But the income of someone with a professional degree (MDs, JDs, DVMs, DDSs and equivalent*) are twice again that of someone with a bachelor's.   Interestingly, PhDs earn nearly as much as those with those degrees; presumably, this is inflated by those with degrees in the sciences who don't go into university teaching.
It's worth noting, too, that these figures are an aggregation of the 25 to 64 age group.   Dave has found some pretty strong evidence that the Baby Boomers are inflating the numbers across the board.
Note that I'm not merely saying that workers with more seniority have higher incomes than younger ones. That's true since so many personnel systems use seniority as the basis for pay increases. I'm saying that at the age they were 30 years ago older people had higher real median incomes than people of that age today. The older generation, Baby Boomers, have had higher incomes throughout their productive careers than those who came after them.
All of this goes to show the value of multivariate analysis.   Simply looking at the relationship between two variables — education level and income — doesn't tell the whole story.  And that's especially true when one of your measures — "bachelor's degree and above" conflates important differences.
_______________
*Corrected from the guess that it was just physicians and attorneys, per input of commenter Fargas, who took the time to scan the report for the answer.