What is the Middle Class and is It Shrinking?
Salary-based definitions distort the conversation. And lifestyle-based definitions are a moving target.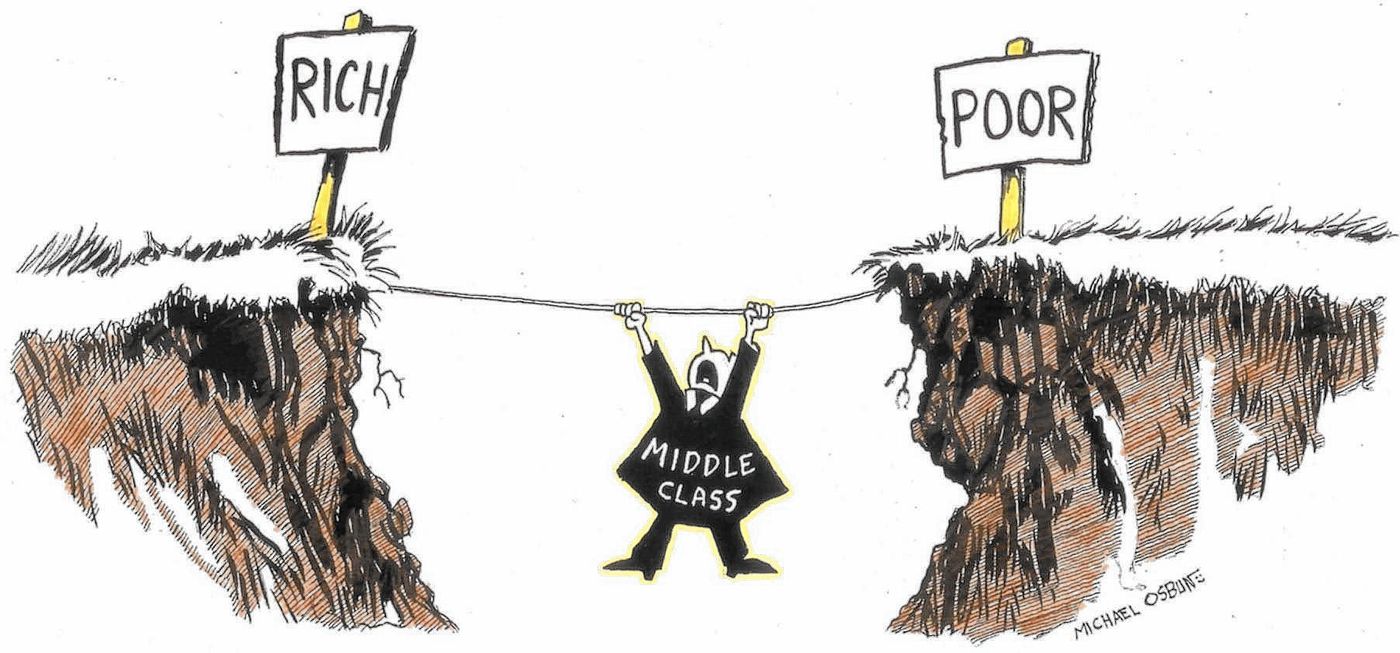 Mark Perry of the libertarian Foundation for Economic Education argues that the middle class is shrinking—but only because a larger percentage of society is now upper class.
Over a slightly longer time period (1967 to 2016) and using a slightly different income measure of middle-class income ($35,000 to $100,000 in 2016 dollars from Census Bureau data), it's true that the share of US middle-class households has been declining, from 53.2 percent of US households in 1967 to 42.1 percent in 2016, see left side of the graphic above. But where did the shrinking middle-class US households go?

As the right side of the graphic above shows, the shrinking middle-class moved up into the group of American households earning $100,000 or more (in 2016 dollars). In 1969, only 8.1 percent (slightly less than one out of 12) of US households earned $100,000 or more, but by 2016, 27.7 percent (more than one out of 4) of US households were in that high-income category. At the same time, the share of low-income US households earning $35,000 or less decreased from 38.7 percent in 1969 to 30.2 percent in 2016.

Stated differently, the 19.6 percentage point increase in the share of high-income US household between 1969 and 2016 (from 8.1 percent to 27.7 percent) was a result of: a) an 11.1 percentage point shrinkage in the share of middle-class households (from 53.2 percent to 42.1 percent), and b) an 8.5 percentage point shrinkage in the share of low-income households.
Follow the link to see the graph and much more of the argument. But Dave Schuler is not impressed with Perry's logic:
What the statistics he cites in the article really tell us is that in many places in the country a six figure salary barely provides a middle class lifestyle any more.
Dave offers a competing definition:
What is middle class? I would propose that for the entire country "middle class" should mean median income ±two standard deviations, upper middle class median income +three standard deviations, and "the rich" as median income +four standard deviations. Median income minus three standard deviations are "the working poor". For individual localities the definitions would vary based on the local median income.

According to the Census ACS median income for a family of four in Chicago is around $66,000 (other reckonings say $47,000). The "middle class" would then be households earning between $45,000 and $85,000. Incomes in Chicago have basically been flat for a dozen years. Note that if you research this yourself you should distinguish carefully among Chicago, Chicago metro, and Illinois.
Dave closes,
Using my method the middle class cannot by definition shrink but it can become poorer which is very much what has happened over the last 30 years.
I'd go further than Dave and argue that "middle class" is almost meaningless in an area with such divergent costs of living as the United States. The median household income of $57,617 would be a poverty wage in the DC area. (The US Government understands this quite well when it's paying its employees, who fall under hugely disparate locality adjustments, but seemingly not in its economic statistics.)
Gustopher, who comments there and sometimes here as well, counters,
After the zombie apocalypse, your definition would still have a sizeable middle class after adjusting the currency to bullets or brains (the zombies would also have a healthy middle class)

Anyway, here's my definition:

Upper class: no longer has to work.
Middle class: can afford a house, car, food, healthcare, kids, decent education for those kids, retirement.
Working poor: below that. Probably cannot retire.

Middle class has been unaffordable on a single income for decades, and has been made much more expensive by rising healthcare costs, government cuts to higher education, rising house prices, etc.
To which Dave retorts,
Another way is by classes: upper class is when most of your income is derived from the ownership of assets (rents, royalties, etc.), middle class is when most of your income is derived from a salary, and lower class is when most of your income is derived from hourly wages. That's imperfect, too. At least my method is quantifiable and makes at least some intuitive sense.

[…]

Something of which you should be aware if you aren't already: retirement is a recent phenomenon and may be an artifact of U. S. post-war circumstances. Other than my mom (who was a government employee, a public school teacher) no one in my ancestral line has ever retired. I'm well over "retirement age" and may never retire.

[…]

Should middle class be affordable on a single income and why? What if part of being middle class is adopting the mores of the middle class and one of those mores is being married?
Gustopher shoots back:
A middle class, separated from the economic security for oneself and ones family, isn't a concept that makes sense.

There has always been some form of retirement, whether it is an ice flow, crushing poverty, living off family, or semi-retirement or living off savings. The simple fact is that unless people die suddenly of a heart attack, they slow down and can do less and less in their old age.

My single vs. double income comment is to show just how far things have gone downhill since the 1970s for the average family. A stay at home parent isn't really an option anymore.
But that's just not true. It's true that, when I was growing up, it was common for women—including my mother—to stay home with the kids. Middle class families were indeed able to live on what Dad earned. Of course, we lived much more modestly. Our houses were vastly smaller. We owned one car. Eating in restaurants or even ordering take-out was rare. And we didn't have the amenities that most of us take for granted: broadband internet service, satellite or cable television, smart phones with unlimited data plans, Netflix, etc. We got by with much smaller wardrobes. Vacations, especially those that required air travel, were rare, indeed. And that's just off the top of my head. Obviously, many of these things were literally not options in the 1970s; but they began as luxury goods and are now considered part of a normal "middle class" lifestyle.
Further, I know lots of people on what most of us would consider "middle class" incomes—Army officers—whose wives in fact stay home with the kids. Many of them homeschool their children or even put them in private (usually church-based) schools. But, again, making that choice means living less lavishly.
It's true that retirement has changed. Large swaths of the middle class had union jobs that came with nice pensions. Most of that is gone. But, as Dave contends, that was but a brief snapshot in time, not something that was sustained for generations. And, frankly, we're living a lot longer now. It's probably unreasonable to expect to ride off into the sunset at 62 or even 65 and maintain one's lifestyle for another two decades or more. As we're structured now, that means socking a whole lot away into retirement savings—which, again, means sacrificing in the near term.
We're in many material ways much richer as a society than we were a quarter-century ago. Ordinary people can afford luxury goods that were only dreamed of then. And we keep defining luxury up. (Watch old James Bond movies, for example, which treated trips to the Bahamas and the likes of Gordon's gin as provinces of playboys.)
At the same time, Gustopher is right: a sense of "economic security for oneself and one's family" has diminished. The pace of economic change has accelerated and entire industries rapidly go out of business. Few are guaranteed a job tomorrow, let alone a gold watch after 30 years. And perhaps that matters more than the lifestyle improvements that the new economy has brought.