Comity in the Senate
Every once in a blue moon, a glimpse of humanity can be seen.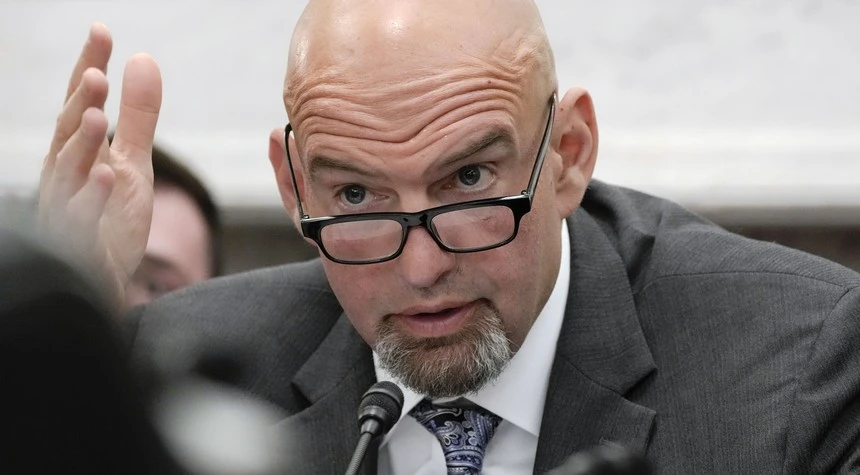 The AP report "Back in hoodies and gym shorts, Fetterman tackles Senate life after depression treatment" begins as the headline suggests, with a discussion of Pennsylvania Senator John Fetterman's unusual-for-the-office sartorial choices. It quickly turns into something else: a discussion of what one might call "common decency" if it weren't so uncommon in modern U.S. politics.
People close to Fetterman say his relaxed, comfortable style is a sign that the senator is making a robust recovery after six weeks of inpatient treatment at Walter Reed National Military Medical Center, where his clinical depression was treated with medication and he was fitted for hearing aids for hearing loss that had made it harder for him to communicate. His hospitalization came less than a year after he had a stroke during his Senate campaign that he has said nearly killed him, and from which he continues to recover.

"He's setting a new dress code," jokes Vermont Sen. Peter Welch, who is the only other first-term Democrat in the Senate and spent a lot of time with Fetterman during their orientation at the beginning of the year. "He was struggling. And now he's a joyful person to be around."

[…]

Welch said Fetterman was quiet and withdrawn when he first came to Washington, and often sat in the back of closed-door caucus meetings. Now he's standing up and talking, sometimes joking and ribbing Pennsylvania's senior senator, Democrat Bob Casey.

Fetterman, Welch and Republican Sen. Katie Britt of Alabama became friends at the orientation, and those two colleagues stayed close with him through his recovery. Britt says that in those early days, Fetterman would only really engage if she started the conversation, but they bonded over having children of a similar age and the fact that Britt's former football player husband, Wesley, is the same height as the Pennsylvania senator. When Fetterman checked into the hospital, Britt's staff brought food to his office next door.

Britt later visited him at Walter Reed, at his request, and found Fetterman to be totally changed. "When I walked in that day, his energy and demeanor was totally different," Britt said in an interview.

Now, he's loud and outgoing, she says -– even yelling "Alabama!" at her down a hallway when he caught sight of her last week, giving her fist bumps and asking about her husband and family.

"That shows you the difference that treatment can make," Britt says. "It's just incredible to see."

Fetterman's decision to seek treatment won bipartisan praise from his colleagues, a sharp turn from his bruising Senate race against Republican Mehmet Oz that was the most expensive in the country.

[…]

Welch is hosting Fetterman and Britt at his house for dinner soon. Fetterman is "on his game" these days, Welch said.

Another Democratic colleague, Illinois Sen. Tammy Duckworth, said she noticed that Fetterman was "inwardly focused" when he arrived in Washington. But he's now gregarious and cracking jokes.

"It's really, really great to see, it's a good message to send to people to seek help," Duckworth said. "It makes a difference."
I'm not a fan of Fetterman's outfits. But he seems like a decent guy trying to do good for his constituents. That at least one of his Republican colleagues—from my erstwhile home state of Alabama, no less—has developed a personal bond with him notwithstanding policy disagreements shouldn't be the least bit remarkable. But it seems worth remarking on, nonetheless.