Tammy Duckworth Blocked From Voting By Proxy In House Democratic Caucus Elections
Outdated rules? It sure seems like it.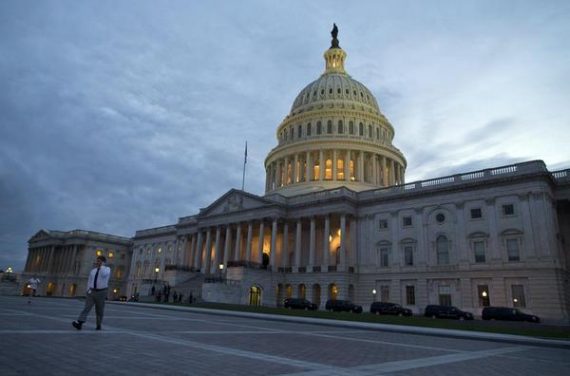 Congresswoman Tammy Duckworth, an Iraq War veteran who was recently re-elected to her second term representing Illinois's 8th Congressional District, is running headlong into a rule that seems kind of dumb in today's day and age:
Rep. Tammy Duckworth of Illinois, who is expecting a baby in December, is being denied a request to vote by proxy in the House Democratic Caucus leadership and committee member elections next week—even though her doctor advises she can't travel to Washington in the late stages of her pregnancy.

The Iraq War veteran, who lost both legs when her helicopter was shot down in 2004, made the request in a letter to fellow Democrats. Her letter was read during a closed-door Democratic Caucus meeting on Thursday. But objections were raised, and the request was denied, with opponents including Democratic Steering and Police Committee cochair Rosa DeLauro of Connecticut and Minority Leader Nancy Pelosi.

"Congresswoman DeLauro does not want to set a precedent. There are many meritorious situations where the argument could be made for a waiver, including Congresswoman Duckworth's. The question is, how do you choose?" said DeLauro spokeswoman Sara Leonardo.

Proxy voting is not allowed in the Democratic Caucus, according to its rules.

But other Democratic aides, speaking on the condition they not be identified, said they believe the decision to block Duckworth, 46, from doing so is related more to the tight intra-party race for the party's top seat next session on the Energy and Commerce Committee. The seat is being vacated by retiring Rep. Henry Waxman.

None of the caucus's top leaders, including Pelosi, are being directly challenged in their bids to reclaim their posts. But both Rep. Anna Eshoo of California, who is backed by Pelosi for the Energy Committee ranking member's seat, and Rep. Frank Pallone of New Jersey, who is backed by Minority Whip Steny Hoyer, are battling to convince a majority of House Democrats to vote for them.

Duckworth is among those who have thrown her support behind Pallone—against Pelosi's choice of Eshoo.

Against this backdrop, Rep. Jan Schakowsky, also of Illinois, on Thursday offered a motion to allow an exception for Duckworth when the caucus votes on its leadership roster behind closed doors Tuesday, and then on its top committee posts, probably the next day. In addition, members were read a letter from Duckworth explaining her request, according to multiple sources in the room.

"I write to request your assistance regarding upcoming votes four our Caucus," her letter states. "As you are aware, I am in the final weeks of my pregnancy, and have been instructed by my physician not to travel. As a result, I will not be attending the upcoming Caucus meetings in person."

"I would like to request a proxy vote on the upcoming leadership and ranking member elections that will come before the Caucus in the coming weeks," her letter states.

At that point, sources say the request began to be discussed. But according to an aide, Duckworth's request then became muddled with another made by Rep. Gwen Moore of Wisconsin to also be allowed to cast proxy votes next week because she will be out on Tuesday for a funeral.

According to one Democratic aide, "After that, the mood of the room turned on the motion, with members realizing the slippery-slope argument that others had made. Schakowsky realized this and pulled her motion. The Moore speech was the pivotal moment for the motion."
It's worth noting that Duckworth isn't asking to be allowed to vote via proxy on the House floor here, although it's likely that she will miss at least a few key votes during the lame duck session as she waits for her baby to be born and, of course, afterwards. In this case, all Duckworth is asking for is the ability to be able to cast a proxy vote in the Democratic Caucus leadership election, an important vote no doubt but it seems to me like this is one where there ought to be a way to deal with situations like this.. I'm not sure what the comparable rule in the Republican Caucus, or in the party caucuses in the Senate, happens to be but I wouldn't be surprised if it were the same. That ought to change. There are perfectly reasonably ways, including the use of a designated courier and affidavits, for there to be in abstentia voting in situations like this. If that's not practical because the voting might go more than one round for a given position, then Duckworth, or any other member who has an appropriate excuse for an absence, ought to be able to give her proxy to a member she trusts to exercise in her stead. Insisting that she appear in Washington or lose her vote in this situation seems absurd to me.
The question about Duckworth's inability to vote in the Democratic Caucus elections raises, of course, the issue of what happens to her votes on the floor of the House and in Committees that she is a member of during the time of her absence. Under the rules of the House, only members who are present on the House floor may vote, and voting can only occur within the designated time to vote on a particular bill. Proxy voting is expressly forbidden and a Member who gives the card that allows them to vote using the chamber's electronic voting systems to anyone else would likely be subject to serious discipline. Proxy voting is also forbidden in committees and subcommittees. The reasons for this as a general rule are sensible, and the potential dangers of something such as proxy voting on measures that could potentially become law should be rather obvious. What this means most immediately for Duckworth, of course, is that she will likely not be voting at all on most if not all of the important measures that Congress will deal with in the upcoming lame duck session.
At the same time, though, it seems as though this is an issue that ought to be looked at in light of modern technology, and even the threats that we face in an era where, just thirteen years ago someone apparently tried to wipe out the entire U.S. Congress with an airplane that was thankfully brought down in a field in Pennsylvania. Should there not be some mechanism to allow Members of Congress to cast votes to take care of the nation's business without all of them having to be in the same place at once, especially if there's some security reason why that wouldn't be a good idea? Ideas such as that have been discussed in the last decade, but nothing has ever been formally proposed, and under the current House and Senate rules Congress would not be able to function under those circumstances. The situation that Duckworth faces doesn't rise to that level, of course, but she isn't the first member who has a medical condition that's keeping her away from Washington and she isn't going to be the last. Maybe it's time for Congress to find a way for people in her position to be able to represent their constituents properly if they are going to be away from Washington for an extended period of time like this.