Congress Looks To Rewrite Stolen Valor Act
Congress seems to have gotten the message the Supreme Court sent last month about the Stolen Valor Act.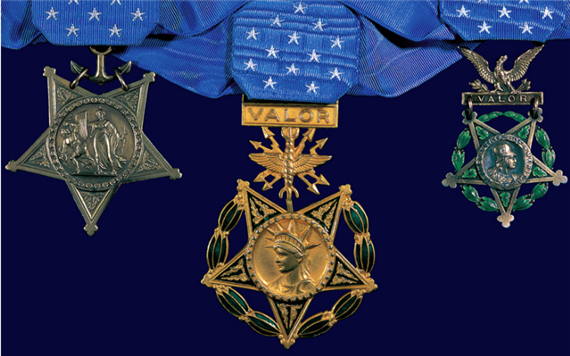 Lost amid all the attention that was paid on the last day of the Supreme Court's term to the Court's ruling on the constitutionality of the Affordable Care Act was the equally interesting decision in United States v. Alvarez in which the Court struck down the Stolen Valor Act as unconstitutional in a 6-3 decision. As James Joyner noted in his post on the decision, the Court's decision essentially ruled that the law as drafted was invalid because it sought to punish speech independent of any harm that may have come from that speech. This strongly hinted that the Court might find a law that punished lying about military honors for the purpose of receiving benefits passes Constitutional muster. Indeed, in his Concurring Opinion in the case, Justice Stephen Breyer said the following
[A] more finely tailored statute might, as other kinds of statutes prohibiting false factual statements have done, insist upon a showing that the false statement caused specific harm or at least was material, or focus its coverage on lies most likely to beharmful or on contexts where such lies are most likely tocause harm.

(…)

The Government has provided no convincing explanation as to why a more finely tailored statute would notwork. In my own view, such a statute could significantly reduce the threat of First Amendment harm while permitting the statute to achieve its important protective objective. That being so, I find the statute as presently drafted works disproportionate constitutional harm. It consequently fails intermediate scrutiny, and so violates the First Amendment.
While Breyer is speaking here and not for the other five members of the majority in Alvarez, it seems like a fairly strong hint on his part that a law that was more narrowly tailored, and specifically one that focused on cases that were more akin to fraud then simply someone who lied about receiving a Medal of Honor out of the blue and received no apparent benefit as happened her, would be viewed very differently by the Court. Indeed, that is the core of the argument that I made in the posts that I wrote about this case while its made its way through the Court system (see here and here) As I said in October 2011, the Alvarez case was troublesome precisely because it attempted to make criminal an act that lacked one of the essential elements of any criminal offense:
Fraud and defamation have never been entitled to First Amendment protection, but there's no alllegation of either of those in this case for a very simple reason. In order  to sustain such a claim, the false statements had to have been accompanied by real, quantifiable damages suffered by someone. No such damage occurred merely because Alvarez lied about having received a medal at the meeting.
If Alvarez had made this representation to, say, gain political contributions or votes, or obtain benefits from the government or some other organization, then this would have been a very different case. Because he didn't, and because the law as written was so broad that it applied to situations that clearly didn't qualify for criminal prosecution, the Court was required to strike it down. That's why Congress is now working on a way to come up with a new version of the Stolen Valor Act that addresses the Court's concerns:
Washington (CNN) – Capitol Hill lawmakers made a fresh push Tuesday to gain passage of a law that punishes those who lie about earning high military honors.

The Supreme Court ruled June 28 that the Stolen Valor Act of 2006 was unconstitutional, saying it violated the free speech rights of those making false claims about winning the Medal of Honor and other combat citations.

A revised, more narrow version would make it a federal misdemeanor for anyone to benefit financially from lying about military service, records or awards. That would include receiving federal veterans and health care benefits, government contracts or jobs reserved for veterans. Similar state and federal fraud statutes are already on the books, but this law codifies sanctions for those seeking to profit strictly from false military service.

"We must defend the valor of those who have served our country, especially those men and women who have earned awards for outstanding service, but that we also must protect the very liberties for which our service men and women sacrificed," said Rep. Joe Heck, R-Nevada. "The Stolen Valor Act of 2011 would achieve both objectives."
Brown and Heck's bill would also expand the kind of false representations covered to include things such as seeing combat or being part of a special operations unit. However, as long as punishment is specifically limited to those situations where someone makes these mispresentations for the purpose of benefiting financially then it strikes me that most, if not all, of the First Amendment concerns would be completely satisfied. There is no First Amendment right to defraud someone for the purpose of obtaining a benefit, and there seems to me to be little danger of the law being applied in an over broad manner. The devil, of course, is in the details and there are other Senators talking about coming up with their own version of a revised Stolen Valor Act. However, as long as Congress stays within the boundaries Justice Breyer laid out, they likely will be able to pass a law that will past muster. Furthermore, punishing people who lie as part of a scheme to defraud is a far better use of judicial and prosecutorial resources than trying to punish a guy who was just being a blowhard.