Ninth Circuit: Lying About Military Honors Is Protected Speech
Xavier Alvarez lied about having been awarded the Medal Of Honor. Should that be a crime? The Ninth Circuit Court Of Appeals says no, and they're right.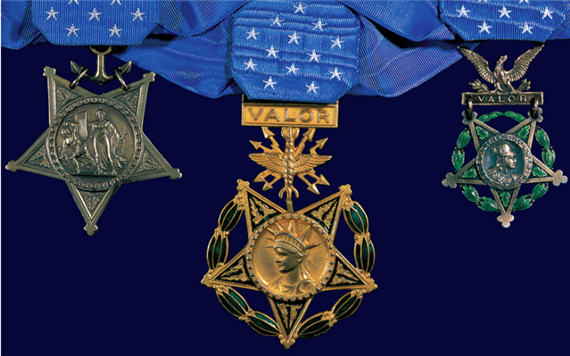 Upholding a panel decision that had been issued last August, the entire Ninth Circuit Court of Appeals ruled last week that the Stolen Valor Act, which made it a Federal crime to lie about receiving a military honor,was unconstitutional. The reaction to the decision has been, in most cases, predictable, but as Chief Judge Alex Konzinski noted in the court's majority opinion, the fact that someone tells a lie doesn't mean that their speech is unworthy of Constitutional protection:
Why do we lie? Let Alex Kozinski, the chief judge of the U.S. Court of Appeals for the 9th Circuit in San Francisco, count the ways.

"We lie to protect our privacy ('No, I don't live around here'); to avoid hurt feelings ('Friday is my study night'); to make others feel better ('Gee, you've gotten skinny'); to avoid recriminations ('I only lost $10 at poker')," Kozinski wrote recently in a case about an inveterate liar named Xavier Alvarez who, just to drive home the point, is also known as Javier Alvarez.

Kozinski listed 28 other reasons we avoid the truth, including to "avoid a nudnick" and to "defeat an objective ('I'm allergic to latex')," and ending sweetly with "to maintain innocence ('There are eight tiny reindeer on the rooftop')."

Kozinski's entertaining treatise was in service to his point about the Constitution.

"If all untruthful speech is unprotected . . . we could all be made into criminals, depending on which lies those making the laws find offensive," he wrote. "And we would have to censor our speech to avoid the risk of prosecution for saying something that turns out to be false.

"The First Amendment does not tolerate giving the government such power."
This, I think, is the most important point about the Stolen Valor Act. It's easy for us to condemn the actions of someone who goes around falsely claiming that they were awarded the Bronze Star or some other military honor. Someone who does that reveals a character that isn't very worthy of being defended. But, should it be illegal, especially when that means opening up the floodgates to an entirely new category of speech that could potentially be subject to government regulation?
To answer that, I think it's important to be aware of the facts of this particular case, as set forth in the opinion, which I've embedded below:
Xavier Alvarez won a seat on the Three Valley Water District Board of Directors in 2007. On July 23, 2007, at a joint meeting with a neighboring water district board, newly-seated Director Alvarez introduced himself, stating "I'm a retired marine of 25 years. I retired in the year 2001. Back in 1987, I was awarded the Congressional Medal of Honor. I got wounded many times by the same guy. I'm still around." With the exception of "I'm still around," Alvarez's statement wasa series of bizarre lies, and Alvarez was indicted and convicted for falsely claiming that he had been awarded the Medal of Honor.
Fairly despicable? Yes, but it's important to note the context of the lies. He didn't tell them as part of an effort to get elected, he didn't tell them in order to persuade people to support his position on a particular issue, he didn't tell them in order to achieve some kind of monetary gain. They were just, as the Court describes them, "bizarre lies" made more bizarre by the fact that determining whether or not a particular person has won the Medal Of Honor is a fairly easy task. There's no real explanation for why Alvarez did it, but it is fairly obvious that nobody suffered any actual harm as a result of his lies, If they had, then Alvarez could have been prosecuted for fraud, or any other of a number of criminal offenses involving deception being used to deprive people of their property. That didn't happen in this case, though, and Alvarez's lies were obviously found out fairly quickly.
Nobody I'm aware of has made the argument that fraud and defamation should be considered protected speech. However, as Judge Kozinski noted in his concurrence, there is a substantial danger in holding that all false statements are undeserving of constitutional protection:
So what, exactly, does the dissenters' ever-truthful utopia look like? In a word: terrifying. If false factual statements are  unprotected, then the government can prosecute not only the man who tells tall tales of winning the Congressional Medal of Honor, but also the JDater who falsely claims he's Jewish or the dentist who assures you it won't hurt a bit. Phrases such as "I'm working late tonight, hunny," "I got stuck in traffic" and "I didn't inhale" could all be made into crimes. Without the robust protections of the First Amendment, the white lies, exaggerations and deceptions that are an integral part of human intercourse would become targets of censorship, subject
only to the rubber stamp known as "rational basis review."

What the dissenters seem to forget is that Alvarez was convicted for pure speech. And when  it comes to pure speech, truth is not the sine qua non of First Amendment protection. See Meyer v. Grant, 486 U.S. 414, 419 (1988) ("The First Amendment is a value-free provision whose protection is not dependent on the truth, popularity or social utility of the ideas and beliefs which are offered." (internal quotation marks omitted)). That the government can constitutionally regulate some narrow categories of false speech—such as false advertising, defamation and fraud—doesn't mean that all such speech falls outside the First Amendment's bounds. As the Supreme Court has cautioned, "In this field every person must be his own watchman for the truth, because the forefathers did not trust any government to separate the true from the false for us." Id. at 419-20 (internal quotation mark omitted); Thomas v. Collins, 323 U.S. 516, 545 (1945) (Jackson, J., concurring). Yet the regime the dissenters agitate for today— one that criminalizes pure speech simply because it's false— leaves wide areas of public discourse to the mercies of the truth police.
Moreover, as Kozinski notes, we lie to each other on a regular basis about all kinds of things. We call them "white lies" in order to make it seem like it's not so bad, but an untruthful statement is an untruthful statement, and giving the government the power to punish speech just because it is untruthful establishes a dangerous precedent:
It doesn't matter whether we think that such lies are despicable or cause more harm than good. An important aspect of personal autonomy is the right to shape one's public and private persona by choosing when to tell the truth about oneself, when to conceal and when to deceive. Of course, lies are often disbelieved or discovered, and that too is part of the pull and tug of social intercourse. But it's critical to leave such interactions in private hands, so that we can make choices about who we are.  How can you develop a reputation as a straight shooter if  lying is not an option?

Even if untruthful speech were not valuable for its own sake, its protection is clearly required to give breathing room to truthful self-expression, which is unequivocally protected by the First Amendment. See New York Times Co. v. Sullivan, 376 U.S. 254, 271-72 (1964). Americans tell somewhere between two and fifty lies each day. See Jochen Mecke, Cultures of Lying 8 (2007). If all untruthful speech is unprotected, as the dissenters claim, we could all be made into criminals, depending on which lies those making the laws find offensive.  And we would have to censor our speech to avoid the risk of prosecution for saying something that turns out to be false. The First Amendment does not tolerate giving the government such power.
Kozinski gets it absolutely correct here, I think. Yes, Avalrez revealed himself to be something of a jerk for falsely claiming that he won the Medal Of Honor, but why should the law treat that any differently than a guy who lies about his golf game, or how big the fish he almost caught was? Moreover, if you accept the argument that "untruthful" speech doesn't deserve Constitutional protection, then you have to deal with the issue of how you decide if something is "truthful" or not. In cases like Alvarez's, of course, it's fairly easy to determine that he was lying, but that won't always be the case, and turning government into the "truth police"  would be dangerous, for the reasons that Kozinski notes.
So, yea, a guy who lies about receiving the Medal of Honor is a scumbag, but there's no reason that he should be a criminal.
UPDATE (James Joyner): I agree with the 9th Circuit and Doug. See my post from March 2008 on "Criminalizing Lying about Heroism."