Cokie Roberts + Applebees + Twitter
So, this happened: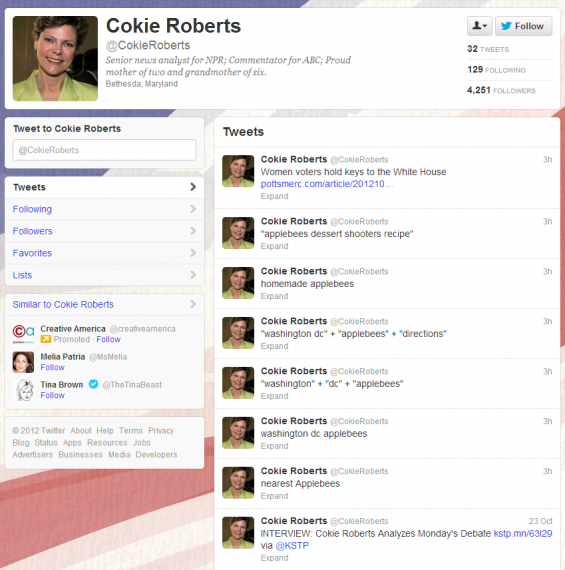 I didn't realize Cokie Roberts even had a Twitter account, but suddenly everyone was re-tweeting what appeared to be a longtime news anchor and NPR commentator confusing Twitter for Google and repeatedly trying to find directions to a Washington, DC Applebee's restaurant.
Yet, it doesn't make any sense. I mean, does anyone really think Cokie Roberts eats at Applebee's? Or, if she does, that she looks up the directions herself? And, what the hell are "Applebees dessert shooters" and why would our intrepid reporter be looking for a recipe for them?
Oh: And there actually isn't an Applebee's in Washington, DC. (Although there is one maybe four miles down the road from my house, out on Route 1.)
My guess was that the account was hacked. Rob Prather, our very occasional correspondent, informs me the account is fake. Certainly, Roberts isn't an active Tweeter. Somebody set the account up four days ago, somebody has tweeted a grand total of 32 times, and six of the tweets were today's stream on Applebees. And, while several of the tweets are plausibly Cokiequese, others are a bit too snarky for a celebrity grandma wading in to the medium for the first time.