The Beginning Of The End Of Waiters and Waitresses?
Technology is about the way you order in your local restaurant.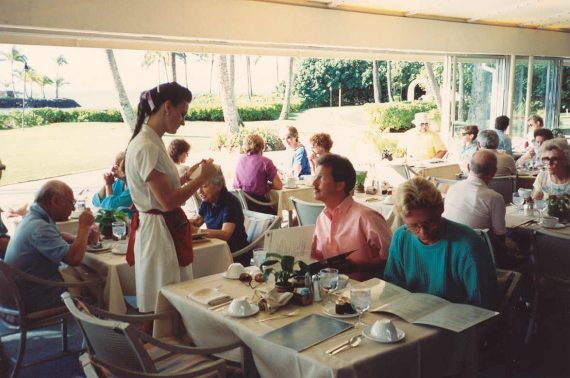 An interesting report in USA Today this morning about casual dining chains looking at placing tablets at customer tables to assist in the ordering and payment process:
That endless wait for the restaurant check soon may be over.

Applebee's, the nation's largest casual dining chain, on Tuesday will announce plans to place tablets at every table in every one of its U.S. restaurants by the end of 2014. Folks can use the tablets to pay whenever they want — and to order things like appetizers, desserts or even play video games.

The action follows a similar move by rival Chili's, which already has begun the process of placing tablets at its company-owned locations. IHOP, also owned by Applebee's parent, DineEquity, is looking into tablets, too.

The way Americans pay for and order food when eating out is about to be turned on its head. If these high-tech moves — already common at eateries in parts of Europe and Asia — are a hit domestically, much of the $70 billion full-service and casual dining industry is expected to follow.

"Looking out over the next decade, it will become fairly routine for consumers in table service restaurants to use tablets to view menus, place orders and pay bills," says Hudson Riehle, senior vice president of research at the National Restaurant Association.

Tablets will "change the way we interact with guests in restaurants," says Mike Archer, president of Applebee's, which has 1,865 locations nationally. The chain's move to roll out nearly 100,000 tablets will rank among the largest-ever rollout of tablet technology in the private sector.

At Applebee's and Chili's, customers will continue to order their meals via waiters and waitresses. The move to tablets squarely targets Millennials, says Riehle, more than 80% of whom say they fully expect restaurants to offer improved technologies.

Chili's president Wyman Roberts, says its restaurants with the devices have seen improvements in both guest satisfaction and customer "engagement," though the company declined to discuss details of its ongoing rollout. Its 800 company-owned restaurants all will have tablets by the middle of next year.
Theft is apparently not an issue since the devices will be essentially useless outside an individual restaurant. More importantly, though, it strikes me that there isn't any logical reason why this technology has to be limited to ordering appetizers and desserts, or to pay the bill at the end of the night. Why couldn't they also be used to order the meal itself? If you have questions during the ordering process you can summon someone to the table for help. Other transactions that would likely still require human intervention would be ordering drinks, since someone needs to be responsible for ensuring that the people ordering are above the legal drinking ago. And, obviously, human beings would still need to deliver the food and drinks to the table. However there's no denying that technology like this would most certainly mean that these restaurants could get by with a smaller staff than they do today. I doubt you'd see something like this at higher end restaurants where personal service is part of the dining experience, but at places like Applebees or IHOP it seems like a perfect fit and one that would make the high volume part of the day flow far more smoothly than it does when it relies on human beings to get the order from the table to the kitchen and back.
Quite obviously, a development like this will have a big impact on that segment of the work force that relies on the food industry as a place where they get a foot in the door of the job market, but in that case it would just be yet another example of how technology is continuing to disrupt the traditional economy as we know it. We're a long way from the day when a restaurant like Applebees could function with almost no wait staff at all, but with technology like this, you'd certainly see a reduction in the demand for labor at least out on the dining floor and a redefinition of what these jobs actually entail.
Of course, it's possible that a development like this won't be quite so revolutionary. Restaurants may find that customers still prefer some degree of human interaction during the ordering process and, in those cases, the use of tablets is likely to remain limited to relatively routine items like bill paying, where a more streamlined process would work to the benefit of both customers who want to leave but find a busy night makes it hard to get the attention of their service and businesses who count on relatively quick table turnover to keep customers moving and reducing the amount of time that people need to wait for a table. However it works out, though, it looks like tablets are coming to a restaurant table near you in the relatively near future.
Photo via Wikimedia Commons