Cops Should Not Look Like Soldiers
Pentagon officials are speaking out about the militarization of police.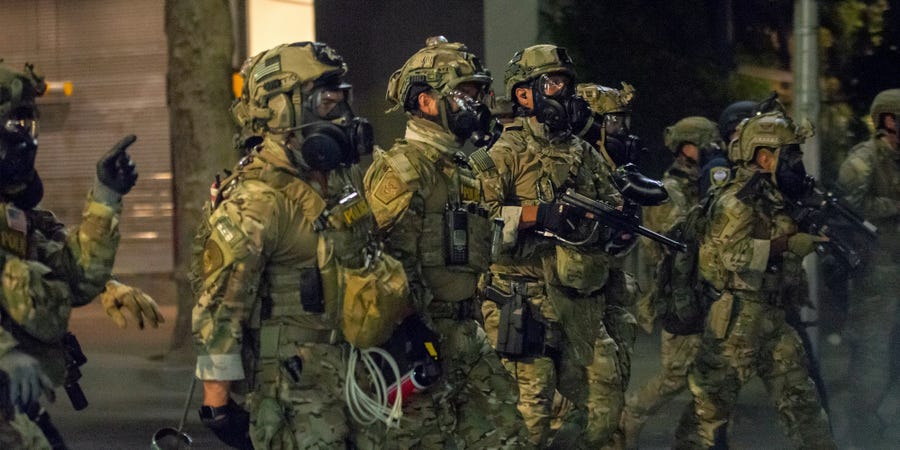 Since news of mysterious federal agents disappearing protestors in Portland started circulating, I have here and elsewhere expressed concern over said agents wearing "Army-style camouflage." It appears that, in this particular instance, my views do in fact represent the Department of Defense.
Business Insider ("Defense Department says it's concerned about law enforcement dressing up in Army uniforms"):
Defense Secretary Mark Esper has made the Trump administration aware of his concerns with the appropriation of the US military's uniforms by law-enforcement agencies as they face off with protesters in cities like Portland, Oregon, a Pentagon spokesman said Tuesday afternoon.

"We saw this take place back in June, when there were some law enforcement that wore uniforms that make them appear military," Defense Department spokesman Jonathan Hoffman said to reporters, referencing the George Floyd protests throughout the country earlier this year.

"The secretary has a expressed a concern of this within the administration, that we want a system where people can tell the difference," he added.

The confusion became apparent after video footage and pictures showed law-enforcement officials, many of whom refused to identify themselves or the agency they were working for, wearing the US Army's camouflage uniform as they confronted demonstrators.

This confusion has been compounded after other activists, such as members of the Boogaloo movement, wore pieces of the same uniform or carried with them military-style gear to the same protests throughout the country.

Customs and Border Protection's immediate-response force, also known as the Border Patrol Tactical Unit, often wear military uniforms with custom patches.

[…]

US Army Gen. Mark Milley, the chairman of the Joint Chiefs of Staff, previously highlighted his concerns about the optics of law-enforcement officials dressing like military service members while responding to protests, saying there needs to be clear "visual distinction" between the two organizations.

"You want a clear definition between that which is military and that which is police, in my view," Milley said during a congressional hearing on July 9. "Because when you start introducing the military, you're talking about a different level of effort there."
I wrote "Army-style" yesterday because, while the uniforms pictured looked to me identical to the Operational Camouflage Pattern the Army has been wearing since 2015 (and the Air Force adopted in 2018) I wasn't sure. But the Defense Department has now confirmed my instinct.
My concern has been about optics and tactics. There are instances where it makes sense for law enforcement officers to wear military-style camouflage, although I can't think of a rationale for doing so on American streets. Indeed, in a riot control situation, blending in is the precise opposite of what officers should want: they should be extremely visible as a deterrent to violence. If anything, the bright orange worn by hunters would be more appropriate.
But Esper and company are right that there are also civil-military relations issues at work here. American citizens ought to be able to immediately distinguish their police from their soldiers, the latter of whom are only rarely authorized to support civil authorities in a law enforcement capacity. (Indeed, if I had my druthers, National Guardsmen acting in support of state governors would be more clearly identifiable; most citizens lack familiarity with unit patches.)