Cowboys Under Fire For Allowing Josh Brent On Sideline During Sunday's Game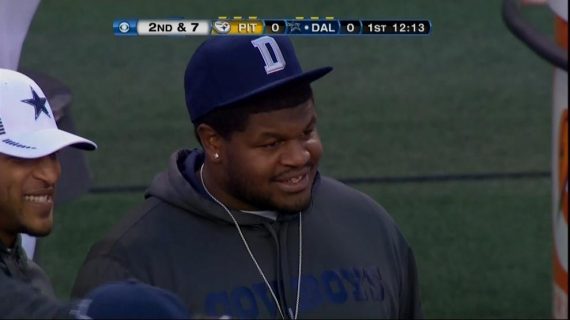 It was just a week ago that Dallas Cowboys defensive lineman Josh Brent was arrested after an automobile accident that killed teammate Jerry Brown Jr. Brent was found to have been legally intoxicated at the time and faces up to 20 years in prison if convicted. He's not currently an active player for the team but, during yesterday's home game with against the Pittsburgh Steelers, he was on the sidelines with his team, a move that generated much negative commentary:
Jerry Jones stood behind the Dallas Cowboys' decision to have Josh Brent, who faces a charge of intoxication manslaughter after a drunk driving accident last week killed former teammate Jerry Brown, on the sideline during Sunday's 27-24 overtime victory over the Pittsburgh Steelers.

"Our team and our players wanted him today on the sideline," Jones said Sunday, via the Fort Worth Star-Telegram. "Jerry's mother (Stacey Jackson) asked us directly as a group. She said, 'Support him. Help him. He needs your help. Jerry wants that. I want that.' His teammates asked him to come and be down there with them."

 Brent's presence didn't sit well with some, including CBS analyst Boomer Esiason, who called it "disgraceful" during the network's pregame show. "Football players are an example and Josh Brent is the worst of those examples," Esiason said, via the Star-Telegram.
Now, it is worth noting that Brown's family asked Brent to sit with them during his funeral and that the Cowboys contributed a significant amount to the cost of Browns' funeral. Indeed, yesterday was the day that the team formally acknowledged Brown's death by wearing his number on their helmets. At the same time, though, I can't help but think that Esiason had a point. Yes, he is innocent until proven guilty in a Court of law, but there's something unseemly about having a guy who drove drunk and killed someone one, facts which do not reasonably seem to be in dispute, treated in this manner.