CPAC's Gay Porn Star Honoree Matt Sanchez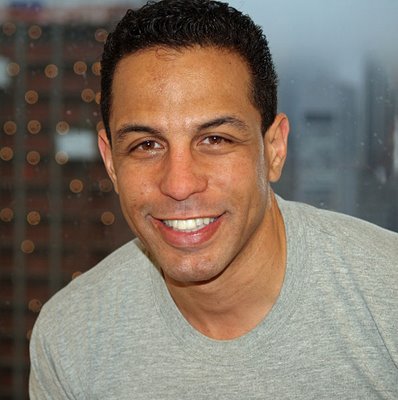 Max Blumenthal passes on word "several gay blogs revealed late yesterday" that Marine Reserve Corporal Matt Sanchez, winner of the Jeanne Kirpatrick Academic Freedom Award at this year's CPAC, "was known during his halcyon days as Rod Majors, a majorly well-endowed gay porn star." In his spare time, he was "a $200-an-hour male prostitute who advertised himself as an 'excellent top.'"
Assuming this is true (frankly, this is one time I have no desire to click through the various links involved), it is rather funny. While John Hawkins is right to note that people can turn their lives around and that "conservatives should be proud to have a guy like Matt Sanchez attending CPAC," somehow I don't think he'd have been so prominently featured had his past been known.
Indeed, Michelle Malkin, a major Sanchez booster, observes, "Should CPAC organizers be embarrassed if the rumors about his alleged porn star past are true? Well, yes. Next time, they should do more extensive background research before handing out an honor with Jeane Kirkpatrick's name on it."
Don Surber calls Blumenthal out as a "homophobe" for his insinuation that gays can't be conservatives. But, surely, Blumenthal is right that there is a faction of the conservative movement that "exploits anti-gay sentiment for political gain." It's not unreasonable to point that out.
Scandals, real or imagined, simply have more resonance when they go against type. And it's not just conservatives who feel the sting of such hypocrisy. The recent flap over Al Gore's ginormous, energy sucking mansion would not have made the news had he been a Republican booster of the oil industry. When anti-gay evangelical ministers turn out to be gay, that's news. When Congressmen in charge of protecting kids from child molestation are having gay affairs with teenagers, that's news.
UPDATE (August 13): Matt Sanchez has contacted me and acknowledges that he appeared in gay porn videos. He adamantly denies, however, that he was ever a male prostitute.
Max Blumenthal continues to stand by this story, having repeated the "male prostitute" assertion as recently as August 2.
OTB has no independent corroboration of this charge. We have contacted Blumenthal for comment.
UPDATE (August 14): Blumenthal responds,
He admitted it to Alan Colmes in a radio interview, said he wouldn't deny it in his Salon piece, and advertised his services in a public web page that was recently taken down. He never denied it when I stated it as fact on Countdown with Keith Olbermann. Why is he denying it now? Possibly because he is the Weekly Standard's only on the record source in its completely bogus attack on TNR's Baghdad diarist, but who am i to ascribe motives?
My impression at the time was that Sanchez admitted to all charges. Michelle Malkin and others said as much contemporaneously and then approvingly linked to his Salon piece as evidence that liberalism is so bad that even gay porn star prostitutes get turned off.
Aside from issues of legality, I'm not sure what differentiates a porn actor from a prostitute, in that both are exchanging sex for money. Regardless, his former "summer job" is by all indications something Sanchez has left behind.