Donald Trump Pulls Out Of CPAC
Donald Trump canceled his speech at CPAC, but it's unlikely to harm his campaign at all.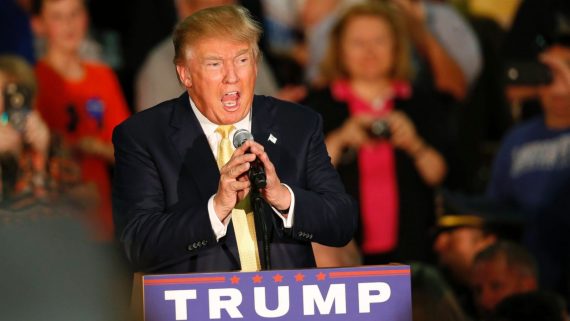 Donald Trump was supposed to have been one of the penultimate speakers at this weekend's Conservative Political Action Conference (CPAC) in suburban Maryland just outside Washington, D.C., but instead it was announced suddenly yesterday that he would not be speaking:
Donald Trump has pulled out of the Conservative Political Action Conference on Saturday, opting to campaign in Kansas and Florida instead.

The Trump campaign released a statement to reporters announcing that it would be in "Witchita, Kanasas [sic] for a major rally on Saturday prior to Caucus."

"He will also be speaking at the Kansas Caucus and then departing for Orlando, Florida and a crowd of approximately 20,000 people or more," the campaign said. "Because of this, he will not be able to speak at CPAC as he has done for many consecutive years."

"Mr. Trump would like to thank [American Conservative Union Chairman] Matt Schlapp and all of the executives at CPAC and looks forward to returning to next year, hopefully as President of the United States," the statement continued.

He had been scheduled to speak at 8:30 a.m. Saturday morning.

Speaking to Fox Business, Schlapp said he was disappointed by Trump's decision.

"I think this is a whiff, I think it's a mistake, it's a missed opportunity. The people in this hall, this packed hall behind me are going to be very disappointed," Schlapp said.

Asked whether Trump's decision hinged on time allotted to speak, Schlapp characterized it as sticking to the ground rules.

"It was about the fact that every candidate has to follow our ground rules. We made very clear with him, you're allowed to give a speech, but you have to answer questions," he explained. "I think that's fair. And I think here's the question as the frontrunner he still has to follow all these rules and there are certain ways that we deploy and certain decorum we have at CPAC, and everyone has got to follow them because we're being fair because this is such a critical moment for conservatives in this nominating contest."

While Trump had spoken at past CPAC events, his speaking slot this time drew backlash from conservative critics who had accused event organizers of being in the tank for the Manhattan real-estate magnate. Trump accepted his invitation within 15 minutes after Schlapp emailed it to him, while other candidates dithered on participation.

(…)

On Thursday, National Review reported on efforts to stage a walkout during Trump's speech, coming from a tri-corn hat-wearing CPAC attendee from Georgia named William Temple. "We're having massive walkout on Saturday when [Trump] comes to speak," Temple, who also led a walkout on Jeb Bush's speech in 2015, told the outlet. "We already have over 300 people who are going to get up at one time to go the bathroom."

"We're not going to put up with him," Temple continued, according to the report. "He reminds me of Mussolini — he was quoting Mussolini the other day and didn't even know it. But this man is totally consumed with self. He wants glory. He wants to be seen as this potentate that everyone he loves. He can't stand it if anyone opposes him."

Still dressed in revolutionary-era garb Friday, Temple cheered the news that Trump would be skipping CPAC, yelling aloud for all who could hear that his planned walkout — which he said would've led to a 1,000-person exodus from the auditorium — was the cause of the schedule change.

"We won!" he yelled, and found some scattered support among the conservative crowd.

Temple, though, said his rebellion against Trump has a limit. If he's the nominee, he said, he'd vote for the man.
This isn't the first time that Trump was scheduled to speak at CPAC, of course. The first time came back in 2011 when CPAC attendees, including yours truly that year, were greeted the first morning with the news that the real estate magnate who had just then begun to express interest in running for President in 2012, would be speaking on the first afternoon of the conference. James Joyner summarized and commented on Trump's speech in a post here at OTB. Not long after this speech, of course, Trump began a months-long flirtation with the media about whether or not he would enter the Presidential race that concentrated largely upon his obsession with the President's birth certificate and Trump's assertion that he had evidence that the President was in fact born in Kenya rather than the United States, an assertion that was, of course, entirely untrue. In the end, Trump chose not to run for President and instead accepted an offer from NBC to renew his "reality" television show Celebrity Apprentice. This time around, of course, Trump's run for the White House is all too real.
Trump has spoken at the conference several more times since 2011, most recently I believe in 2013 (I haven't attended CPAC since 2012 so I wouldn't know for sure), but it wasn't until this year that his attendance became a point of significant controversy. Meanwhile, it appears that Trump's decision not to appear resulted from a breakdown of a relationship that has been quite beneficial to the American Conservative Union, the organization which holds the event each year:
NATIONAL HARBOR, Maryland ― Donald Trump spent five years building a mutually beneficial relationship with the organization that hosts the annual Conservative Political Action Conference, filling its coffers with at least $150,000 in cash and scoring coveted speaking slots that started him on a course towards winning the Republican presidential nomination.

But he ended up canceling what would have been his biggest CPAC speech at the last minute amid plans for protest and disruptions, apparently deciding that his surging presidential campaign no longer needed any boost from the once-storied group.

Amid criticism of the relationship with CPAC's organizers, Trump also bristled at their insistence that he answer questions from a journalist of their choosing onstage after his speech, according to sources familiar with the planning.

"They refused to accept the terms and they asked us to change the terms to allow him to give longer remarks," said Matt Schlapp, chairman of the American Conservative Union, the group that sponsors CPAC. "And we said no to that."

An ACU board member added that Trump "didn't want to answer questions, and he decided he was the frontrunner so he didn't need to answer them, or even to show up."

The organization went back and forth with Trump's campaign about the Q&A session, according to the board member.

"Trump thinks everything is negotiable, but this wasn't," said the board member, who didn't want to be identified discussing internal negotiations. "It's ACU's policy to have every presidential candidate actually answer questions, not just come and give a stump speech," the board member said, noting the policy was implemented last year. On Friday, Trump's rivals Texas Sen. Ted Cruz and Ohio Gov. John Kasich were questioned after their Friday afternoon speeches by Fox News host Sean Hannity. The intent is for "hard questions, but not gotcha questions," said the board member.

But the requirement could have proven uncomfortable for Trump in light of the sentiment swelling at the convention center here. Speakers and attendees alike have lashed out at the billionaire real estate showman as a fake conservative whose presidential campaign threatens to set back the Republican Party years, if not decades. Trump's rival Ted Cruz earned some of his most enthusiastic applause during his Friday afternoon speech when he reasoned that Trump probably skipped the event because "someone told him conservatives were going to be here."

(…)

The niceties aside, Trump's decision to bail on CPAC is being interpreted as a slight that suggests the long-running event no longer holds as much sway in GOP politics as it once did. It left some ACU insiders grumbling regretfully about how ACU leadership had gone out on a limb for Trump early, even as the relationship played into problematic narratives for both sides.

For Trump, it seemed of a piece with suggestions that he's tried to buy conservative support.

For the ACU, it evokes stories about selling influence to deep pocketed interests.

Trump's decision to cancel his speech underscores the extent to which he has created his own constituencies independent from those that traditionally define presidential politics. It also shows just how far Trump has come as political force since he kicked off his presidential campaign last year.

Not long after Trump's announcement, he invited ACU chair Schlapp and his executive director Schneider to meet with the Trump campaign's staff at its headquarters inside Manhattan's Trump Tower.

The invitation came at a time when no one was giving Trump much of a chance of winning the GOP nomination. But Schlapp and Schneider were making an effort to meet with all the candidates, and they had extra incentive to do so with Trump. He was emerging as one of the group's major donors, giving checks that now total at least $150,000, more than previously known, according to multiple sources familiar with Trump's support.

And when Schlapp and Schneider returned from their visit ― their second to Trump Tower in just a few months ― they were raving about his operation and his chances for winning the nomination.

"They're doing big things," Schneider told associates, according to multiple sources to whom he praised Trump's nascent campaign at the time.

The unlikely alliance between Trump and the ACU, detailed in interviews with a dozen people who have been involved at various stages, benefitted both parties.

The donations from Trump ― the last of which came in 2015 ― helped the organization stabilize itself after a tough financial stretch under Cardenas' leadership, according to former officials and other people familiar with the group. "Trump helped saved ACU," said one former ACU official. (Cardenas, disputed the suggestion that the group had been in dire financial straits. "We're not a money-making organization, and we always burn all of our resources after we do CPAC," he said).

For Trump, the alliance provided valuable entry into conservative circles as he was just beginning to increase his political profile. And, since he launched his campaign, the group and its officials had been among the few high-profile conservatives who have regularly vouched for him.
Over the years since his first CPAC appearance, Trump reportedly gave at least $150,000 to the ACU, not exactly a lot of money to someone in Trump's position but apparently quite beneficial to the ACU. As for why Trump pulled out, I would think that the prospect of a less than sympathetic crowd, combined with the prospect of a walkout during Trump's time on stage, was probably a visual that the campaign didn't want to create and have broadcast across the nation. I tend to doubt that the mere fact that the ACU was insisting on a question-and-answer session was, by itself, the reason for the decision to pull out given the fact that Trump has largely proven himself to be quite good at dodging and weaving questions from journalists, so one doubts that they'd be too much worried about the questions he might have gotten from someone the ACU designated to ask questions. The prospect of that happening while a live, and somewhat hostile, crowd is present probably didn't sound to appealing.
Trump's decision to skip the event at the last minute has left some attendees and media disappointed, as reported by other CPAC attendees:
Most people I've talked to are disappointed that Trump is not coming. They were all media. Face it, he ruined a bunch of good stories.

— Eye on Politics (@EyeOnPolitics) March 4, 2016
I spoke to some VERY angry Trump supporters outside. They came only to hear him speak. Now heading home. https://t.co/7Xiy9yuoJa — Jazz Shaw (@JazzShaw) March 4, 2016
In the end, I doubt Trump's decision to back out of this speech is going to have any impact on the race at all. Indeed, at this point in the race it strikes me that it is generally more beneficial for candidates to be on the road speaking to voters rather than at a conference in suburban Maryland speaking to a crowd of conservative activists. In Trump's case, he will be holding a rally today in Kansas, which is one of four states holding contests today, the others being caucuses in Maine and Kentucky and a primary in Louisiana (Kansas is also a caucus). After the stop in Kansas, Trump will be holding a rally in Florida, which, of course, is among several top prizes at stake on March 15th. In the end, those events are likely to prove to be much more beneficial than a 30 minute or so CPAC speech.