Credit Where Credit is Due
Partial credit at best, however.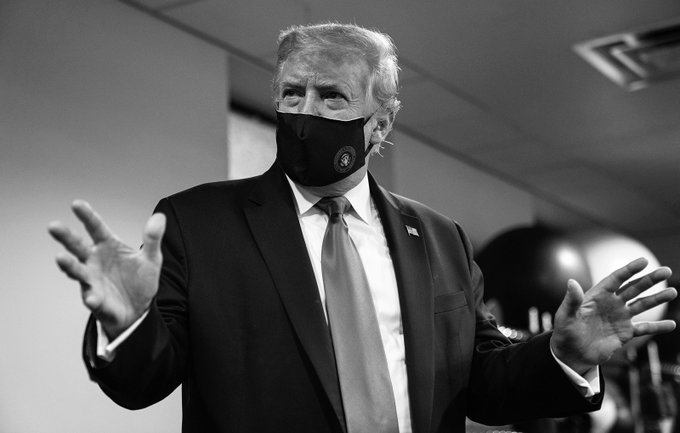 Via the NYT: Trump, in a Shift, Endorses Masks and Says Virus Will Get Worse:
Mr. Trump urged Americans to avoid packed bars and offered his most robust endorsement of masks, saying, "When you can, use a mask," even as he falsely claimed he had always been supportive. "I have no problem with the masks," he said, holding up a blue one with a presidential seal. "I view it this way: Anything that potentially can help, and that certainly can potentially help, is a good thing. I have no problem. I carry it. I wear it. You saw me wearing it a number of times, and I'll continue."
And, of course, there was this tweet:
As I stated last week:
I am in squarely in the middle for planning for students to return to campus in Fall, and our plan includes a mask requirement. It was immensely helpful for our governor to have issued a statewide mask order. It would be even better if Trump would get on board.
So, credit where credit is due: I am grateful that Trump is at least making positive noises in the direction of mask-wearing. Anything that will help cut down on people pretending like there is a phantom constitutional right not to have to wear a mask.
Does he still deserve criticism for not promoting masks prior to now? Of course.
Is he doing enough now, in my opinion, to promote mask usage? No.
Do I think this is more about someone convincing him his poll numbers are down because of his lack of leadership with regards to the pandemic (and that his position is not especially sincere)? Ab-so-lutely.
Keep in mind it was roughly 10 days ago that Trump visited Georgia and praised Governor Kemp, who had just made it more difficult for Georgia's mayors to manage the public health crisis as it pertained specifically to masks.
Indeed, if Trump was really a convert to the importance of masks, he could meet with governors and give them the cover they need to enforce rules in their states. All it would take would be rhetoric help. He would also go out of his way to wear a mask at events and to make sure others were as well.
A quick trip to the White House Flickr page illustrates my point. Here's an event from yesterday:
Note the lack of mask, even though the Tweet says "wear a face mask when you can't socially distance."
Not, too, this event on Thursday the 23rd:
Even if we presume that all of these visitors have been tested (as Trump is constantly, as I understand it), the visuals matter if you want to teach the public how to behave in this crisis.
There are plenty additional examples on the feed.
Wearing a mask prominently in public once, tweeting about, and then saying a few words in favor is utterly inadequate.
So, credit where credit due, but the credit is decidedly partial.