Culture Wars the Liberals' Fault?
Some people claim there's a woman to blame.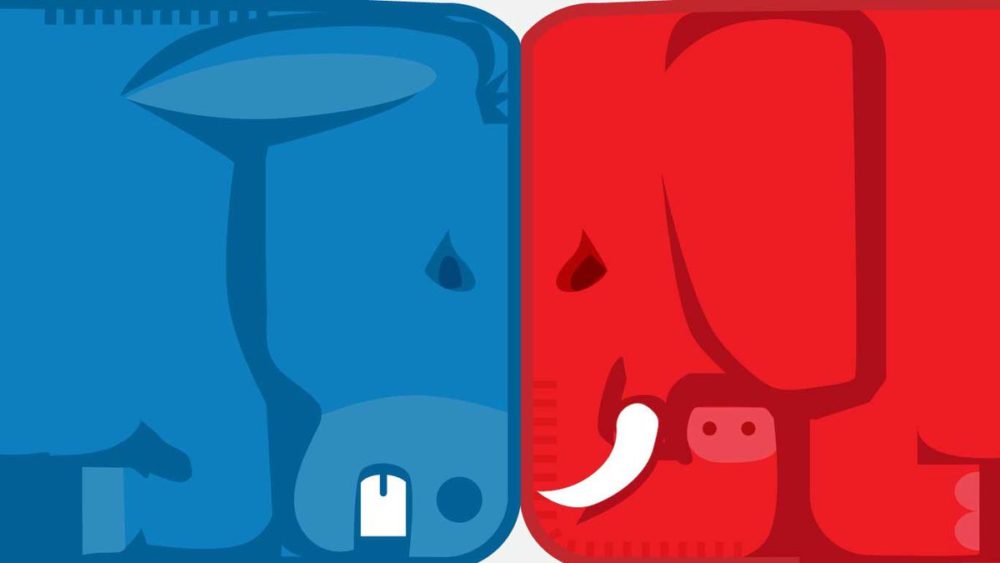 Kevin Drum, late of Mother Jones and Washington Monthly, argues that "If you hate the culture wars, blame liberals." Given that he is, by any reasonable measure, a liberal himself, this is a rather interesting admission against interests. While I remain more conservative than Drum, I think he's too hard on his own team.
His central argument, though, is unassailable: "over the past two decades Democrats have moved left far more than Republicans have moved right." He presents, in his inimitable style, quite a few self-made charts and other visual aids to illustrate his argument. This is the most compelling: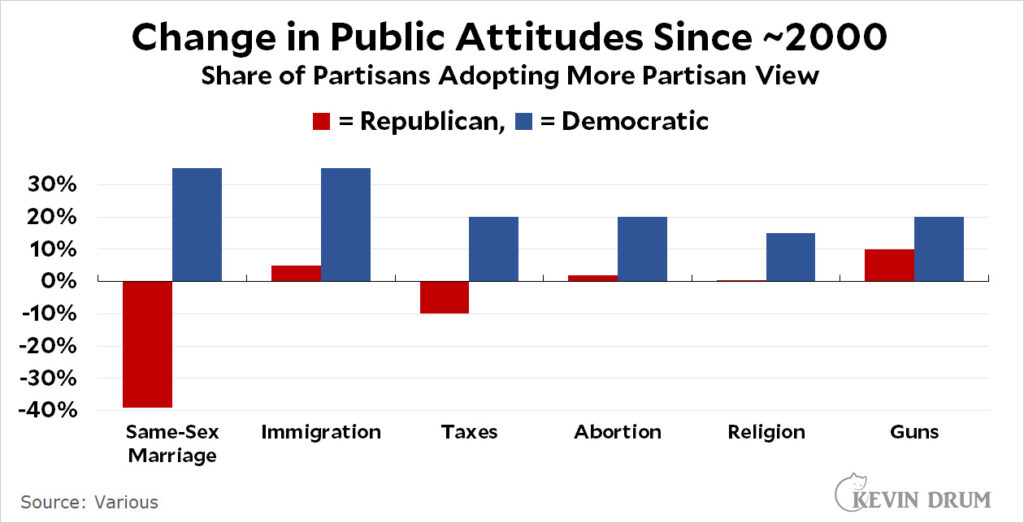 So, Republicans have become less doctrinaire on both same-sex marriage and taxes while remaining essentially the same on the other issues while Democrats have moved further left. But I'm not exactly sure what that tells us. If the question we're trying to answer is one about how the parties compare to the elusive median voter, "liberal" and "conservative" aren't static measures. On same-sex marriage (and marijuana legalization, which isn't shown on this graphic) the polity at large has moved leftward. So, it's possible that Republicans staying static amounts to a rightward shift when measured against the current median rather than that of ~2000.
But Drum seems to answer that with his next graphic, borrowed from The Economist: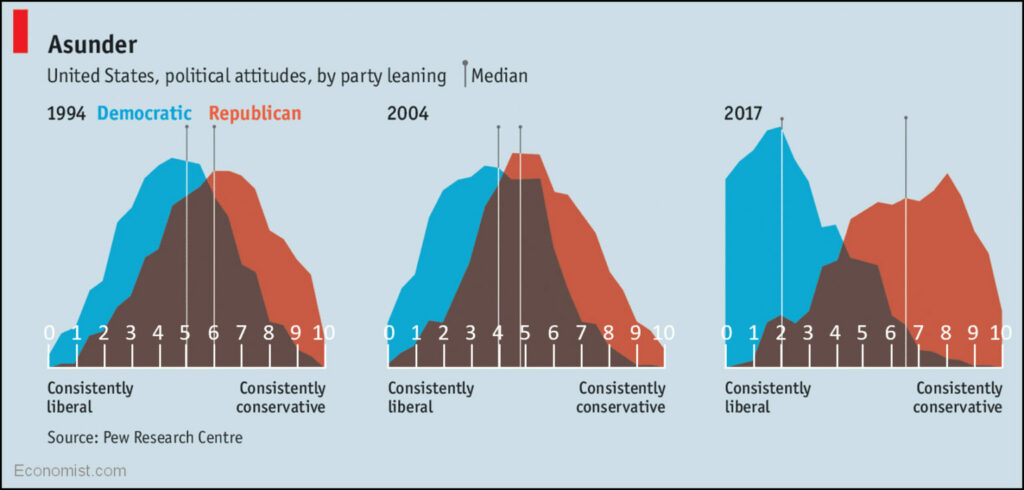 As you can see, in 1994 the average Democrat was at 5 and the average Republican was at 6. In 2004, that had changed slightly: the average Democrat was at 4 and the average Republican was just under 5. In other words, both parties had gotten a little bit more liberal.

But by 2017 that had changed completely. The average Democrat was at 2 while the average Republican was at 6.5. In other words, between 1994 and 2017, Democrats had gotten three points more liberal while Republicans had gotten about half a point more conservative.
But I'm not sure what this tells us. Does it really mean that Democrats have moved left? Or are Democrats simply more comfortable describing themselves as "liberal" now? It's possible that the combination of the pandemic and the renewed racial strife of the past couple of years makes "liberal" less of a dirty word and "conservative" less attractive.
That takes us up to 2017, by which time Democrats were quite obviously farther from the median voter than they had been in 1994 or 2004. And it showed: Our election victory in 2020 was razor thin even though (a) the economy sucked, (b) we were in the middle of a pandemic, (c) voters had had four years to see just what Donald Trump was really like, and (d) our candidate was bland, amiable, white, male Joe Biden. This should scare the hell out of liberals.
But was the election really "razor thin"? Joe Biden won the popular vote by 4.45%, which is higher than the 3.86% margin Barack Obama enjoyed over Mitt Romney or the 2.46% margin George W. Bush had over John Kerry. Certainly, that's less impressive than Obama's 7.27% win over John McCain but that took a generationally charismatic candidate, the onset of the biggest economic meltdown since the Great Depression, backlash over an unpopular war, the worst Vice Presidential candidate in living memory, and more. It's true that Democrats just barely held the House and got a 50-50 tie in the Senate but there are all manner of systematic explanations for that.
Still, I'm largely in agreement with Drum's larger argument. He cites David Schor, who's well to the left of either of us:
At the subgroup level, Democrats gained somewhere between half a percent to one percent among non-college whites and roughly 7 percent among white college graduates (which is kind of crazy). Our support among African Americans declined by something like one to 2 percent. And then Hispanic support dropped by 8 to 9 percent….One implication of these shifts is that education polarization went up and racial polarization went down.

….What happened in 2020 is that nonwhite conservatives voted for Republicans at higher rates; they started voting more like white conservatives….Clinton voters with conservative views on crime, policing, and public safety were far more likely to switch to Trump than voters with less conservative views on those issues. And having conservative views on those issues was more predictive of switching from Clinton to Trump than having conservative views on any other issue-set was.

….This lines up pretty well with trends we saw during the campaign. In the summer, following the emergence of "defund the police" as a nationally salient issue, support for Biden among Hispanic voters declined. So I think you can tell this microstory: We raised the salience of an ideologically charged issue that millions of nonwhite voters disagreed with us on. And then, as a result, these conservative Hispanic voters who'd been voting for us despite their ideological inclinations started voting more like conservative whites.

….Over the last four years, white liberals have become a larger and larger share of the Democratic Party….And since white voters are sorting on ideology more than nonwhite voters, we've ended up in a situation where white liberals are more left wing than Black and Hispanic Democrats on pretty much every issue: taxes, health care, policing, and even on racial issues or various measures of "racial resentment." So as white liberals increasingly define the party's image and messaging, that's going to turn off nonwhite conservative Democrats and push them against us.

….If Democrats elevate issues or theories that a large minority of nonwhite voters reject, it's going to be hard to keep those margins….Black conservatives and Hispanic conservatives don't actually buy into a lot of these intellectual theories of racism. They often have a very different conception of how to help the Black or Hispanic community than liberals do. And I don't think we can buy our way out of this trade-off. Most voters are not liberals. If we polarize the electorate on ideology — or if nationally prominent Democrats raise the salience of issues that polarize the electorate on ideology — we're going to lose a lot of votes. [emphases Drum's]
Further, while more or less happy with the Democrats on policy, Drum thinks the politics are simply not working.
Despite endless hopeful invocations of "but polls show that people like our positions," the truth is that the Democratic Party has been pulled far enough left that even lots of non-crazy people find us just plain scary—something that Fox News takes vigorous advantage of. From an electoral point of view, the story here is consistent: Democrats have stoked the culture wars by getting more extreme on social issues and Republicans have used this to successfully cleave away a segment of both the non-college white vote and, more recently, the non-college nonwhite vote.
While I largely agree with that, the fact of the matter is that the culture wars—and the fact that they're clearly losing them—seems to me rather obviously all the Republicans have left at this point. Surely, they and their infotainment complex deserve the blame for stoking these divisions? Drum doesn't think so. Or, at least, he thinks it has been provoked:
For most people, losing something is far more painful than the pleasure of gaining something of equivalent value. And since conservatives are "losing" the customs and hierarchies that they've long lived with, their reaction is far more intense than the liberal reaction toward winning the changes they desire. This produces more outrageous behavior from conservatives even though liberals are actually the ur-source of polarization.
While I disagree with Drum here on the blame game, I agree with his analysis of the conservative reaction. While I believe the infotainment complex and most of the Republican elite are simply demagogues, rank-and-file conservatives are genuinely afraid that their way of life is under assault and they're willing to go to great lengths to fight back. But I'm not sure this follows:
Moving to the left may help galvanize the progressive base—which is good!—but if it's not done with empathy and tact it risks outrunning the vast middle part of the country, which progressive activists seem completely uninterested in talking to.

It is well within our power to break our two-decade 50-50 deadlock and become routine winners in national politics. All it takes is a moderation of our positions from "pretty far left" to "pretty liberal." That's all.
While I tend to think that this would be good politics, in that it makes it possible for Joe Mankin types to get elected and thus give the Democrats some cushion, I'm more than a wee bit skeptical that "pretty liberal" is going to mollify conservatives or even energize the relative handful of Black and Latino voters who are reluctant to vote Democrat. It's not like Defund the Police was part of Joe Biden's platform.