Deadly Clashes Continue In Cairo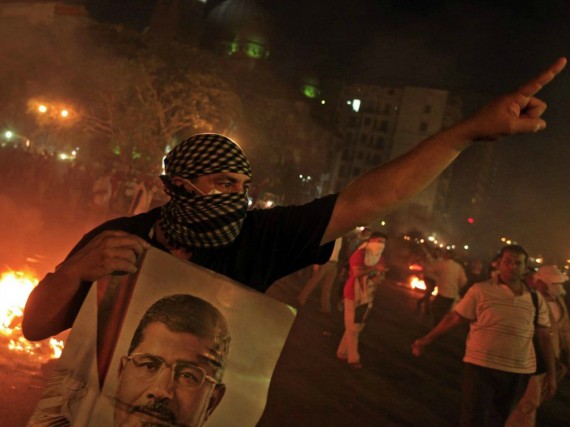 Nearly two weeks after protests and a military coup removed Mohammed Morsi from his position as Egypt's first elected President, clashes between Morsi supporters and military and police forces continue, with last night's clashes in Cairo being among the most deadly yet:
Deadly clashes erupted on the streets of Cairo on Monday night not long after a visiting U.S. diplomat hailed what he called a "second chance" for Egyptian democracy after the ouster of the country's elected president this month.

Deputy Secretary of State William J. Burns, the highest-level U.S. official to visit Cairo since President Mohamed Morsi was removed by the military July 3, signaled Washington's readiness to stand with Egypt's new leaders. Hours later, hundreds of thousands of Morsi supporters shut down major roads and highways in central Cairo and the coastal city of Alexandria, and police launched barrages of tear gas to clear them.

By Tuesday morning, at least seven people were dead and more than 260 injured, according to the state-run Middle East News Agency.

Ramses Square in the center of Egypt's capital quickly turned into a battle zone early Tuesday, as clashes erupted between Morsi's supporters and police who were joined by plainclothes men hurling stones at the protesters from an overpass.
According to some estimates, as many as 60 people have been killed in protests that have erupted since Morsi's ouster, with hundreds more injured. The protests show no sign of slowing down, and the military shows no sign of backing away from the manner in which its responding to them, meaning that we're likely to see both totals rise in coming days. The question is whether this continues and Egypt starts to spiral into a cycle of violence, or whether the civilian authorities find some way to bring these Morsi supporters back into the political realm. Given that they no doubt feel as though they've had power snatched away from them by the military backing