Death Penalty: US vs. The World
Amnesty International is drawing attention to capital punishment in the United States, with bad math and a credulous media on its side.
Amnesty International is drawing attention to capital punishment in the United States, with bad math and a credulous media on its side.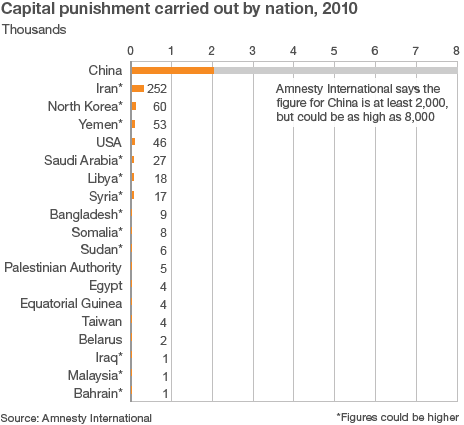 BBC ("Amnesty International: Global death penalty trend fall"):
Although 23 countries carried out executions in 2010, four more than in 2009, the number of people executed dropped from at least 714 to at least 527, the rights group said.

But that figure does not include China, whose executions are thought to be more than all other countries put together.

Gabon last year became the 139th country to cease the practice.

Mongolia declared a moratorium on the death penalty.

[…]

Amnesty secretary general Salil Shetty said: "In spite of some setbacks, developments in 2010 brought us closer to global abolition."

But he added: "The minority of states that continue to systematically use the death penalty were responsible for thousands of executions in 2010, defying the global anti-death penalty trend."
Andrew Sullivan approvingly links a FrumForum post by Michael P. Stafford which is no longer at the site:
From 1976 to today, more than 1200 offenders have been put to death in the United States.  During this same period, almost 140 convicts on death row have been exonerated of their crimes. These figures are troubling.   The number of individuals on death row that have been exonerated is almost 12% of the total number of offenders executed.   As George Will noted in 2000, capital punishment in America "is a catalog of appalling miscarriages of justice, some of them nearly lethal. Their cumulative weight compels the conclusion that many innocent people are in prison, and innocent people have been executed."
All three use the chart atop the post, which I gather was crafted by BBC using Amnesty report figures. Now, I happen to agree with George Will (and presumably Sullivan and Stafford) that the way the United States conducts its capital punishment regime is troubling. But the chart is dubious, to say the least.
First, the numbers are regime-provided figures for state executions. Of the listed countries, I trust precisely one–mine–to provide anything close to legitimate data. So, we're comparing the full numbers for the United States with doubtless suppressed numbers from everyone else on the chart.
Second, raw numbers are absurd. China has 1.3 billion people and the United States some 310 million. Iran has something like 73 million, North Korea something like 24 million, and so forth. A non-propagandistic portrayal, then, would base the figures on a per-100,000 or other proportional basis.
Third–and most important–one of the points of these discussions is to spotlight how horrible the company is that we're keeping. It's the United States and some of the worst dictatorships on the planet!
But there's a rather important difference in how our governments go about deciding who to put to death. Here, our worst criminals are tried by a jury of their peers, sentenced to death almost exclusively upon the recommendation of said peers, and executed only after an exhaustive set of appeals that span more than a decade. In most of the other countries on the list, government officials decide on their own authority who to kill–often for no greater crime than speaking out against said officials.