Defending the Constitution Against All Enemies, Foreign and Domestic
What should conservatives who can't support the party of Trump do?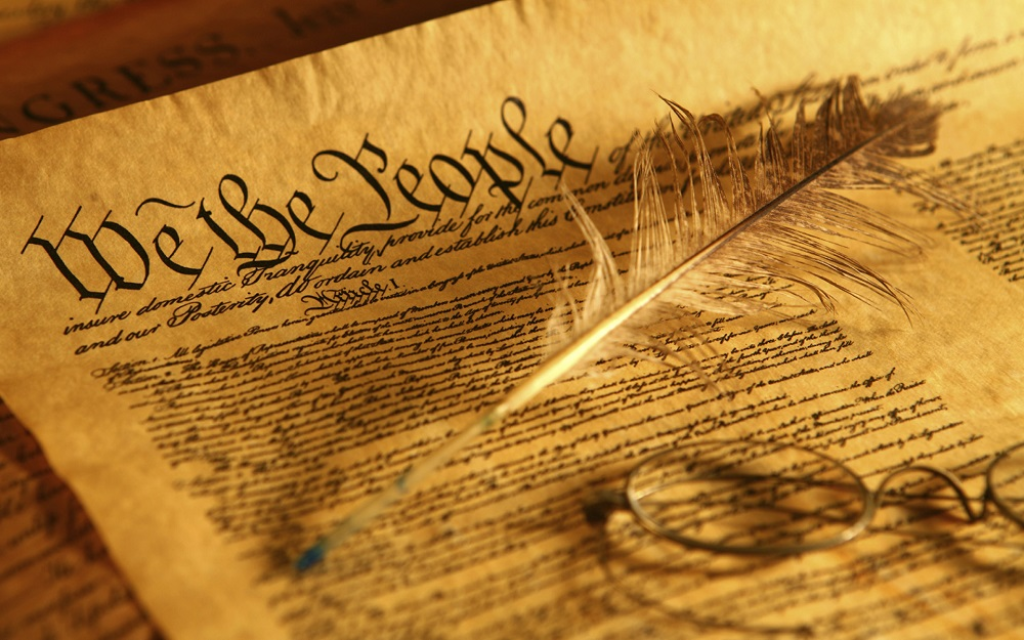 In his Atlantic newsletter, recently-retired Naval War College professor Tom Nichols offers his "Confessions of a Conservative Apostate." His journey has been similar to mine, in that we both gradually shifted our views on multiple issues, both because of new insights gained through life experience and through honest intellectual labor. We were both already poor fits for the Republican Party by the time Donald Trump announced his candidacy for its presidential nomination, held our noses and voted for Hillary Clinton when he actually won it, and left the party entirely once it became clear that its leaders rallied around him, abandoning any pretense of the principles they had long claimed to hold.
After a lot of setup, he gets to this:
[M]any of us are now in a coalition with an array of groups to our left. Among our former comrades on the right, this makes us apostates, defectors, heretics.

Still, we cannot make a permanent home with our temporary liberal roommates: We don't like the panties on the curtain rod, and they don't like the notes we leave on the pillow. And yet, here we are, because none of the issues that would normally matter between right and left matter as much as the future of democracy. A conservative who cares about the future of the constitutional order must face the reality that the Republican Party has become a menace to the Constitution and our system of government.
Obviously, even a lot of people who really disliked Trump disagree with this. And I can even countenance that in some cases. If one's overriding issue was ending what one saw as the scourge of abortion, voting for Trump was not only justified but mandatory. And, indeed, it paid off.
But neither Tom nor I were in that camp. Like so many of the early "Never Trump" conservatives, we're national security professionals and the prospect of a moronic narcist in charge of our nuclear arsenal was enough to override other policy preferences.
While he thankfully didn't order the destruction of the planet, Trump's presidency was, in many other ways, even worse than I had feared. And his attempt to steal the 2020 election—and the rallying of essentially the entire national Republican establishment around his effort—makes the choice even more stark.
Still, Tom goes a wee bit further than me here:
What I am "conserving," by being a conservative, is our political order and the future freedom to argue and advocate within that order. This is why, for the duration of this national emergency (one that began in 2017 and is not over yet), I approach policies and politicians with two questions that—again, for now—override my policy preferences:

1. Does this issue strengthen or weaken the Republicans as they continue to advocate for sedition and authoritarianism?

2. Does this political figure caucus with the Republicans? Will he or she vote to make Kevin McCarthy the speaker of the House and Mitch McConnell the majority leader of the Senate?

Everything else runs in third place.
I'm honestly not sure I even understand the first point.* We have a Democratic President and Democratic majorities in the House and Senate. If they pass a law that I would otherwise like, why would I oppose it if I think it somehow benefitted Republicans? Indeed, I'm not even sure I can play three-dimensional chess well enough to figure that out.
I'm largely on board with his second point but it seems extreme at the margins. By this logic, we should hope Liz Cheney is defeated. (Granted, she's likely to lose her primary, making that a moot point.)
The practical effect here is that I will root for GOP defeats on policy even where I might otherwise agree with them. The institutional Republican Party must be weakened enough so that it can't carry out the larger project of undermining our elections and curtailing our rights as citizens.

Put another way, it does no good to support small Republican wins on policy if the cumulative effect is to strengthen the party so that it is larger and more cohesive when it makes another run at destroying the Constitution. Politics is an ugly business; strategy requires some painful decisions. I believe we are in an existential political crisis, and I intend to act accordingly. (I wish some of my liberal friends would do the same, as I have argued here.)
So, fundamentally I agree with this. But I'm not sure how it works in practice. The only part of the Federal policymaking apparatus that Republicans control is the Supreme Court. So, I'm not really sure where the GOP is getting policy wins that I need to root against*
The strongest piece of the essay is this:
In the Before Times, we still argued over politics instead of whether communist Muslims had taken over our Venezuelan voting machines with help from the Italian space program. I felt like it was safe to throw elbows and do some partisan high-sticking; I believed that we were all in a giant bouncy house called the Constitution, a place where we might bump skulls or sprain an ankle now and then but where there were no sharp edges and there were only soft landings.

I don't believe that anymore.

I've also been thinking about something Charlie Sykes said in the wake of the Supreme Court's Dobbs decision. Charlie asked how he, a pro-life stalwart, could now be so concerned about finally getting what pro-lifers have wanted for 50 years with the overturning of Roe v. Wade. The answer, as he wrote in June, is that he simply does not trust today's Republicans to act in a humane or responsible manner. Neither do I.

In fact, I do not trust the GOP to enact conservative policies in any but the most repressive and cruel fashion. I do not trust that their goal is limited government; I believe their goal is limited democracy, and specifically, limited only to themselves and people who think as they do.

Are the Democrats any better? Of course they are. I have never been shy about noting the totalitarian streak on the American left, but the Democrats have not been captured by their fringe. More to the point, they are not institutionally capable of implementing the plans of their young-Stalinist wing. (Let's face it: On most days, the Democrats couldn't organize a piss-up in a brewery.) And they are led by Joe Biden, a fundamentally decent man. I disagree with many leading Democrats, but I do not think they are delusional authoritarians, and for now, that's a lot.

The conservatives, in any case, have become completely un-conservative. The traditional conservative emphasis on law and order and on limited government has not held the GOP's theocratic-nutball wing in check. The same people who decried the growth of executive power now worship a sociopathic real-estate con man as a demigod. The party that prided itself on its national-security cred is now voting against admitting Sweden and Finland into NATO like some early-20th century isolationist know-nothings. Even Republicans who should know better cheer the Supreme Court siding with a high-school football coach pulling his players into prayer sessions. And as my Atlantic colleague Jerusalem Demsas recently pointed out, Republicans went from "giving abortion back to the states" to trying to figure out how to allow those same states to interfere with the rights of Americans to move freely in their own country.
It's not even a particularly hard choice at this point. While there are pieces of the Democratic agenda I still oppose, there's essentially nothing in the current Republican agenda that I find appealing. Even its foreign policy has gone cuckoo.
But, as Tom rightly notes, the fight is really about something more fundamental than our policy differences:
My ultimate loyalty, however, is to the Constitution. Especially in the wake of the January 6 insurrection, I now regard every elected and appointed seat held by a Republican as a possible vote for autocracy, and every Republican victory, no matter how small, as one more advantage for a party whose litmus test for membership is accepting Donald Trump's lies and whose platform seems to be that the next free and fair American election will be the last free and fair American election.
While there are still some sane people in the Republican leadership, they're almost all cowards. A leader who is afraid to tell his followers the truth—let alone when democracy itself is at stake—isn't worthy of the name.
Fundamentally, too many Republican leaders have decided that their party simply can't win democratic elections because their views aren't popular. Rather than modifying their policy proposals—the way our two-party system has survived as long as it has—they have instead resorted to rigging the game to make it harder for groups likely to vote Democrat to vote.
Thankfully, when Trump tried to get Republican secretaries of state and other election officials to overturn the will of their voters when Democrats managed to organize high turnout despite the obstacles Republicans had put in place, they finally did the honorable thing and refused. In many cases, they have been rewarded by being ousted in the primaries in favor of officials likely to comply next time.
I'll never be at home in my current coalition. That's the nature of politics. But if joining with Democrats to stop an authoritarian takeover of the United States means that I have to grit my teeth and endure silly arguments about student loans and preferred politically correct terms, so be it. One of the things conservatives believe in—or this one does, anyway—is that human nature, immutable and indomitable, can fix most of our problems, and that after doing enough dumb things we'll come to good solutions.

But to find those solutions, we need to maintain a system of constitutional freedoms under the rule of law. If we lose that, the rest is meaningless.
Ultimately, we can hope that the current Republican Party is washed away and replaced by another entity that can offer a competing policy agenda. But the fight right now is over whether we'll have elections that matter.
Which brings me to a point Tom makes in a piece published on the anniversary of the Capitol riot:
This is a vow that you would choose the continued existence of our Constitution over any other political priority that might be dear to you. It means that as much as you think some of our institutions are screwed up, you will respect them even while you work for change. It means you will go to the barricades for the basic rights of the worst human being you've ever met if those rights are threatened. It means you grit your teeth while defending the right to burn flags or engage in racist hate speech. It means you will respect the limits of political victories and, yes, accept the necessity of political losses.

[…]

Without this commitment, nothing else matters. Without the Constitution, there is no advocacy and argument and negotiation under the aegis of law and equality; there is only an eternal struggle for the upper hand and the constant attempt to use temporary advantages to exterminate the rights of opponents.

[…]

Another requirement here is that you must be an adult in age and in spirit. You may not whine. You may not bellyache about unfairness. You may not wishcast about how great things would be if only the Founders hadn't included that stupid Electoral College or the Second Amendment—or the Fourth, Fifth, Eight, Tenth, or any other.
We spend a lot of time at OTB on this wishcasting. Steven and I are both political scientists by trade and he's a specialist in comparative political institutions. It's absolutely vital to a lot of the debates that we have here for people to understand that the way we conduct elections has a major impact on shaping their outcomes.
Is there something profoundly undemocratic about a system where Donald Trump can be President despite the fact that 3 million more Americans voted for his opponent than for him? Absolutely. Is it unfair that California's 39,237,836 people have no more say in the United States Senate than Wyoming's 576,851? No doubt. Should we take into account the impact that gerrymandering has on not only the partisan representation in the House but also the limits it places on voter choice? Definitely.
We are, alas, more-or-less stuck with these rules. The Electoral College and Senate aren't going away. We could conceivably increase the size of the House of Representatives and change the rules for how districts are drawn—or even do away with districts altogether—but there's next to zero momentum for doing that and it would require Democratic supermajorities to make it even conceivable.
So, like it or not, we're going to have to save our imperfect democracy within the rules of a game that's somewhat rigged in favor of the other side. That's going to require keeping folks like Tom and me in the tent and getting a lot more to join us. .
___________________
*UPDATE: It finally dawned on me to simply ask Tom what he meant there. Essentially, he has adopted this viewpoint going back to 2017—so he was rooting for Republicans to fail in order to make it harder for Republicans to keep power when they had it. Which makes sense strategically,