Defending the F-Word
It's the Swiss army knife of profanity.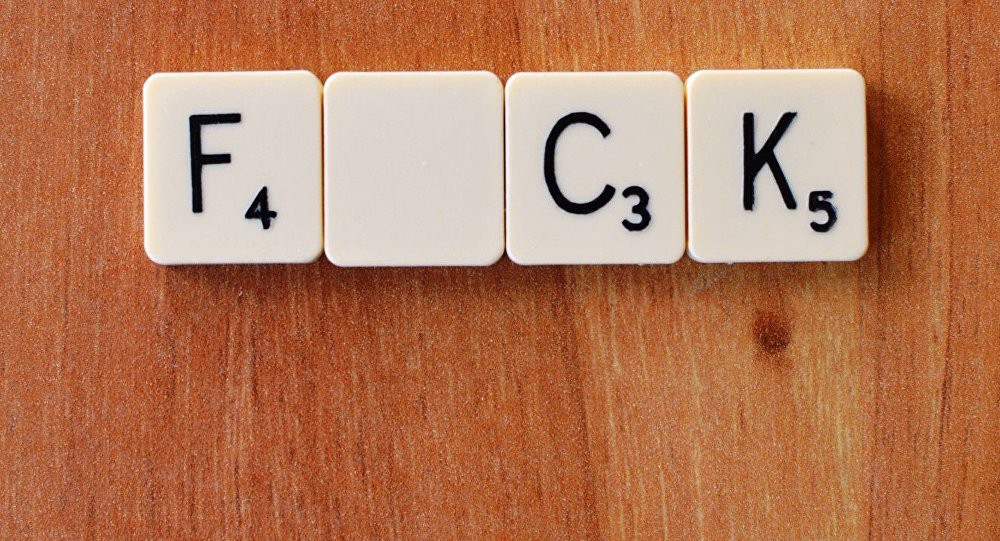 The linguist John McWhorter takes issue with the notion that "Profanity is the common crutch of the conversational cripple."*
People occasionally complain to me that so many today seem to lean on profanity rather than utilizing the other lexical resources at their disposal. "Why do they have to keep using that word over and over? What is that?" I was asked by someone of a certain age, for example, when I spoke at a gathering of academics last week.

We all can guess which word he meant — it starts with f — but I don't hear it the way he does. It's partly because we sometimes miss the richness of meaning in our profanity and partly because we tend to miss the richness of how we use the rest of our vocabulary.
After a discussion of the use of non-profane idioms in our language, McWhorter continues:
When we perceive a word as used a lot or too much, it's often being used to mean multiple things. The casual usage of "like" divides into about four different usages, some having drifted pretty dramatically from its stock definition. The N-word that ends with "er" and the N-word that ends with "a" are, for all intents and purposes (idiom alert!), different words now, and the latter is also developing into, of all things, new pronouns. What we might hear as a mere matter of yet another F-bomb is actually a vocabular sapling sprouting apace, with branches growing in different directions. As I put it in "Nine Nasty Words" (with wording a notch too zesty to print here), the F-word can convey destruction, deception, dismissal, dauntingness and down-to-earthness.

Russian speakers seem to get this more readily about profanity than English speakers. There is a tradition among Russians of cherishing its richness; for example, a Russian I am especially fond of has given me dense, sober volumes chronicling and exploring their profanity. Hence, what some bemoan as too much profanity is, to me, the equivalent of the glories of what Russians call mat, or dirty language. As the writer Edward Topol wrote in "Dermo!: The Real Russian Tolstoy Never Used," a nonnative speaker who learns "even one-third of this lexicon can be sure of being the most popular and honored foreigner at any Russian gathering."
Which reminds me of a bit on the sheer versatility of the word that I first saw maybe 30 years ago (and, judging by some of the examples, it wasn't new then) and is incorrectly attributed to everyone from Adam Sandler to Monty Python.
Perhaps one of the most interesting words in the English language today is the word fuck. Out of all of
the English words that begin with letter F, fuck is the only word that is referred to as the F-word. It's the one magical word, just by its sound can describe pain, pleasure, hate and love.

Fuck, as most words in the English language, is derived from German, the word fricken which means to strike. In English fuck fall into many grammatical categories.

As a transital verb for instance : "John fucked Shirley."

As an intransitive verb. "Shirley fucks."

It's meaning is not always sexual.

It can be an adjective such as "John's doing all the fucking work."

As part of an adverb : "Shirley talks too fucking much!"

As an adverb enchancing an adjective : "Shirley is fucking beautiful!"

As a noun : "I don't give a fuck!"

As part of a word : "Abso-fucking-lutely" or "in-fucking-credible"

And, as almost every word in a sentence : "Fuck the fucking fuckers!"

As you must realize there aren't too many words with the versatility of fuck. As in these examples describing situations such as:

Aggression – Fuck you!
Agreement – Fucking-ay right!
Amazement – Fucking shit!
Annoyance – Don't fuck with me.
Apathy – Who really gives a fuck, anyhow?
Benevolence – Don't do me any fucking favors.
Command – Go fuck yourself!
Confusion – What the fuck?
Denial – I didn't fucking do it.
Despair – Fucked again.
Difficulty – I don't understand this fucking question.
Directions – Fuck off.
Disbelief – Unfuckingbelievable!
Dismay – Oh, fuck it!
Displeasure – What the fuck is going on here?
Encouragement – Keep on fucking.
Etiquette – Pass the fucking salt!
Fraud – I got fucked.
Greetings – How the fuck are ya?
Hatred of chemistry – Thermofuckingdynamics.
Identification – Who the fuck are you?
Ignorance – He's such a fuck head.
Incompetence – He's a fuck up.
Insight – You're out of your fucking mind!
Laziness – He's a fuck off.
Lost – Where the fuck are we?
Panic – Let's get the fuck out of here.
Passive – Fuck me!
Perplexity – I fucking know all about it.
Philosophical – Who gives a fuck?
Pleasure – I couldn't be any fucking happier!
Question – You ain't fucking me?
Rebellion – Fuck the world!
Resignation – Oh, fuck it!
Retaliation – Up your fucking ass!
Suspicion – Who the fuck are you?
Trouble – I guess I'm really fucked now.
Ugliness – You're a dumb looking fuck.
Wisdom – Fuck that shit!
Wonder – How the fuck did you do that?

It can be used in an anatomical description – "He's a fucking asshole."
It can be used in business – "How did I wind up with this fucking job?"
It can be maternal – "Motherfucker."
It can be political – "Fuck Dan Quayle!"

It has also been used by many notable people throughout history:

"What the fuck was that?" – Mayor of Hiroshima
"Where did all these fucking Indians come from?" – General Custer
"Where the fuck is all this water coming from?" – Captain of the Titanic
"Thats not a real fucking gun." – John Lennon
"Who's gonna fucking find out?" – Richard Nixon
"Heads are going to fucking roll." – Anne Boleyn
"Let the fucking woman drive." – Commander of the "Challenger"
"What fucking map?" – Mark Thatcher
"Any fucking idiot could understand that." – Albert Einstein
"It does so fucking look like her!" – Picasso
"How the fuck did you work that out?" – Pythagoras
"You want what on the fucking ceiling?" – Michaelangelo
"Fuck a duck." – Walt Disney
"Why?- Because its fucking there!" – Edmund Hilary
"I don't suppose its gonna fucking rain?" – Joan of Arc
"Scattered fucking showers my ass." – Noah
"I need this parade like I need a fucking hole in my head." – John F. Kennedy

I'm sure you can think of many more examples. With all of these multipurpose applications how can anyone be offended when you use the word? So, use this unique flexible word more often in your daily speech. It will identify the quality of your character immediately. Say it loudly and proudly : "FUCK YOU!!!"
_____________
*I prefer the variant "Profanity is the crutch of inarticulate motherfuckers."