Democrats Don't Control the Senate
Another day, another disappointment for the party's legislative agenda.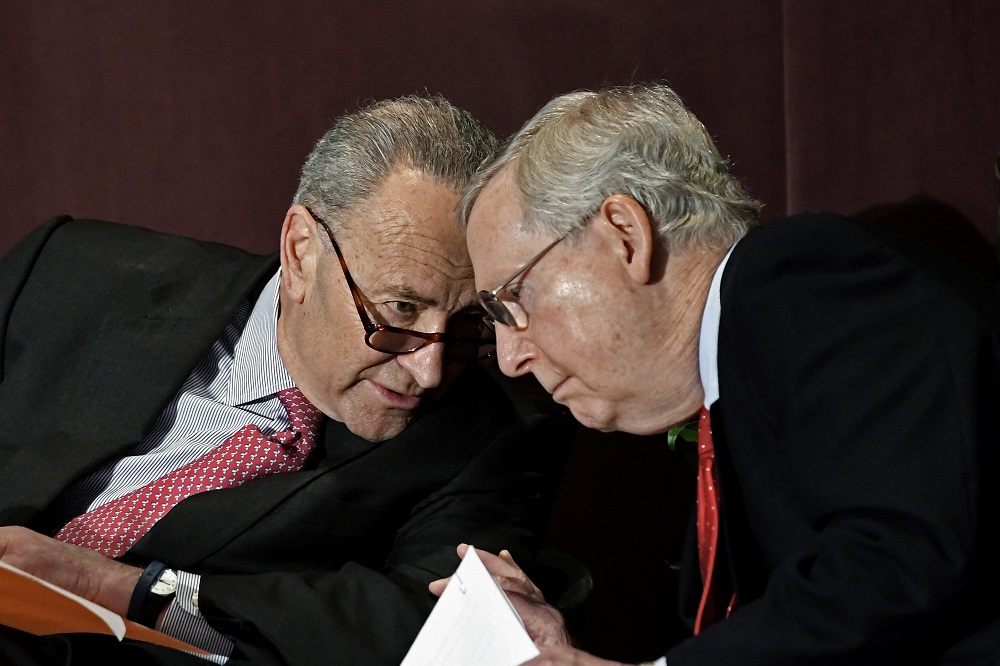 POLITICO Congressional bureau chief Burgess Everett has discovered the "Senate Democrats' imaginary majority."
Every day, it seems, brings another reminder of the severe limitations of Democrats' illusory majority in a 50-50 Senate.

First Democratic leaders tossed Covid relief from a Ukraine aid bill at the behest of Republicans who were threatening a filibuster. Then the party entertained giving the GOP a politically volatile vote on reversing the Biden administration's border policy. And Wednesday showed there isn't even a majority in the Senate for Democrats' preferred abortion rights bill.

Not to mention that the party's signature climate and tax reform bill hasn't moved an inch in months after Sen. Joe Manchin (D-W.Va.) tanked the last iteration — still-rising inflation isn't helping its revival. And though there's a flurry of bipartisan discussions on issues from immigration to energy to electoral vote certification, none are showing signs of imminent breakthroughs.

"It's a majority that comes and goes. Sort of like the tide," said Sen. Sheldon Whitehouse (D-R.I.). "I don't know exactly what I expected, but I certainly expected a little bit more clarity."

Now nearly 16 months and running, it's by far the longest 50-50 Senate in history. And Democrats have had great success confirming President Joe Biden's nominees, punctuated this week by installing a new FTC commissioner who gave Democrats the majority and the first Black woman on the Federal Reserve Board. But on a day-to-day basis, Senate Majority Leader Chuck Schumer's job is an excruciating grind based on whether any of his members have Covid, if Republicans are feeling cooperative and where a handful of Democrats stand.
This will hardly come as a surprise to OTB regulars. Indeed, the frustrations that Manchin and Sinema pose to their party's leadership has been the topic of near-daily conversation since Democrats won the two Georgia runoffs.
Beyond that, while we often talk of a "Democratic-controlled" or "Republican-controlled" Senate out of habit, it's seldom an accurate way of thinking of the situation. Even if one could count on every single member of the caucus going along with the agenda, most votes are subject to a filibuster, which means that, unless only has a 60-seat supermajority, the body operates only at the forebearance of the minority party.
Still, a bare majority is better than the alternative:
Senate Democrats can confirm nominees with a simple majority, which means getting all their members and Vice President Kamala Harris' tie breaking vote. That's given the caucus some of its biggest wins recently, including confirming Judge Ketanji Brown Jackson to the Supreme Court and filling out the Federal Reserve and the FTC.
But, even aside from the filibuster, the Democrats don't actually have a majority on some of the more ambitious items on the agenda, ranging from climate change to abortion, because Manchin doesn't support them.
Asked if it feels like Democrats are always in control of the chamber, Tester answered: "Oh God, no." He said he can often find out more about the Senate's cadence from Republicans, because it's GOP demands that dictate much of the Senate's rhythms on a weekly basis.

"I don't feel bad about that. We're chairing committees … helping set up the agenda. That's the way it is," Tester said. "But no, it's tenuous at best."
But, honestly, that's what you'd expect with a 50-50 Senate.