Democrats Have Terrible, Horrible, No Good, Very Bad Day
Running against Trump didn't work this year.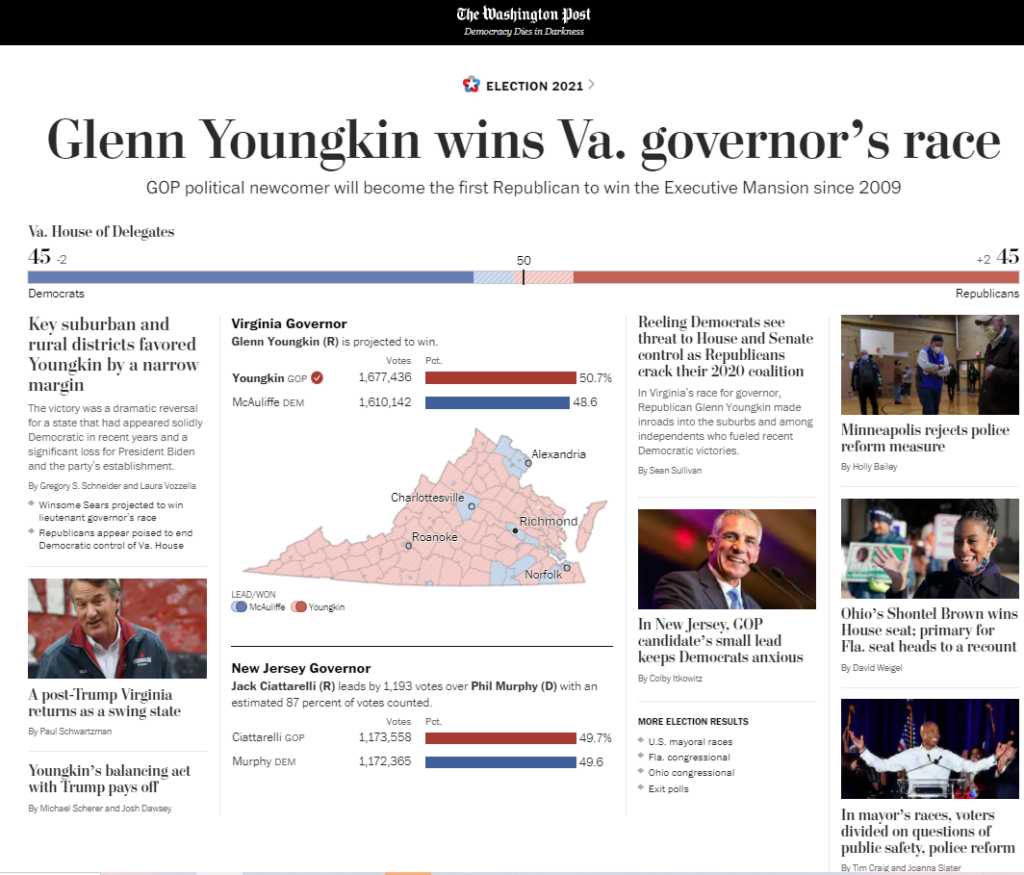 Above is the top of the Washington Post website this morning. The Atlanta Braves winning the World Series for the first time in more than a quarter-century doesn't make the cut. Instead, multiple stories about upstart Republican Glenn Youngkin beating former Democratic Governor Terry McAuliffe, the Republican holding a slight lead in a New Jersey governor's race that's too close to call, and an initiative to defund the police losing in the city where George Floyd was murdered.
That Youngkin won isn't, of course, a complete shock. Several polls had shown the race shifting in recent days. Still, between the fact that Joe Biden won the state by 10 points, no Republican having won a statewide office here since 2009, and 900,000 or so votes in the bank before the Youngkin surge, I was skeptical that it would go this way. Further, the conventional wisdom was that, because absentee ballots could continue to come in for three days, it would likely be a while before we knew the outcome. While a margin of 67,000ish votes in a contest where some 3.3 million people voted seems trivial, all of the outlets have called the race. Nor was it just Youngkin: Winsome Sears became the first Black woman (indeed, the first woman) elected lieutenant governor and Jason Miyares became the first Hispanic elected attorney general; both are Republicans. It's too soon to say whether the state legislature went Red as well, as there are still nearly a dozen races too close to call.
I haven't followed the New Jersey governor's race nearly as closely but everyone seems to be surprised that Republican Jack Ciattarelli has a slim lead. There may be enough outstanding Democrat-leaning precincts out to flip the race to Democrat Phil Murphy. It wasn't supposed to be a nail-biter.
Both races featured the Democratic candidate trying to paint their opponent as Donald Trump. This strategy, apparently, is more effective when the opponent is actually Donald Trump.
There will be plenty of time to parse these contests and what they portend for 2022 and beyond. There's clearly something of a "voter enthusiasm gap" right now. But it's clearly also a function of this being an off-off-year cycle. Even with generous rules for early voting, which lasted 45 days here in Virginia, more than a million more people voted in the Presidential contest a year ago.