Democrats Killing Iowa Caucuses?
Momentum for ending an undemocratic anachronism is building.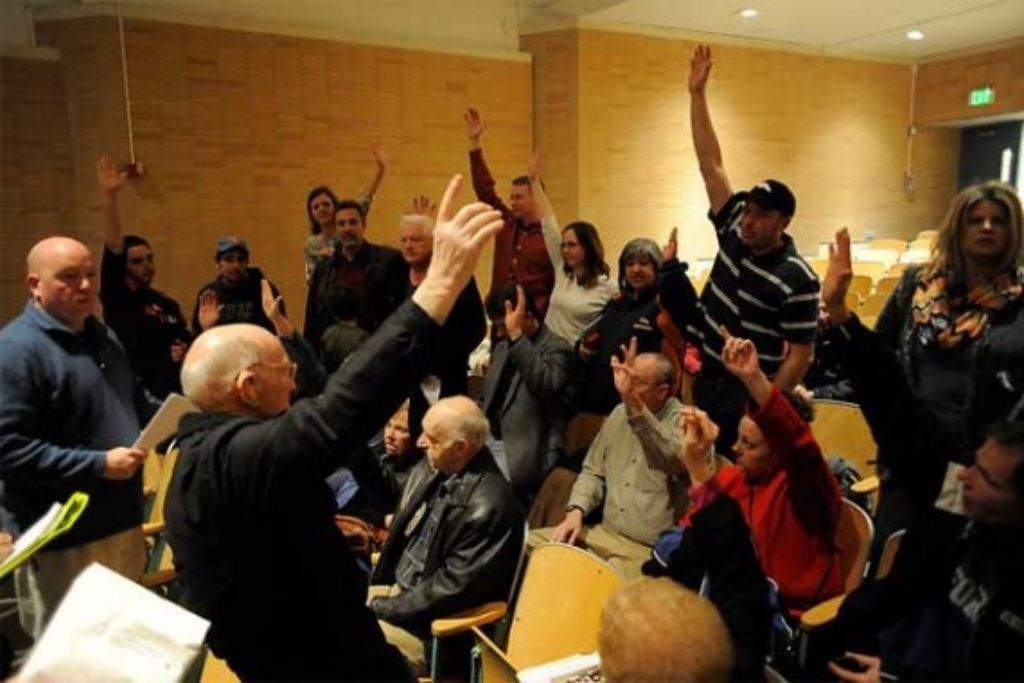 It has been a longstanding position by OTB front-pagers that the Iowa Caucuses are just about the worst conceivable way to winnow the field of potential presidential nominees. The state is too rural, too white, and too provincial to be an effective barometer of national support. And a time-consuming, non-secret process taking place in the heart of a brutal Midwestern winter isn't even a particularly useful way to figure out the preferences of partisans in Iowa.
Brianne Pfannenstiel of the Des Moines Register reports that there is, once again, serious movement to end this nonsense.
Members of the Democratic National Committee took aim at Iowa's first-in-the-nation caucuses Saturday as the group considers changes to the 2024 presidential nominating process.

Though there were few explicit mentions of Iowa and the collapse of its 2020 caucuses, those were the clear subtext of comments calling for the elimination of caucuses, restructuring the order of the early primary states and increasing diversity and inclusion throughout the presidential nominating process.

"While there are some benefits to caucuses, I think it is hard to argue that primaries don't bring more voices into the process," said DNC member Mo Elleithee. "And I think that is a key value of the Democratic Party."

He said in addition to prioritizing primaries over caucuses, the party should emphasize diverse states and bring general election battleground states into the process far earlier.

"Three of the four current early window states satisfy at least two of those criteria," he said. "One does not satisfy any of them, at least in recent years."

Saturday's virtual meeting of the DNC's Rules and Bylaws Committee launched formal conversations about Iowa's fate as calls grow to strip it of its prized caucuses in favor of simpler, more inclusive primaries and possibly remove it from the front of the nominating calendar.

Since Jan. 24, 1972 – 50 years ago this month – Iowa has kicked off the presidential nominating process with its caucuses. And for nearly as many years, Iowa has been a target as other states vie to assume its coveted status.

But those conversations gained steam in 2020 when Democrats were unable to report out accurate results of their caucuses in a timely manner. The debacle came as complaints that Iowa's demographics do not represent the nation at large and its processes disenfranchise potential caucusgoers gained steam.
Obviously, Iowa will fight to keep its position:
Iowa Democratic Party Chair Ross Wilburn issued a statement at the conclusion of the meeting thanking DNC Chair Jaime Harrison for the open line of communication. 

"I will continue to fight for Iowa to remain first, and I also understand that the DNC has their own process that must be followed," Wilburn said. "As Chair of the Iowa Democratic Party, I'm committed to working with the DNC and my fellow early state leaders in New Hampshire, South Carolina and Nevada to ensure future successful Iowa Democratic Caucuses."

In a defense of Iowa's caucus process, the Iowa Democratic Party released a statement saying the state provides an equitable playing field for diverse candidates and that it also represents a key constituency that the party has failed to connect with: rural and working-class Americans. 
We'll see if this gains any traction.
My longstanding preference is for some sort of national primary or at least simultaneous primaries in a representative handful of states that would rotate from cycle to cycle. Arguments that had merit forty or fifty years ago about the utility of Iowa and New Hampshire as "retail politics" that allowed fresh candidates without national exposure to slowly build momentum have long been obviated. The last relatively unknown candidate to win a party nomination was Jimmy Carter in 1976.
In recent years, though, fundraising has become nationalized and the associated rules have tilted in favor of Washington insiders, particularly Senators with huge war chests already built up and away from governors. That's frankly a shame but, given that the rules are made in Washington, I don't see that changing.
Regardless, 2024 might well be an ideal time to make this change. With a sitting President, the Democratic nomination is unlikely to be contested, anyway. So it's not like there are going to be a ton of Democratic hopefuls setting up shop in the state's eateries. By 2028, the caucuses would simply seem like a relic of a bygone era.