Democrats Running Against Pelosi
Some Democratic candidates for Congress are working hard to distance themselves from Nancy Pelosi.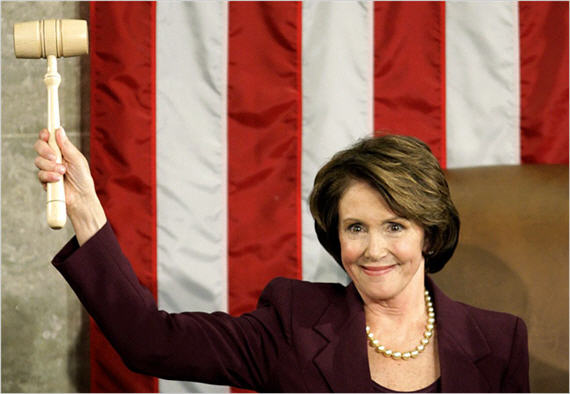 Nancy Pelosi is so polarizing that a number of Democratic candidates for the House are renouncing her, Katharine Seelye reports for NYT.
As if embattled Congressional Democrats did not have enough on their hands, some are opening up a new front in their fight to save their seats — against Nancy Pelosi, the speaker of the House and a leader of their own party.

Representative Jim Marshall, a Democrat here in central Georgia, spent much of a debate on Thursday night renouncing Ms. Pelosi, whose liberal views and San Francisco district have always been anathema to this region. "Pelosi was never my choice for speaker," Mr. Marshall said, eliciting boos from a skeptical audience in an arena here at the Georgia National Fair. Mr. Marshall actually voted for Ms. Pelosi as speaker but said he had not wanted her for the job and would not vote for her again.

As the midterm campaign barrels through its final weeks, more Democrats — many but not all in conservative districts in the South — are backing away from Ms. Pelosi and declaring their independence.

The more outspoken, like Mr. Marshall, are also running television commercials to drive the point home. Mr. Marshall's latest opens with a gaggle of hippies mugging for the camera. "Georgia is a long way from San Francisco," the narrator says.

At the same time, many of these Democrats have received financial aid from the Democratic Congressional Campaign Committee, whose chief fund-raiser is Ms. Pelosi. In 2008, the committee spent hundreds of thousands to put Bobby Bright, an Alabama Democrat, in office, and it is spending money again this year despite his vote against the health care bill. Last week, he said he would not vote for Ms. Pelosi for speaker and began running a commercial saying so.

Biting the hand that feeds you is not always a successful strategy, but it underscores the stakes in the Nov. 2 elections. Many Democrats are doing whatever it takes to try to keep their majority.

And they apparently have Ms. Pelosi's blessing. "I just want them to win," Ms. Pelosi said in a recent interview on "NewsHour" on PBS when asked about the defectors. "They know their districts," she added. "They are great communicators, very eloquent communicators to their own constituents."
There's no indication in the report how widespread the trend is.   But Pelosi is quite unpopular nationally, with 44% negative ratings and 15% positive (the remaining 40% have no opinion on her at all), so it makes some sense that Democrats in marginal districts would want to distances themselves from her.
I doubt the same thing is happening on the Republican side, since John Boehner is much less well known and less of a lightning rod.   But it happened toward the end of Newt Gingrich's speakership.  And I'd imagine some moderate Republicans did their best to distance themselves from George W. Bush in 2006 and, certainly, 2008.
This phenomenon highlights two trends.   First, the leadership of both parties in Congress tends to be relatively extreme, a function of both their appeal to insiders and it being easier to achieve the required seniority in safe districts.   Second, despite the polarization of the parties, there are still some significant number — although not as many as there used to be — of Congressmen and would-be Congressmen who are comparatively moderate.    The first of these may eventually end the second.